Business
Decommissioned Boeing 727 up for auction in Abbotsford.
You could turn it into an Airbnb, or affordable housing for 200 (the same number of passengers it once flew), or even a smash room to vent your frustrations with airlines.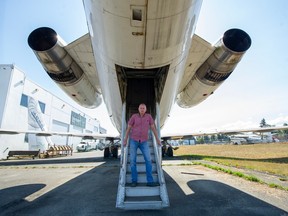 Article content
What would you do with your own decommissioned Boeing 727?
It's not the sky, but your imagination that is the limit.
Article content
Stockholm, Sweden has a 747 that has been turned into a hotel, with a bedroom in the cockpit. In Taupo, New Zealand, a decommissioned aircraft has been turned into a McDonald's. And in Kitengela, Kenya, a decommissioned 727 has become a popular restaurant, Club No. 34.
Article content
On Aug. 31, Sam Garandza, general manager at Able Auctions, will be bringing a decommissioned Boeing 727 to the auction block.
You could turn it into an Airbnb, or affordable housing for 200 (the same number of passengers it once flew), or even a smash room to vent your frustrations with airlines.
The aircraft was donated to the University of the Fraser Valley in 2015 after 40 years or flying, for use in its aviation trades programs.
But a decommissioned plane is not exactly easy to re-gift.
Remco Bergman, a project manager for the University of the Fraser Valley, was tasked with disposing of a few assets no longer required for the school's programs — the 727, the hull of a 737, two Grumman Tracker deHavilland Firecats, and a random fuselage.
It's a decluttering project he calls "complex".
"There are three types of value for these aircraft: economic, historic and sentimental," said Bergman.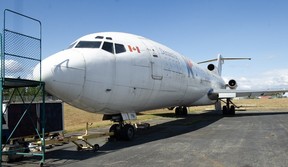 The plane, which sits outside a hangar on the University of the Fraser Valley campus in Abbotsford, is 40.5 metres long, has a wingspan of 33 metres, and weighs about 90,000 kg. "We've figured out the scrap value down to the last dollar: $60,000," said Bergman.
Article content
The problem? It would cost about $60,000 to take apart, remediate and transport.
The historic value for plane enthusiasts is huge. Launched in 1960, the Boeing 727 was noisy but immensely popular as a passenger plane, for military and cargo use, and was the first commercial jet to reach 1,000 sales.
"This is the same model that D.B. Cooper jumped out of when he did his famous hijacking," said Bergman. The 727 has a back staircase, the same kind that Cooper lowered while in flight to leap out and disappear into the night with his parachute and ransom money.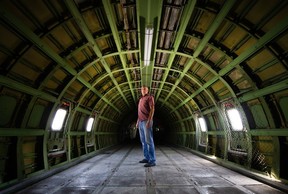 As for sentimental value, well, that is harder to calculate. Bruce Campbell, a 73-year-old engineer, paid $100,000 for a Boeing 727 that had once transported the remains of Aristotle Onassis. Campbell now lives in the plane in Portland, Ore.
"When you live in a structure like this, you feel a little more fulfilled with your life," he has said. "And if you're an engineer, scientist, or anyone who appreciates the elegance and beauty of aerospace technology, it's just a happier place to live."
There is something of a thrill in roaming through a plane like this, even for Garandza. When he boarded, he couldn't resist taking the pilot seat himself, flipping a switch or two — checking to see if the flaps go up and down (they do).
Article content
Members of the public can visit the plane during an in-person preview on Aug. 30 from 10 a.m. to 4 p.m. at #306 45 Firecat Ave., near the airport in Abbotsford.
Two interested and motivated buyers have already come to visit the plane. One is an Alberta resident who is collecting planes to create his own museum, and another is a group of airplane enthusiasts from Langley interested in displaying it for its historic value.
Even though there is currently only one bid, Garandza isn't worried. "We've already got one bid for $25, so it's guaranteed to sell," said Garandza.
The auction, like most these days, will be online. There won't be a ringman running around in the crowd jacking bidders up, but it will have some of the excitement of an in-person event with Garandza running the bids up — one dollar bid, now two, now two, will ya give me two.
There is just one hitch for the lucky bidder. "You can't fly it out," said Garandza.
---
Summer subscription sale: Our in-depth journalism is possible thanks to the support of our subscribers. For a limited time, you can get full online access to the Vancouver Sun and The Province, along with the National Post and 13 other Canadian news sites, for just $40 for one year or $1 a week for 52 weeks. Support our journalism by subscribing today: The Vancouver Sun | The Province.