Politics
Douglas Todd: The mysterious rise of currency exchanges in Canada
Opinion: Canada's financial watchdog says most money services businesses are lawful, but it also urges the public to be wary.
Get the latest from Douglas Todd straight to your inbox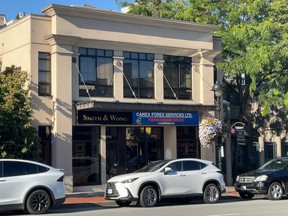 Article content
Taken aback by a jump in the number of currency exchanges along a six-block strip of Marine Drive, the Ambleside Business Improvement Association is pressing West Vancouver council to restrict the outlets.
Adjacent businesses in the shopping hub of expensive West Vancouver maintain that currency exchanges, among other things, take away from locals' shopping experience.
Article content
The mushrooming of currency exchanges, also known as money services businesses, however, is not unique to Ambleside Village.
Currency exchanges and other money services businesses (MSBs) show up in concentrated pockets throughout Metro Vancouver and Greater Toronto.
In the City of North Vancouver, a five-block stretch of Lonsdale, around 16th Avenue, has at least a dozen money service outlets.
Meanwhile, north Richmond's shopping district has about 10 MSBs along or near Number 3 Road. A half-dozen money services businesses dot Burnaby's Metrotown area. And north Surrey has about 10.
This is not to mention a dozen or so MSBs in downtown Vancouver, the city's financial and tourist hub, the zone most often associated with the need to transfer money between countries and exchange Canadian dollars for Mexican or Filipino pesos, Iranian rials, Chinese renmimbi, U.S. dollars, euros and other global currencies.
The Financial Transactions and Reports Analysis Centre of Canada (FINTRAC) says most money services businesses are lawful non-bank entities that transmit or exchange funds and issue or redeem money orders.
Article content
But FINTRAC also warns the public to be wary.
While the increasing trans-national movement of people and capital explains some of the rapid expansion of such money services, especially in cosmopolitan cities like Vancouver and Toronto, FINTRAC has issued an "operational alert" that shows how some can be wide open to money laundering and bypassing Western sanctions.
The Cullen commission of inquiry into money laundering in B.C. shares the caution of Canada's financial intelligence arm, and its spy agency, the Canadian Security Intelligence Service, about the expansion of money services businesses.
Unlike banks and credit unions, the Cullen commission says money services businesses don't accept deposits or offer loans.
In 2022, Commissioner Austin Cullen, a B.C. Supreme Court judge, was told the number of money services businesses registered with FINTRAC has risen rapidly in the province, to 398.
That is out of a record national number of registered MSBs, 1,923. Together they handle $39 billion annually.
But the Cullen commission found hundreds of money service businesses, especially smaller ones, fail to register with FINTRAC, which is Canada's intelligence unit for combatting money laundering and upholding Western sanctions against countries such as Iran and Russia.
Article content
"Not all MSBs register with FINTRAC, as they are required to do every two years. This leaves FINTRAC and law enforcement in the dark about their activities," said Cullen.
Douglas Todd: How underground banking affects us all

Douglas Todd: 'People are dying' – Canada must expose dirty money now

How to report suspicious currency exchange activity to FINTRAC
While Cullen said his commission focused on the "misuse" of MSBs, he said it "is important to emphasize that many have legitimate uses as well."
That includes providing a means by which immigrants, guest workers and others in Canada can send some of their earnings home, as remittances, to their countries of origin.
Some respected money services businesses have hundreds of staff, such as Vancouver Bullion and Currency Exchange and Ria Money Transfer, but Cullen found most are "'mom and pop' organizations."
"It is widely recognized there are significant money laundering vulnerabilities associated with MSBs," said Cullen, emphasizing particular concern about informal operations, some of which operate out of homes and convenience stores.
Article content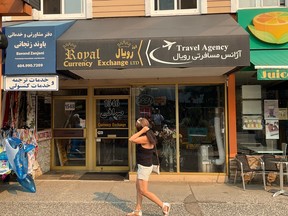 Money services businesses are not regulated by the province of B.C., said Cullen, who recommended they should be.
Cullen's report noted Ottawa's financial watchdog believes MSBs have a "medium" to "very high" risk for such things as international money laundering, underground banking, terrorist financing, and avoiding Western sanctions, such as those that Canada, the U.S. and other nations have in place against Russia and Iran.
Michael Cox, a Vancouver-based director of the Canadian Money Services Business Association, says his advocacy organization has about 100 members.
Cox believes the number of money services businesses is rising in part because they generally provide better exchange rates than banks and "customers appreciate our fast and easy service."
While maintaining most prosecuted money laundering cases in Canada have so far involved banks and credit unions, Cox acknowledged "cracking down on illicit money service businesses would benefit our association and legitimate businesses.
"Canadian society would also benefit, as money laundering undermines financial systems by expanding the black economy and raising questions of credibility and transparency and encourages crime, because it enables criminals to effectively use their illegal funds."
Article content
FINTRAC's website describes how a currency exchange is likely engaging in money laundering if it "carries out business largely with or through Iran or other countries subject to sanctions, the United Arab Emirates, Kuwait, Hong Kong and China, or countries with internal capital controls."
The FINTRAC website urges the public to watch out for other suspicious activities engaged in by MSBs and to report them by emailing [email protected], or phoning 1-866-346-7822 (toll free). It also posts the names of MSBs that have had their registrations revoked.
Ron Butler, president of Butler Mortgages, and Ron Usher, head lawyer for the Society of Notaries Public of B.C., say the number of money services businesses in Canada has mushroomed because of the growth of diaspora communities, which need ways to send and receive money from countries that are either highly regulated and restricted, or do not have banks connected to Canadian systems.
Butler said his mortgage company, and others, don't deal with money services businesses because they make it almost impossible to properly account for the origins of downpayments. Most MSBs, Butler said, cannot transfer finances through conventional means, which involve e-transfers and the use of SWIFT codes.
Article content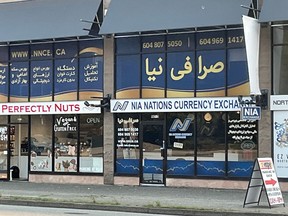 Although Butler appreciates FINTRAC is urging Canadians to report suspicious activity, he believes Canada, compared to the U.S., is not doing nearly enough to combat white-collar crime, including the illicit transfer of money through MSBs.
"The only way you could really uncover them is through a sting operation. And there is absolutely no appetite to run a sting operation in Canada," said Butler. "We never see it for financial crime in Canada. We see it all the time in the U.S."
Prosecutors in the U.S., Butler added, also routinely grant immunity to one person involved in a white-collar crime to inform on others. "But we have never done that in this country. And there's no sign of it starting."