Business
Expanding B.C.-India trade likely challenged by new diplomatic strains
Personal and cultural ties between Canadian and Indian business, however, help insulate much of B.C.'s existing trade with partners in India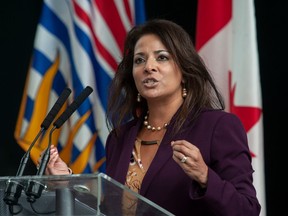 Article content
B.C. was counting on India becoming an important partner in diversifying trade in the Asia-Pacific region before Prime Minister Justin Trudeau's shocking revelation this week about the Indian government's alleged involvement in the murder of a Canadian citizen.
Trade ties are now likely to become more difficult, a fact underlined by the postponement last week of a Canadian trade mission to India, which preceded Trudeau's announcement Monday that there was credible evidence of Indian government involvement in the June assassination of B.C. Sikh leader Hardeep Singh Nijjar.
Article content
In some respects, however, there is already enough business taking place between the two countries that will help trade ties endure, said Anita Huberman, CEO of the Surrey Board of Trade.
"The situation that is at play is unfortunate, but we need to stay the course," Huberman said on Tuesday. "There is too much business going on between our countries, too many cultural ties, and we need to focus on building those trade connections and our trade capacity."
Huberman recently returned from India, where she travelled with a Canadian Chamber of Commerce delegation for a business-related event associated with the G-20 leaders' meeting in New Delhi.
Huberman described the visit as an "eye opener" with respect to opportunities to do business with India's rapidly expanding, increasingly innovative economy.
Still, it is "hard to understate just how dramatic" Trudeau's allegations were in damaging the relationship between the two countries, which won't make trade easier, according to Jeff Nankivell, CEO of the Asia Pacific Foundation of Canada.
Diplomatic relations between the countries have "been strained for decades" over issues such as India's use of Canadian technology in its nuclear-weapons program and support of Canadian Sikh diaspora communities for Khalistan independence, Nankivell said.
Article content
"It was already a trade relationship that was, by all accounts, underperforming relative to the potential, if you look at the Indian economy and what Canada can supply," Nankivell said.
"So I think the first casualty of the new situation will be diminished enthusiasm on both sides for taking big steps to expand trade and investment ties."
B.C.'s largely commodity trade with India involved nearly $1.6 billion in its top exports in 2022 — coal, copper, and wood pulp and polymers, according to B.C. trade statistics.
And B.C. was Canada's biggest contributor to bilateral trade between countries, ahead of Saskatchewan, which shipped $1.4 billion in commodities in 2022.
India's status as a trade partner is dwarfed by China and Hong Kong, which bought $8.6 billion worth of B.C. exports in 2022.
However, as B.C.'s number-five trading partner, India has been viewed as a key market in both provincial and national strategies to diversify trade in the Indo-Pacific region.
B.C.'s Minister for State Jagrup Brar, the MLA for Surrey-Fleetwood, wasn't available for an interview Tuesday, but in a statement from ministry staff, said the province has "deep, long-standing relationships with people and businesses in India" that will continue.
Article content
"We are in contact with our trade representatives on the ground in India, and we encourage businesses that engage in trade with India to contact those representatives should they have any questions," the statement read.
Also, the province remains "steadfast that all Canadians must be safe from the interference of foreign governments. This includes being targeted for threats or physical harm, including murder."
International education has become a larger part of bilateral trade, with India now the single-biggest source of international students in Canada.
The diplomatic row is more likely to have a "chilling effect" on investment flows between the two countries than affect trade, said Vivek Dehejia, a professor of economics at Carleton University.
"If the spat really gets protracted and drags on for months, while Canada continues its investigation, I see that could have a dampening effect at the margin," Dehejia said.
Until recently, the two countries had been in talks on a trade deal. Those have now been put on hold.
x.com/derrickpenner
— with file from Bloomberg