News
Flares fired as HMCS Ottawa chopper buzzed by Chinese fighter jets
Based out of CFB Esquimalt , HMCS Ottawa has been deployed to the Indo-Pacific since August.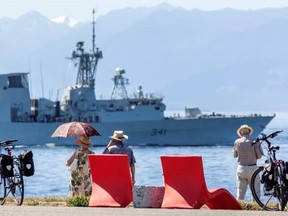 Article content
A Canadian military helicopter attached to a frigate based out of CFB Esquimalt has had two close encounters with Chinese fighter jets while conducting routine exercises in the South China Sea.
The Department of National Defence said in a Friday statement that a CH-148 Cyclone helicopter was intercepted by two J-11 fighter jets from the People's Liberation Army while operating in international airspace on Oct. 29.
Article content
While the initial encounter was safe, subsequent Chinese fighter jet manoeuvres came close enough to buffet the helicopter with turbulence.
The Department of National Defence also confirmed a report by CNN that a Chinese J-11 fighter aircraft launched flares directly in front of HMCS Ottawa's CH-148 Cyclone helicopter in a separate sortie that occurred later that day.
"The Canadian aircraft was subject to multiple close-proximity manoeuvres by a People's Liberation Army J-11 fighter jet that put the safety of all personnel involved at unnecessary risk," the statement read. "The helicopter pilot had to manoeuvre to avoid the flares and reduce the risk of ingesting a flare into the helicopter's rotor and intakes."
No military personnel or equipment was damaged in the incident, and HMCS Ottawa will be continuing with its Indo-Pacific tour, said the Department of National Defence.
On Wednesday, HMCS Ottawa passed through Taiwan Strait with U.S. warship USS Rafael Peralta without incident.
Jim Boutilier, a former special adviser at Canada's Maritime Forces Pacific Headquarters based in Esquimalt, said that close encounters between Canadian and Chinese military forces in international waters is not new. "This is very much part of the landscape of the Western Pacific these days."
Article content
"They appear to feel that they can slowly wear down the opposition by constant harassment and interference in legal activities," he said. "There have been an increasing number of cases where [Chinese military] aircraft have buzzed Western aircraft."
Based out of Esquimalt CFB, HMCS Ottawa has been deployed to the Indo-Pacific since August along with HMCS Vancouver as part of Canada's wider $2.3-billion Indo-Pacific strategy to form closer ties with countries in the region.
Warships have "become the coin of the realm" for countries looking to establish their interests in the region, said Boutilier, adding that Indo-Pacific strategy recommends that the Royal Canadian Navy maintain a three-ship presence in the region annually.
"The Canadian navy would operate with the Australian navy or visit Japan or South Korea, like-minded nations that are concerned about the steady growth of Chinese maritime power and Chinese aggressiveness," he said.
Will Greaves, an associate professor of international relations at the University of Victoria, said there's a "fundamental disagreement" unfolding in the South China Sea. "Canada's position is that these are international waters and that all vessels have a right to be there, including Canada."
Article content
China, on the other hand, claims the waters contrary to norms in international law, he said.
Victorians should be taking more notice of the developments in East Asia due to the fact that Canada's Pacific fleet is based out of Esquimalt, Greaves said. "But then there's also the domestic side, which is domestic interference by Chinese officials in Canada — alleged intimidation of Chinese Canadians throughout B.C. by these Chinese officials."
"And that is, at least partly, in response to Canada's participation in these kinds of activities in the Asia Pacific."
When asked about the incident on Friday, Chinese Foreign Minister Wang Wenbin said at a regular media availability in Beijing that he hopes that Canada will "restrain its inappropriate behaviour to prevent further complication of the situation."
Related Stories
Canada sending two small, slow naval ships to Haiti: Here's what they might do there

Ceremony on Sunday will commemorate 1945 loss of HMCS Esquimalt
---
Bookmark our website and support our journalism: Don't miss the news you need to know — add VancouverSun.com and TheProvince.com to your bookmarks and sign up for our newsletters here.
You can also support our journalism by becoming a digital subscriber: For just $14 a month, you can get unlimited, ad-lite access to The Vancouver Sun, The Province, National Post and 13 other Canadian news sites. Support us by subscribing today: The Vancouver Sun | The Province.