Politics
Investigation finds Kamloops mayor violated code of conduct
Now, Reid Hamer-Jackson is prohibited from making telephone calls to or meeting in person with any of the complainants without a third party present. Read more.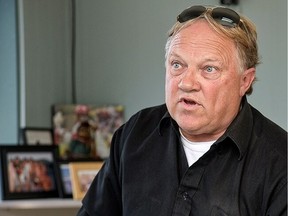 Article content
Kamloops Mayor Reid Hamer-Jackson is not allowed to meet with the city's chief administrative officer or three other city staffers without a third party present, Kamloops This Week has learned.
This measure, and others, has been implemented after an investigation into complaints of inappropriate conduct at city hall found the mayor violated council's code of conduct numerous times by disrespecting and/or demeaning three employees who filed complaints against him in February.
Article content
The mayor was found to not have violated the code of conduct with respect to a complaint from a fourth employee.
The City of Kamloops hired Vancouver firm The Integrity Group to investigate the allegations. The report, obtained by KTW, is dated May 31 and council first saw it in an in camera meeting on June 13.
As a result of the investigation, the mayor is prohibited from making telephone calls to or meeting in person with any of the complainants unless a third party approved by the complainants is present for the call or meeting.
In addition, any written communication, including emails, from Hamer-Jackson to the complainants initially goes through a councillor, appointed as a liaison, who is checking the messages.
The councillor has the authority not to forward communication from the mayor that contains inappropriate or offensive language or material.
Investigator Terry Honcharuk found Hamer-Jackson's conduct violated the code of conduct numerous times with David Trawin, the chief administrative officer, and a second employee, and once with a third employee. Honcharuk found the mayor's conduct described by a fourth employee did not violate the code of conduct.
Article content
In the report, Honcharuk found all the complainants credible and accepted their evidence.
The report sheds more light on a number of reports KTW and other local media outlets have published during the mayor's first nine months in office.
There are also a number of infractions in the report that are also referenced in the legal response Coun. Katie Neustaeter submitted to the defamation lawsuit filed against her by Hamer-Jackson. The mayor is suing Neustaeter in connection with comments she made about him on behalf of council in March.
Hamer-Jackson was informed of the investigation on Feb. 23 and interviews with the complainants were completed by investigator Honcharuk in early April. The mayor, however, refused to be interviewed and did not defend himself against the claims.
Numerous emails were exchanged between Honcharuk, Hamer-Jackson and his personal lawyer, David McMillan, who said it was "an absurd precondition" for Hamer-Jackson to agree to be interviewed before viewing details of the allegations. McMillan said Hamer-Jackson preferred to deal with accusations of such a nature in a court of law.
Article content
According to the report, the impetus for the investigation was a shouting match on Jan. 20 between Hamer-Jackson and a city councillor in the mayor's office. The argument was reportedly so loud it could be heard elsewhere in city hall, leading a receptionist to ask if she should call 911.
The mayor then emerged from his office and apologized to staff for the councillor's actions, prompting one employee to tell the mayor, "There is more than one person involved in this incident," according to the report.
The argument sparked an internal investigation that revealed prior incidents had occurred, but had not been reported. As a result of the investigation, it was determined an employee should be transferred from city hall to avoid potential psychological impact.
On Jan. 23, council, in a meeting with Trawin to discuss the incident, decided it would no longer have one-on-one meetings in city facilities with Hamer-Jackson to prevent similar incidents from occurring.
On Jan. 25, Trawin emailed all of council, advising that he and human resources director Colleen Quigley attempted to meet with Hamer-Jackson and, when they entered the room, the mayor had a friend in his office to take notes. According to the report, Trawin said it was unacceptable to have a friend present while they discussed city business. The mayor then said he was willing only to meet with director Quigley and not Trawin.
Article content
"This is getting very difficult for me to do my job," Trawin wrote in the email to council.
In February, on the advice of Quigley and following a council resolution, the municipality retained The Integrity Group to conduct a workplace investigation.
Honcharuk advised the city implement a policy restricting the mayor's communication with the complainants.
The policy directs that there be no telephone calls or face-to-face meetings between the mayor and any of the complainants unless a third-party, approved by the complainants, is present.
The advice from Honcharuk also recommended the city direct all written communication from the mayor to any of the complainants to be first vetted by an appointed city councillor.
Reached by KTW for comment on the report, Hamer-Jackson described it as false and containing innuendo.
"I think it's a complete waste of taxpayer dollars, is what I think," Hamer-Jackson said, adding he has not seen the full report, only "partial things" he cannot discuss and "a little bit" pertaining to its recommendations.
He said he would like to view a full, unredacted version, noting he has asked corporate officer Maria Mazzotta for a copy and is awaiting an answer.
Article content
He said he is abiding by the recommendations of the report relating to communications restrictions.
When asked if not being able to communicate directly with the city CAO has affected his ability to do his job as mayor, Hamer-Jackson said it has, explaining he has had to direct questions for Trawin through deputy mayor for July Nancy Bepple and has not been getting answers.
---
Summer subscription sale: Our in-depth journalism is possible thanks to the support of our subscribers. For a limited time, you can get full online access to the Vancouver Sun and The Province, along with the National Post and 13 other Canadian news sites, for just $40 for one year or $1 a week for 52 weeks. Support our journalism by subscribing today: The Vancouver Sun | The Province.