Politics
Shaughnessy, Vancouver's ultrarich neighbourhood, unlikely to change
Opinion: A lot of people want to see fewer mega-mansions and more people in Shaughnessy, where the population has steeply declined. But it won't be easy
Get the latest from Douglas Todd straight to your inbox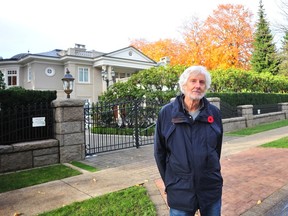 Article content
The wide, tree-canopied streets are eerily quiet. A glow of light emerges only rarely from the enormous mansions, many of which are new, some of which are elegant, others peculiarly derivative and stale.
A park-like ambience imbues much of leafy Shaughnessy, one of Vancouver's most historic neighbourhoods and, arguably, its most opulent. For a few decades after the Second World War, Shaughnessy teemed with hundreds of boarding homes, apartments and even fraternities. But now it's the epitome of exclusivity.
Article content
The demographics of Shaughnessy are changing, but it's hard to spot the declining number of residents behind the expansive, often-gated properties or through their ornate windows. A pedestrian or cyclist is an uncommon sight in this zone between 16th and 41st Avenues, and between Oak and Arbutus Greenway.
Since the 1970s, the population of the city of Vancouver has rapidly grown, by almost 30 per cent, especially in the bustling central core, which is just north of Shaughnessy.
But in the same period Shaughnessy's population has dwindled by 20 per cent. It's now only 8,200 people.
Metro Vancouver's annual Halloween trick-or-treat count, a surprisingly valuable measure of a community's aliveness, shows Shaughnessy to be a "black hole," says Andy Yan, head of SFU's City Program. No reports, he says, come in from it of costumed superheroes, witches and ghosts going door-to-door.
Just 18 residents are spread out on a typical Shaughnessy hectare (the size of an average downtown city block). That makes Shaughnessy 65 per cent less dense than the norm across Vancouver, which is the most close-packed city in Canada.
Article content
What can be done about Shaughnessy? What is possible as various governments assertively press to densify Vancouver and more than 50 other B.C. urban centres?
"There's been an almost fanatical devotion to individual property rights in Shaughnessy for about 100 years. And it's continuing, even as a different level of wealth moves in," says Michael Kluckner, an artist and heritage advocate who has written detailed histories of Vancouver.
"People who live in Shaughnessy value privacy and exclusiveness. It has a beautiful historic landscape, and some beautiful architecture, but it could be offering much more to the general public good."

The city of Vancouver and the B.C. government are now pressing for detached properties to allow up to six units an lot. In Shaughnessy, especially in the most grand estates of north Shaughnessy (also known as First Shaughnessy), the lots are five to 10 times larger than the city norm.
Many believe Shaughnessy, which began in the early 1900s as an enclave for pioneer industrialists, cries out to be filled in with more row houses and low-rise apartments, especially since it's close to transit, cycling and walking routes to downtown.
Article content
With only about 3,100 homes, it contains less than one per cent of the city's population even though it accounts for four per cent of its land. Two out of three Shaughnessy properties are detached houses, four times the city average.
Some densification has happened in minor ways, says Kluckner, including with the Miramar condo complex perched above 16th and Granville. And some pro-density activists may be surprised to hear 11 per cent of Shaughnessy's dwellings are duplexes and 20 per cent are apartments.
But given the prime central location of Shaughnessy, Kluckner, Yan and other urban specialists say much more could be done to increase its density without harming its bucolic ambience.
Vancouver councillor Christine Boyle has introduced a motion that calls for staff to report next year on how "to add badly needed housing, shops and services in Shaughnessy … with a focus on rental housing and family-sized housing options."

Even though Shaughnessy, compared to the rest of Vancouver, has far more houses with four bedrooms, and often many more, the 2016 census shows its often-magnificent homes contain on average only 2.8 people.
Article content
Who are they? An 80-page study of the social characteristics of Shaughnessy, published by the city of Vancouver in 2020, shows residents reflect overall Vancouver trends in such things as religion, ethnicity and health status. The main difference is 36 per cent are in the top 10 per cent of Canadian wage earners. Their houses are valued at more than double the city average.
A big reason Shaughnessy is not becoming more dense is that wealthy people have the money to keep it that way, says Kluckner.
"Most people buying in Shaughnessy, and much of the west side, want space and privacy and they have the money to afford it. They're defending their turf and the city can't force them to build six units, or six storeys, or anything else."

In 2015, the city of Vancouver responded to a spate of demolitions of heritage homes by imposing a stronger conservation designation on First Shaughnessy, the section north of West King Edward Avenue.
"More than 50 of the 'meritorious' pre-1940 houses were lost because the new owners flatly refused to work with their old houses and wanted to demolish and build new palaces," Kluckner says.
Article content
While governments try to respond to neighbourhoods like Shaughnessy by upzoning, Kluckner instead puts out the radical idea of "downzoning." While probably unrealistic, it would require anyone who demolishes a home to build something smaller. The only way to get approval for more square footage would be to infill with several units.
But who knows what will be the way forward for more density in Shaughnessy? There aren't many options.
Related Stories
None

City of Vancouver's 80-page profile of Shaughnessy, incl. religion, ethnicity, health, etc.

Douglas Todd: "Tie immigration levels to housing," B.C. urges Ottawa, desperately

Douglas Todd: The Wild West in B.C. housing is mostly over, but the devastation goes on

Douglas Todd: The crumbling of Vancouver's affluent Point Grey Village
---
Support our journalism: Our in-depth journalism is possible thanks to the support of our subscribers. For just $3.50 per week, you can get unlimited, ad-lite access to The Vancouver Sun, The Province, National Post and 13 other Canadian news sites. Support us by subscribing today: The Vancouver Sun | The Province.