News
Zoning is not sexy, but it rules when it comes to affordability
Opinion: Vancouver aims for 20 per cent affordability in some new housing. Why not 50 per cent?
Get the latest from Douglas Todd straight to your inbox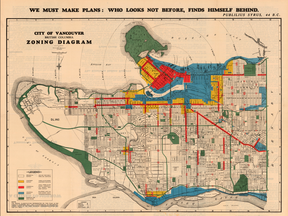 Article content
The city of Vancouver makes itself an easy target for accusations of failure on housing.
It has the highest rents in Canada, with a one-bedroom coming in at a gut-churning $3,013 a month. The city also has the most extreme housing prices in Canada, which also puts it among the world's most unaffordable. The average price of a dwelling is $1.2 million.
Article content
Such stratospheric rents and listing prices are not only because the city is known for its natural beauty, which helps to draw waves of new arrivals.
Article content
Vancouver's failure lies in large part in its zoning.
Zoning is not a sexy topic for most, but in many ways it's fair to say: zoning rules. It's one of the most crucial keys to affordability, despite what the Canadian public might think. Last month, a Leger poll showed only six per cent of Canadians blame the country's onerous housing costs on municipalities, the prime legislators on zoning (even though provinces can also get involved).
Here's the problem, as told by one of Canada's biggest developers, West Vancouver's John D'Eathe, who has headed many of the country's biggest development companies, including Bentall Kennedy, Freehold Properties and ITC Construction.
D'Eathe acknowledges that, like pretty well every other developer in Metro Vancouver, he has built mostly luxury housing.
It is, D'Eathe says, what Vancouver and most cities promote through their zoning, which encourages land speculation and marketing to wealthy investors, domestic and foreign.
When I asked the city of Vancouver about the overall way it uses zoning to increase affordability, officials suggested much of the city is zoned for the open marketplace, which decides what it does on pricing.
Article content
When the city of Vancouver does zone for affordability in some new complexes and towers, it generally uses a 20 per cent target. It tends to require "below-market," or "affordable," units to make up 20 per cent of both new rental buildings and new condominiums.
That's based on the city's effort to help people with "moderate incomes in the range of $30,000 to $80,000." It's also loosely linked to the convention that an individual or family should not be spending more than 30 per cent of their income on shelter.
Douglas Todd: B.C.'s blanket upzoning comes with 10 problems

Douglas Todd: Major Canadian developer fears 'the bad guys are winning'

Douglas Todd: Massive Oakridge luxury project bodes badly for affordable housing
It's an understatement to suggest the city of Vancouver's zoning laws are not having much effect on affordability. That goes for most of the municipalities in Metro Vancouver.
Let's consider some more ambitious zoning options, from experts who lean toward affordability goals in the 50 per cent range.
Zone for affordability from the get-go
Article content
There is no point in politicians just increasing zoning density for an entire city in hopes more units will increase supply and thus lower prices, which is the traditional response, says D'Eathe.
It just doesn't work that way in a region where population growth and housing demand is strong because of in-migration, he says.
Like many other analysts, D'Eathe says blanket upzoning for density mostly just increases the cost of land. That drives up future housing prices, as developers and investors speculate on getting more bang from less property. Alas, politicians, he says, tend to privately like this approach, because it creates new builds that bring in higher property tax revenues.
Alternatively, D'Eathe says municipal politicians have to use their zoning powers to unambiguously demand more housing for low- and middle-income earners. D'Eathe, for instance, suggests "requiring 30 to 50 per cent low-cost housing in all highrise developments."
Unlike some specialists, D'Eathe, as a businessman, does not appreciate governments trying to tackle outrageous prices by building more social housing, because taxpayers subsidize it heavily. It's better, he says, to just force developers from the beginning to include large chunks of affordable housing, which will slowly reduce prices.
Article content
Help developers achieve 50 per cent
Retired developer and planner Arny Wise also supports requiring builders to make 50 per cent of their projects available for those on middle incomes.
But Wise says developers need incentives to meet such goals, such as reducing cities' development cost charges, adding density bonuses and erasing some provincial and federal taxes.
"The current city of Vancouver rezoning requirements, of only 20 per cent affordable units for new condos and 20 per cent for most new rental projects, was set in another era, which didn't face the affordability crisis we find ourselves in today."
Wise fears Vancouver's biggest future developments, such as those at Heather Street and on the Jericho Lands, will only require 20 per cent affordability, which will lead, as it has in other developments, to many units "being sold in sales offices in Dubai and Shanghai."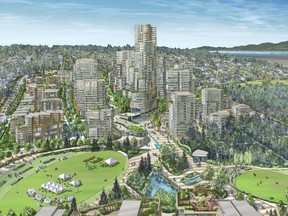 What can we learn from radical zoning?
The best kind of solution is the one used in Cambridge, Massachusetts, home to Harvard University, says UBC planning professor Patrick Condon.
"That's where major increases in allowed density are only provided if developers agree to provide permanently affordable homes. Cambridge, for many reasons, fixes their demand for affordability at 100 per cent of all these new units," says Condon, noting most involve non-profit housing corporations.
Article content
Given the dynamics of Vancouver, Condon joins the others in suggesting Metro Vancouver municipalities require a minimum of 50 per cent affordable units. They would be "leveraged" by the other half of units, which would be sold at market value.
"This will keep land prices stable and achieve the kind of community integration we all want."
Use discretionary zoning to hit the 50 per cent target
Scot Heine, a former Vancouver city planner who wrote the book Zoning Must Evolve, is a fan of "smallness." Instead of upzoning for more intense density, like towers, Heine wants affordable housing to come on stream through "discretionary" zoning, "building on the success of laneway, infill and duplex development."
That can be done, Heine says, in a way that doesn't encourage broad land speculation. "Let's aim for 50 per cent non-market affordability by introducing easily administered mini-housing agreements that lock in varying degrees of affordability because land purchase is not required."
Sometimes it seems like civic politicians don't mind the public being in the dark about better zoning possibilities, which can be complex. But don't let them deny the immense powers zoning authority hands them.
Article content
Given Metro Vancouver's housing crisis, it's urgent politicians use zoning more boldly to offer a semblance of a chance to the hundreds of thousands of residents being squeezed out of a decent place to live.
Twitter: @douglastodd
---
Bookmark our website and support our journalism: Don't miss the news you need to know — add VancouverSun.com and TheProvince.com to your bookmarks and sign up for our newsletters here.
You can also support our journalism by becoming a digital subscriber: For just $14 a month, you can get unlimited, ad-lite get unlimited, ad-lite access to The Vancouver Sun, The Province, National Post and 13 other Canadian news sites. Support us by subscribing today: The Vancouver Sun | The Province.