News
B.C. students slapped by doubling of tuition at Quebec universities
A tuition hike is part of Quebec's plan to preserve French and increase funding for French-language universities, but it's begun to affect families in the rest of Canada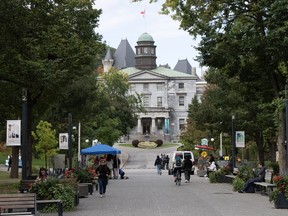 Article content
Ireland Bassendowski, 17, was elated to receive an acceptance email from Bishop's University in Quebec at her home in Dawson Creek last Tuesday.
But the Grade 12 student's excitement wore off Friday when she heard of Quebec's decision to double the cost of tuition for out-of-province students planning to attend its universities starting next fall.
Article content
"My daughter's dream to study at Bishop's and become a high school math teacher has been crushed because of the cost," said her mother, Diane Bassendowski. "She went from being on a high, telling everyone at school about her acceptance to being one very sad kid."
Article content
While the tuition hike is part of Quebec's plan to preserve French in the province and increase funding for French-language universities, it's begun to affect families in the rest of Canada.
Some students, such as Bassendowski, are turning to other post-secondary options. Her tuition at Bishop's is estimated to cost around $50,000 more than expected, so the teen has begun filling out an application to attend the University of B.C.
"Ireland's UBC paperwork will be wrapped up by this weekend," said her mother. "So, maybe Quebec won't be getting a new high school teacher in five years after all. Maybe it will be B.C."
While the tuition increase affects out-of-province undergraduate and graduate students, students already enrolled in Quebec's system will continue to pay the old rate.
The B.C. Association of Institutes and Universities, representing nine post-secondary institutions in the province, agrees that the policy change could lead to more students enrolling in post-secondary programs in provinces other than Quebec, such as B.C.
"It sure makes our province look like a more attractive choice," said president Nikki Macdonald, who attended Montreal's McGill University for undergraduate studies.
Article content
Macdonald says that when she was a prospective student not only was the cost of tuition a key financial consideration, but so was the cost of housing.
"When I went to McGill, the cost of living in Montreal was much cheaper than it was in Vancouver or Toronto," Macdonald said.
Most recent data from the Canada Mortgage and Housing Corp. shows that in 2022 a one-bedroom apartment in Montreal costs at least $500 less a month to rent than in Vancouver or Toronto.
The Alliance of B.C. Students have criticized the tuition hike.
Alliance chair Manpreet Kaur said the solution for provinces including Quebec is "not to increase tuition and put the burden on the backs of students, but for governments to step up and adequately fund post-secondary education so that students, graduates, post-secondary institutions and economies are better off."
Students at two other English-speaking universities in Quebec — Concordia and McGill — voiced similar concerns Thursday in a joint statement issued by their student unions.
"This fee increase of $8,992 to $17,000 will price out the poorest out-of-province students, saddle students with further debts and require students to work even more during their studies to afford their education."
Article content
Before the change, out-of-province students attending Quebec universities were already paying more in tuition than the average Canadian who is enrolled full-time in an undergraduate program, which, according to Statistics Canada, was $6,693 in the last academic year.
Quebec Premier François Legault said the tuition increase is part of the government's effort to reduce the amount of English spoken on Montreal streets.
But Montreal Mayor Valérie Plante is worried that Quebec's plan will drive prospective students and their financial contributions elsewhere, to cities such as Toronto.
"If this government strongly believes in a strong economy, if it wants to reduce the gap between Ontario and Quebec, I have to say this measure will support more people going to Toronto universities," Plante said during a news conference Wednesday.
"We can protect French, but we should make sure the reputation of the metropolis is not adversely affected by this decision."
Related Stories
John Ivison: Jacking up English tuition fees is Legault's pungent insult to the rest of Canada

Tuition hikes lead McGill to suspend $50M French program: report
---
Bookmark our website and support our journalism: Don't miss the news you need to know — add VancouverSun.com and TheProvince.com to your bookmarks and sign up for our newsletters here.
You can also support our journalism by becoming a digital subscriber: For just $14 a month, you can get unlimited, ad-lite access to The Vancouver Sun, The Province, National Post and 13 other Canadian news sites. Support us by subscribing today: The Vancouver Sun | The Province.