Business
Conservationists invoke Clayoquot anniversary to press old-growth
The Sierra Club of B.C. highlights old-growth logging that has happened on Vancouver Island since the 1993 protests that galvanized environmentalists in B.C.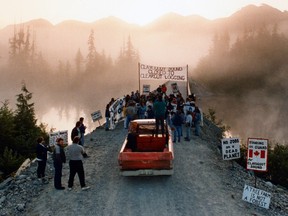 Article content
B.C. conservation groups have launched a new campaign to pressure government on protecting old-growth forests on the anniversary of the seminal 1993 Clayoquot Sound protests.
The blockade 30 years ago sparked what was then the biggest mass arrest for an environmental cause in B.C. history and won some protections for Clayoquot Sound's old-growth, but the Sierra Club of B.C. argues logging in Vancouver Island's remaining ancient stands hasn't slowed.
Article content
Since 1993, according to a Sierra Club mapping project, some 35 per cent of the old-growth forest that stood at that time has been logged, with 250 square kilometres of it coming down in the last five years.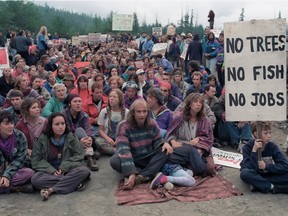 The province is in the middle of a moratorium period, part of a response to its old-growth strategic review, that has deferred old-growth logging in 26,000 square kilometres of forests. But the Sierra Club's Jens Wieting said, "In too many cases, logging remains the default, and conservation the exception."
"A breakthrough to reverse this pattern and safeguard our best ally in the fight against the climate emergency will require much greater support from the provincial and federal governments to overcome deeply entrenched industrial logging interests," said Wieting, a senior forest and climate campaigner for Sierra Club of B.C.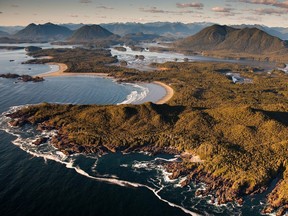 Part of Clayoquot Sound, named a United Nations biosphere reserve in 2000, was protected in the aftermath of the 1993 protests. The rest handed over to an Indigenous-owned entity for environmentally sensitive land management.
Just over 1,700 square kilometres of its old-growth forests have also been included in the province's deferrals and officials are working for more formal protection with the Tla-o-qui-aht First Nation.
Article content
In the Sierra Club of B.C.'s estimate, only about one-fifth of Vancouver Island's "original big-tree old-growth forests" that stood before large-scale logging began in the late 1890s remain. And the environmental group's mapping shows the equivalent of 19 soccer fields per day have been logged since 1993.
"I think it highlights the logging pressures," said Sayo Masso, lands and resources director for the Tla-o-qui-aht First Nation. "When you drive from Victoria up to Tofino, you don't see a large tree until you get to Clayoquot Sound."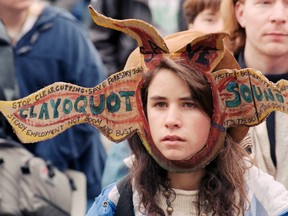 Masso added that a year of climate change-fuelled drought and record wildfires also put a point on the importance of old-growth forests as climate mitigation.
"I'm sure we wish there were skyscrapers covered in filters that would clean the air for us," Masso said. "But we have mountains covered in 100-metre-tall trees (doing that), and we need tools to bring their protection into reality."
He added that the Tla-o-qui-aht are working with the province on a "better designation" for the land in deferral, which remains a tree farm licence, and sorting out the "toolkit" for creation of an Indigenous protected area.
Article content
"In a way, we have an opportunity in Clayoquot Sound that would showcase the possibility of how it is done so that other regions in B.C. could follow," Masso said.
Logging deferrals have been controversial for B.C.'s forest industry, which has argued that the province has already protected significant swaths of old-growth forests, and reducing access to valuable timber would come at the expense of existing forestry jobs.
Masso said the Tla-o-qui-aht's longer-term vision is for better-managed second-growth forests of the Sound, which would generate employment. He estimated 10 years' work in deactivating roads in protected areas, then 10 years in thinning out second-growth stands.
"Hopefully, that will add another 20 years of tree rings to the second-growth, making for a more viable rotation in the future," Masso said.
"If we can implement that future, the future harvesting for our grandchildren will be the highest return logging. It's all flatland, roadside harvesting."
'The greatest act of civil disobedience in Canadian history': Fairy Creek surpasses Clayoquot Sound in arrests

Stephen Hume: Clayoquot protest 20 years ago transformed face of environmentalism
---
Summer subscription sale: Our in-depth journalism is possible thanks to the support of our subscribers. For a limited time, you can get full online access to the Vancouver Sun and The Province, along with the National Post and 13 other Canadian news sites, for just $40 for one year or $1 a week for 52 weeks. Support our journalism by subscribing today: The Vancouver Sun | The Province.