World
Experts who examined aftermath of Turkey quakes have advice for B.C.
"The minimum is no longer enough" — Tony Yang, professor of civil engineering at the University of B.C., on earthquakes.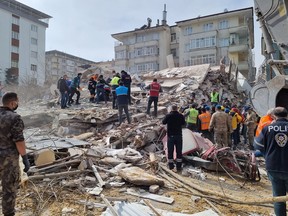 Article content
We call it the Big One, the earthquake just waiting to happen someday but eventually in the subduction zone 150 kilometres off Vancouver Island's west coast.
But it's probably better to focus on the "big" bit of the nickname for the predicted and, geologically speaking, overdue megathrust that will occur where the Juan de Fuca plate forces its way under the North American plate, and not the "one" part, if Turkey's recent experience with a disastrous quake and its aftershocks in February are to go by.
Article content
"I think the message is that if we do things as usual and believe an earthquake will not hit us, I think we're too naive," said Tony Yang, a professor of civil engineering at the University of B.C. and moderator of a Friday panel discussion among experts who visited Turkey in June to see the effects of the magnitude 7.8 quake that struck on Feb. 6.
"An earthquake will come, we don't know when unfortunately because science is not ready to tell us that, but when it comes we need to be ready and we need to start thinking, 'What happens after an earthquake?'
"Right now our building codes provide a minimal level of safety."
That is, buildings can be badly damaged, but people are still able to escape, Yang said.
The expert panel — eight men and women from UBC and Engineers and Geoscientists B.C. — visited Turkey four months after the disastrous quake and its huge aftershocks hit the region in February.
Travelling 10 hours a day, they visited 18 severely damaged municipalities, including a Vancouver-sized city, to analyze the impacts of the Feb. 6 temblor, which was followed just nine hours later by a magnitude 7.5 aftershock, and a magnitude 6.4 aftershock on Feb. 20, part of the 3,500 aftershocks recorded in total.
Article content
Members of the research group were there to analyze the impacts of the quake and the factors that caused certain buildings to collapse when others nearby did not, and to gain insight into the recovery and rebuilding process.
B.C.'s future megaquake is predicted to be in the range of magnitude 9, and the group also examined what the Turkey quake and its aftershocks could mean for earthquake risk-management and preparedness in B.C., Yang said.
According to the City of Vancouver, the last quake in the subduction zone off of Vancouver Island was in 1700 as recorded by First Nations and geological records, and it was "massive and caused a tsunami that impacted coastlines as far away as Japan."
Also something to note: Vancouver is prone to all three types of earthquakes (subduction, shallow crustal and deep intraslab).
Canada's building codes are updated every five years, Yang said, and there's been much improvement in technology such as base isolation (think of your residential tower on Rollerblades), which has proven far hardier than beefier-looking reinforced concrete slabs that now could use retrofit solutions.
Article content
And even if a building doesn't sustain structural damage, it still may be unsafe to go back into because of non-structural damage (a non-load-bearing wall coming down, say, or glass falling from the ceiling).
"As a city we need to start worrying about not just safety, but what happens after an earthquake," Yang said. "Can our bridges still be functional? Can our electricity still be running? Where are the shelters, because damage will happen, particularly to really old buildings."
We need to start getting shelters ready now, Yang said.
"We cannot just say, 'I will lose everything but I will survive,' we need to start thinking as a community, letting the government know we want to make sure we're earthquake damage-free after a quake.
"The minimum is no longer enough."
Related Stories
Canada 'closely monitoring' Afghanistan after quake reportedly kills more than 2,000

Magnitude 6.8 earthquake shakes Ecuador, at least four deaths reported
---
Bookmark our website and support our journalism: Don't miss the news you need to know — add VancouverSun.com and TheProvince.com to your bookmarks and sign up for our newsletters here.
You can also support our journalism by becoming a digital subscriber: For just $14 a month, you can get unlimited, ad-lite access to The Vancouver Sun, The Province, National Post and 13 other Canadian news sites. Support us by subscribing today: The Vancouver Sun | The Province.