News
Jane Macdougall: The Bookless Club ponders PSL, CBS or apples
Opinion: The PSL (Pumpkin Spice Latte) is the new token of the harvest season.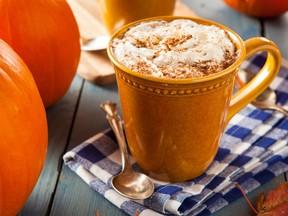 Article content
The traditional symbol of autumn has been replaced.
Gone is the cornucopia, that horn-shaped ornamental basket with its tumbling pageant of corn, squash, apples and grapes. In its place, we now signify the change of seasons with a steaming mug, brimming with foam and dusted with sprinkles.
Article content
Yes, the PSL is the new token of the harvest season.
So thoroughly has this newcomer replaced the cornucopia, it can now rely upon an acronym: PSL.
Article content
Just three simple letters.
And those letters stand for Pumpkin Spice Latte.
The history of the PSL is a short one, only 20 years in the making, but it's truly a runaway success story. The PSL only shows its foamy head as autumn approaches but its devotees wait for it all year long. This drink is a phenomenon with a burgeoning line of merchandise, and with its own social media presence. There are Facebook pages and Twitter followers (X?) that number in the tens of thousands. All this for a coffee drink.
You can get a pumpkin spice latte just about anywhere. The recipes may vary, but its constituent parts are espresso, milk, foam, and the namesake spices. Those will include cinnamon, nutmeg and cloves, and they are usually added in as a pumpkin-based syrup. Starbucks uses a purée of those little kabocha pumpkins in their PSL syrup. The hallmark of the drink is the pumpkin pie spice dusted over the foam or whipped cream topping. Millions of these drinks have been sold, but you can also make your own PSL quite easily. I'll include a recipe online.
Vancouverites played a significant role in the launching of the PSL. In fact, we were the birthing grounds for this international sensation. As most coffee stories do, the story starts in Seattle. Starbucks' first seasonal beverage, the peppermint mocha coffee drink, had been a huge holiday hit. In the secretive "Liquid Lab" at Starbucks headquarters in Seattle, the espresso beverage team was brainstorming an equivalent for autumn. Chocolate and caramel were predictable front runners, but market surveys kept indicating that customers felt pumpkin had unique qualities to consider.
Article content
Jane Macdougall: First summer jobs for The Bookless Club

Jane Macdougall: What The Bookless Club is drinking now

Jane Macdougall: The Bookless Club thanks Gluck for endurance of opera
Over a period of three months, various coffee combinations were tested and the surprising results were that pumpkin concoctions took first place.
The first test marketing was done in 2003 at a hundred stores in both Washington, D.C. and Vancouver. It was an instant home run. People started posting P-S-Lfies of their drinks online. In short order, the PSL nickname would evolve from the three-letter ordering code baristas wrote on the side of the cup.
Perhaps one of the best measures of how successful the pumpkin spice latte has become is the crazy array of PSL merchandise available. The marketplace is littered with PSL room sprays, candles, even pumpkin spice Spam, and nail polish. You can proclaim that "Pumpkin Spice is my favourite season!" on T-shirts, socks, sweatshirts and pyjamas.
CBS is an equally delicious, but less-known acronym. The lore goes that in the late-1970s, Henri Le Roux, a chocolatier in Brittany, France, either inadvertently or intentionally added salt to a batch of caramel. His first batch included crushed nuts. He would discover that his novel fusion — crunchy, salted caramel — was just what the world was waiting for. His entry would win the "Best Sweet in France" prize, awarded by the Salon International de la Confiserie in 1980. Le Roux would go on to protect his invention by registering the name CBS, which stands for caramel au beurre salé.
Article content
We all love pumpkin pie, but at 390 calories for a Grande-size PSL coffee, there's an argument to be made for the 323-calorie slice of its namesake pie. Then again, we'd all probably be better off with an apple from that fading-from-view cornucopia. Unless you dip that apple in CBS ….
Jane Macdougall is a freelance writer and former National Post columnist who lives in Vancouver. She will be writing on The Bookless Club every Saturday online and in The Vancouver Sun. For more of what Jane's up to, check out her website, janemacdougall.com
---
This week's question for readers:
Are you a fan of seasonal coffee drinks? How do you customize your coffee?
Send your answers by email text, not an attachment, in 100 words or less, along with your full name to Jane at theboo[email protected]. We will print some next week in this space.
---
Responses to last week's question for readers:
What have your pets taught you?
---
• Animal behavourial scientists have long commented that cats and dogs have the intelligence of small children. What I have learned and experienced over the years is that they are as loved as any human children could possibly be loved. We also believe (anthropomorphism or not) that they love us, just as children love their parents. The beauty of our pets is that they never grow up and are perpetual small children. It also is why it is so painful when they pass — like a parent grieving the loss of a child. We can never forget them.
Article content
Dr. Eric Yoshida
---
• Many years ago, we heard of the tragedy in Whistler where many sled dogs were put down inhumanly. At the time, it created a firestorm of negative publicity. The SPCA rescued the surviving dogs and, with local media support, were able to find homes for these traumatized dogs. We were fortunate to adopt a four-year-old Alaskan Husky. When we first saw her, she was the most forlorn and sad-looking creature — head down, lying in an almost fetal-like position with no eye contact. Despite this, we just knew she would be our new family member. Vixon never lost her fear of any sharp, loud, gunshot-like sounds, but slowly over time came to be a loving part of our home. After her horrific early life, Vixon taught us that dogs, like humans, can overcome the worst that can be thrown at them but recover when they receive care, compassion and love.
Roger Bjaanes
---
• Each of the eight dogs that I've owned has taught me the same lesson. It is succinctly explained in a book entitled "Guardians of Being" by Eckhart Tolle and Patrick McDonnell. Pets are role models who teach us to celebrate the joy of life by being completely present in the moment. I also learned a lesson from my pet cockatiel bird of 18 years. Twice, she flew away from our home. The first time, I retrieved her after two days, thanks to someone in whose garden she landed who kindly took her to the SPCA. The second time, I located her through a classified ad in The Vancouver Sun placed by the person who found her and gave her a temporary home for three weeks. The lesson from my bird was to never give up hope, and also to be more mindful about keeping the patio doors closed.
Article content
Vera Lagasse
---
• Pets carry no grudges and are always forgiving. If you stuffed your dog and your partner in the trunk of your car in the morning and let them out later in the afternoon, which one would be happier to see you?
Brian Simonson
---
• Nelson, a Lab-Shepherd-Rotty mix, was introduced to my husband Peter and me when he was about two years old and living at the West Van SPCA. He was so well-behaved when we took him for a test walk that we knew right away we wanted him to join our pack. We three had endless fun at our country retirement home — our twice-daily rambles in the bush, him supervising us while we stacked firewood, and performing his duties as our rural doorbell. Nelson was our beloved companion for 11 and a half years, and taught us to live in the moment and enjoy the little pleasures of everyday life.
Margaret Sharon
---
• My pets taught me about love, trusting love. In my parents' day, a dog was just a dog. As a child, I worried my dog would be taken from me as it provided a great deal of comfort for soothing my soul. As an adult, I had several dogs (and cats) that lived long and good lives. When they could no longer manage, we would have the vet come to the house to put them down. That was the most loving thing we could do. My last dog was a Beagle, and he needed more than I could provide. In reflection, it was selfish to bring him to live with us, and later it offered the hardest lesson I needed to learn.
Bonnie Hamilton