Politics
Master plan for Britannia community centre may get sidetracked
"Moving forward on this renewal plan that has been promised to the neighbourhood for years." — Pete Fry, Vancouver city councillor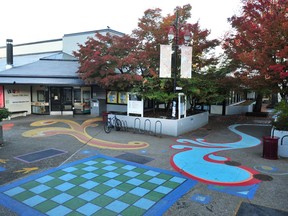 Article content
In 2018, Vancouver council voted to spend $20 million on a new master plan for the Britannia community centre complex in east Vancouver.
Five years later, not much has happened.
Article content
Now, Vancouver councillor Pete Fry fears the money may get sidetracked.
"Staff came back (recently) with recommendations that we should punt the capital plan funding, $20 million, into renewal of (Britannia's) pool and the ice hockey rink," said Fry. "Both are starting to fall apart and can't last. (But) that eliminates any funding for planning on the Britannia site, and moving forward on this renewal plan that has been promised to the neighbourhood for years."
Article content

So Fry and his fellow Green councillor, Adriane Carr, are putting a motion before council Wednesday to reaffirm council's "commitment to advancing Britannia renewal planning, and the vision developed collaboratively by community and partners to date."
Britannia is a unique community centre in that it runs its own affairs in concert with the city. Others in the city are run by the Vancouver park board. The city is providing Britannia with just over $6 million in funding in 2023.
The large site — roughly seven average city blocks in size — includes Britannia Secondary school, Britannia Elementary school and an "integrated community centre" with an ice rink, swimming pool, and fitness centre. There is also a Vancouver Public Library branch.
But the facilities are badly in need of an update.
"It's a very involved community, a very involved site," said Craig Ollenberger, who is on Britannia's board of directors. "And we're bursting at the seams. That's the reason the renewal made so much sense – we just need so much space, for so many people."

Fry said the community Britannia serves is very dependent on its services.
Article content
"We have a lot of vulnerable populations," said Fry. "We have the highest population of urban Indigenous folks, we have the lowest median incomes, and some of the highest levels of poverty in that immediate catchment.
"It's a well-used community centre, there's a lot of need. We really don't want this to completely fall off the radar and get ignored."
Ollenberger worries that city staff are going to take away the planning money to use for the rink and pool, and it won't be replaced.
"It seems a bit like that money is being repurposed to end the process," said Ollenberger. "That's how it feels. The city has been fairly explicit (that) there is no plan at this point to do anything further. That's really concerning."
He agrees there is a pressing need for a revamp of Britannia's ice rink and swimming pool. But he argues "putting some Band-Aids on the infrastructure that is there, the facilities that are effectively failing, you can only do so much. They need a full redo."
He said there is about $17 million left from the 2018 funding, which "is meant to take us to the point where we have an RFP (request for proposal), where we're ready to put shovels in the ground. And then we can go the capital plan, ideally the 2026 capital plan, to have the money to actually start (rebuilding)."
Article content

Fry points out the city just approved $20 million for a new synthetic turf field at Moberley Park in south Vancouver. So there should be money for the repairs at Britannia.
"These are highly used and well-worn," he said. "The need is there."
Asked if he has any hope that a motion from opposition Green councillors will be approved by the ABC-dominated council, Fry said "well, we'll see. Hope springs eternal."
Related Stories
Fee hikes and ziplines? Vancouver park board considers new revenue sources

Vancouver park board votes to repair pier at Jericho Beach
---
Bookmark our website and support our journalism: Don't miss the news you need to know — add VancouverSun.com and TheProvince.com to your bookmarks and sign up for our newsletters here.
You can also support our journalism by becoming a digital subscriber: For just $14 a month, you can get unlimited, ad-lite access to The Vancouver Sun, The Province, National Post and 13 other Canadian news sites. Support us by subscribing today: The Vancouver Sun | The Province.