Entertainment
Motown hitmakers the Temptations get musical treatment
The life and times of one of pop's top hit-making groups.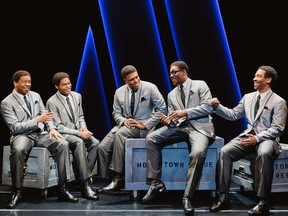 Reviews and recommendations are unbiased and products are independently selected. Postmedia may earn an affiliate commission from purchases made through links on this page.
Article content
Ain't Too Proud: The Life and Times of the Temptations
When: Sept. 12-17, 7:30 p.m.
Article content
Where: Queen Elizabeth Theatre, 630 Hamilton St., Vancouver
Tickets: Ticketmaster.ca
---
To be a hit, a jukebox musical needs hits. That alone would be enough to justify Ain't Too Proud: The Life and Times of the Temptations.
From 1964's Meet the Temptations through 1974's A Song For You, the Motown vocal quintet featuring Otis Williams, Melvin Franklin, Paul Williams, Eddie Kendricks and David Ruffin enjoyed four Billboard Hot 100 No. 1 hits and a whopping 14 R&C chart No. 1 singles. All told, the band's career includes 42 top 10s.
Article content
The Temptations were the first Motown artists to score a Grammy Award, for Cloud Nine in 1969.
In 2014, the group received a Lifetime Achievement Award. Founding member Dr. Otis Williams continues to lead a lineup of the group in 2023.
The story of how five distinctive talents came together to become one of the most successful all-Black vocal groups of the 1960s, forms the backbone of Ain't Too Proud: The Live and Times of the Temptations. With a book by acclaimed playwright Dominique Morisseau, the musical had its debut at Broadway's Imperial Theatre in March 2019. It premiered in 2017 at the Berkeley Repertory Theatre in California.
Charting the group's journey from Detroit to the Rock & Roll Hall of Fame, the musical is centred around the five singers. Other key figures in the band's history who appear in the play include Motown founder and CEO Barry Gordy, to music legends Smokey Robinson, Diana Ross and others.
All told, there are about 31 songs over the two-act production.
Elijah Ahmad Lewis, also known as EAL, performs the role of group member Ruffin. The lead singer of many of the band's biggest hits would wind up having a tumultuous relationship with band members, Motown and fans. His story is one of the most varied of the group.
Article content
Ahmad Lewis says one of the biggest surprises taking on the role of Ruffin was the choreography. Toronto's Sergio Trujillo won the 2019 Tony Award for best choreography for his work on the show. This was the first time a Latino artist received this particular Tony.
"Making sure that your stamina was up for the choreography was the biggest challenge taking on the role," he said. "Because the Temptations' dance moves were not at all easy, and that's why Sergio won a Tony for it. That they were doing all that dancing and singing night after night is all the more impressive."
As most of the actors are independent artists in their own right, coming around to the singing came far more easily.
The material is somewhat universal to generations of listeners. Noting the realities of being on tour means different climates, venue acoustics and so forth, he says keeping it consistent is key. Nothing less than spot-on renditions will do.
"There are certain things about the Temptations that are iconic and we keep those upfront," he said. "In 2023, there will be differences from recordings that were made in the '60s. But we stick to the original style."
Article content
Having played almost every character in the show as well as a number of other Motown legends in Motown: The Musical, Ahmad Lewis has a solid handle on the catalogue. He has gained a lot of insight into Motown's incredible achievements.
"The unique thing about the label was that each artist was completely different in their own way, from Jackie Wilson and Stevie Wonder to David Ruffin and others," he said. "Barry Gordy discovered them and then turned them into superstars without making them be different from who they were as people, and that becomes the source material for so many interesting stories. Gordy's saying was, 'The truth is a hit,' and he managed to allow artists to deliver their artistry while also being in their truth."
This formula is what makes Motown music "oven" rather than "microwave" to Ahmad Lewis.
"So much contemporary music is so fabricated that it's just push-button or what I call 'microwave music,' " he said. "Whereas Motown material is 'oven music,' which means you plan for it to stick and stay. And that has certainly been proven by the enduring life of these songs."
Being able to hear the stories of how things were directly from Williams, who played a major role in developing the musical, gave the actors a great deal more depth of understanding of their characters.
"It's quite amazing to hear him talk about how they go to where they were," said Ahmad Lewis. "It's kind of a real American story of a bunch of guys from Detroit who made it. Holding on to your calling and sticking to it, during segregation, racism and all the challenges means you can't be too proud, and that's the name of the story."
Having previously worked with everyone from Madonna and Ariana Grande to Chance the Rapper and with a 14-year recording career under the name Elijah Ahmad Lewis, rebranding as EAL is the next step in this artist's career. He and his band, the 360Crew, continue to play live and record whenever possible. The most recent single is titled BET.
Article content
roadway Across Canada bringing Ain't Too Proud, Pretty Woman: The Musical to Vancouver

Concert Review: 5 things to know about Lizzo at Rogers Arena
---
Summer subscription sale: Our in-depth journalism is possible thanks to the support of our subscribers. For a limited time, you can get full online access to the Vancouver Sun and The Province, along with the National Post and 13 other Canadian news sites, for just $40 for one year or $1 a week for 52 weeks. Support our journalism by subscribing today: The Vancouver Sun | The Province.