News
New SFU medical school will include family doctor program: minister
Critics point out that family doctors won't graduate from the new medical school until 2030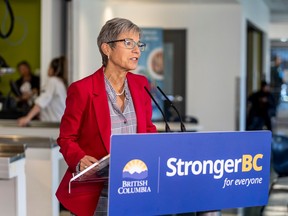 Article content
The new medical school planned at Simon Fraser University's Surrey campus will have a dedicated family doctor training program similar to the one spearheaded at an Ontario university, B.C.'s post-secondary education minister told Postmedia News.
Critics, however, point out that family doctors won't graduate from the new medical school until 2030, which won't immediately help the approximately one million British Columbians without access to primary care.
Article content
Selina Robinson confirmed B.C.'s second medical school, set to open in 2026, will include a program specifically focused on family and community medicine.
"It's recognizing that we need to make sure we identify people who want to do family practice, who want to do team-based care, that we support their learning and that we get them into the community ASAP," she said.
The SFU family doctor program, Robinson said, is modelled after a new program at Lakeridge Health, a satellite campus of Queen's University in Ontario, which this month launched the country's first dedicated program for family medicine.
Most medical schools in Canada are four-year programs, after which graduates spend between two and five years completing their residency in the medical field of their choice. Under Lakeridge's MD family medicine program, the 20 students enrolled in the program this year will work in primary care clinics as part of their education and are committed to becoming family doctors when they graduate.
"The Ontario program sort of gave us a sense of what would be possible," Robinson said. The goal is to complement the existing medical program at the University of British Columbia, she said, not duplicate it.
Article content
The SFU medical school will also have a specific focus on providing care for Indigenous communities, she said. This is in response to concerns from Indigenous communities, especially in rural and remote areas of the province, that they have poorer health outcomes because of a lack of access to health care and systemic racism within the health system.
B.C. United health critic Shirley Bond said the B.C. NDP promised during the 2020 election to fund a medical school at SFU and it took more than two years to make the first announcement. As a result, the first crop of doctors won't graduate until 2030, she said.
"I also looked at the work that's being done in Ontario," Bond said. "What's discouraging for me is we should have already been thinking about that here in British Columbia. We shouldn't have to be waiting to watch somebody else do things that are innovative."
Dr. Rita McCracken, a Vancouver-based family doctor and assistant professor in UBC's department of family practice, supports the idea of a dedicated family doctor training program but said that's only one part of a complete rethink of the way primary care is delivered.
Article content
"I think (a dedicated family medicine program) is a good idea because right now, medical schools are not primary care focused," she said. "The vast majority of content is specialized medicine."
Even though UBC this year filled all 186 of its family physician residency spots, "less than half (of family physicians) are going into this longitudinal community-based primary care that we need them to," McCracken said.
That underscores the need, she said, for the provincial government to further expand B.C.'s team-based care model — in which a team of doctors, nurse practitioners and other health workers work in the same clinic and have an ongoing relationship with patients.
That model, McCracken said, could incentivize more doctors to return to family medicine and address the problem of burnout among family doctors who are overburdened with paperwork and the logistics of running a clinic. For example, public school teachers aren't expected to rent out their own classrooms and pay the utility bills but we expect that of doctors, she said.
There are currently 30 health-authority run urgent and primary care centres (UPCCs) across B.C. but many of them have faced short-staffing issues and have had trouble recruiting family doctors.
Article content
McCracken was part of a national research initiative called Our Care, which surveyed hundreds of British Columbians about the future of primary care in the province.
One of the key recommendations includes guaranteeing every British Columbian access to primary care through publicly-funded community health centres in every community, which would be accessed through a catchment system similar to the public school system.
The majority of those surveyed said it would be more important to be linked to a primary care team rather than one individual family doctor.
"If you had a community where kids don't have access to an elementary school, you need to go in there, and you need to build an elementary school, and then do whatever it takes to get the teachers to come there," McCracken said. The same standard should be applied to ensuring equal access to primary health care, she said, especially in rural and remote communities.
Could a dedicated medical school for family doctors solve the shortage?

New medical school at SFU's Surrey campus to train next generation of doctors: Premier
Article content
---
Bookmark our website and support our journalism: Don't miss the news you need to know — add VancouverSun.com and TheProvince.com to your bookmarks and sign up for our newsletters here.
You can also support our journalism by becoming a digital subscriber: For just $14 a month, you can get unlimited, ad-lite get unlimited, ad-lite access to The Vancouver Sun, The Province, National Post and 13 other Canadian news sites. Support us by subscribing today: The Vancouver Sun | The Province.
For more health news and content around diseases, conditions, wellness, healthy living, drugs, treatments and more, head to Healthing.ca – a member of the Postmedia Network.