Sports
North Van lawn bowlers celebrate 100 years of fun and exercise
Club members spent most of the first season levelling the land and seeding grass for a green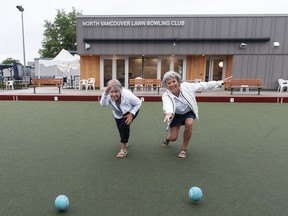 Article content
In 1923, several hardy souls spent their spring and summer levelling a piece of land and seeding grass at 23rd and Lonsdale in North Vancouver.
Their labour bore fruit in September with the first lawn bowling game on the green of the North Vancouver Lawn Bowling Club.
Article content
The club celebrates its centennial this year and it's thriving with 260 members. This is up from 160 during the COVID pandemic, when the club was forced to move from its longtime home for the construction of a new Harry Jerome Community Recreation Centre.
Article content
But no one's complaining, because two years ago the club moved to a skookum new green at 249 East 24th in North Van.
The new green is made of artificial turf, which means lawn bowlers can now play year-round. Two weeks ago, the move was completed when the City of North Vancouver handed over the keys to a new clubhouse.
This is a far cry from 1923, when the club rented land from the North Vancouver Horticultural Society. The first clubhouse was "an old shed" that was moved from 21st and Lonsdale.
"At the beginning it was only a men's club," said Pat McKenzie, first vice-president of the organization.
"In 1924 the women were asked to form an auxiliary to serve at the men's functions. They said, 'Well, we want to lawn bowl, too,' so they formed their own club.
"The women's club usually outnumbered the men's in membership. In 1988 the women amalgamated with the men, and there was a couple of men who stomped off and never came back."
This week McKenzie was hauling historic trophies out of storage for the 100th anniversary on Sept. 8. The club still has the original 1923 championship trophy for singles bowling.
Article content
"It's only been awarded four times," she noted.
"The deal was if you won it three times you got to take the trophy, it became yours. So D. MacPhail won it three times, and had to take it home. I suspect when he died we got it back, because his family went 'We don't know what to do with it, you can have it back.'"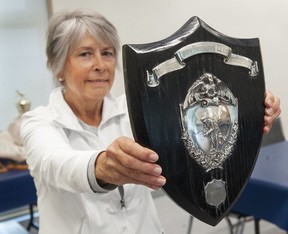 Lawn bowling was a big deal in the 1920s, when the local sports pages carried stories and results from tournaments. "Bowls" has a history dating to ancient Egypt, but the modern version dates to 1848, when rules were adopted in Scotland.
The first lawn bowling club in B.C. was at Victoria's Beacon Hill Park in 1908, while the first club in the Lower Mainland was the Vancouver Lawn Bowling Club, which formed in 1912. The most famous local lawn bowling green is in Stanley Park, which dates to 1917.
Watching the bowlers on a sunny summer day you feel like you've gone back a century. But don't be fooled into thinking it's always a gentle, leisurely pursuit.
"It might look like that," laughs McKenzie, "but it can be highly competitive and stressful as well."
It also requires a lot of skill. The goal of the game is to hit a small white ball called a jack or kitty with a bigger ball, which is called a bowl.
Article content
The catch is that the bowls "have a bias to them," and curve.
"There's a big side with a big circle, and there's a little side," explains McKenzie.
"The little side has a different shape to it, so when you roll the bowl, as it slows down, it rolls inward."
Artificial turf greens are faster than a real grass green.
"It's a little different," she said.
"Grass greens in the spring are heavy, a lot of people that would have trouble getting it all the way down a green. This is a great equalizer. Anybody can get a bowl to the ditch (at the end of the green) anytime."
This helps because most lawn bowlers are older. McKenzie said it's a great way to socialize with people, and get a little exercise.
"It's a really fun game, easy to learn, hard to get really good at," said McKenzie, 67.
"While it's not a ton of cardio exercise or anything, you're out there moving around. When I first joined I would see people in their 90s who had better balance than I did because it keeps people going."
It does. On B.C. Day, more than 100 people bowled at the annual Stella-Jo Dean Memorial Tournament, named for a late North Van councillor who donated a trophy for the club's 50th anniversary.
"She liked Hawaii, so we have it every B.C. Day Monday," said McKenzie.
"Everybody dresses up Hawaiian and we have Hawaiian music, and there was a dinner for at least 100 people afterward."
Sounds like a lot of fun: the reason people love lawn bowling.