Politics
Palmer: B.C. Ferries makes excuses, but this weekend the litmus test
Opinion: Ferries boss makes promises for this weekend, the busiest of the year
Get the latest from Vaughn Palmer straight to your inbox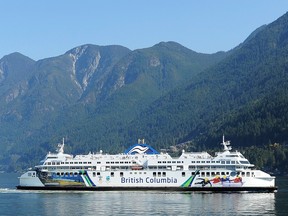 Article content
VICTORIA — B.C. Ferries CEO Nicolas Jimenez emerged Wednesday to offer excuses and promises to do better after the recent troubles with the ferry service.
Jimenez presided over a lengthy news conference, followed by a tour of the operations and security centre in the Atrium, the corporation's striking headquarters in downtown Victoria.
Article content
But it was a belated CEO-accountability session, staged two full weeks after the Coastal Celebration was taken out of service for the second time this summer, triggering a cascade of service disruptions.
Article content
For much of those two weeks — while sailings were cancelled, waiting times multiplied, and the website foundered — it appeared the entire weight of accountability for the ferry service was being carried by a lone communications staffer working out of her home.
Not until board chair Joy MacPhail was shamed into doing some interviews late last week, did higher ups make themselves available.
"This company needs to do better when it comes to communicating," admitted Jimenez. He spoke of the importance of recognizing the provincial news media as partners in communicating with the public.
B.C. Ferries executives could start by giving the straight goods on things like the recent fiasco with the website.
For two days running, the site claimed there were nine sailing waits on the route out of Tsawwassen to Swartz Bay. The real delay was a sailing or two, forcing B.C. Ferries to post a notice that its website was not to be trusted.
Instead, would-be travellers were urged to rely on X, the social media platform formerly known as Twitter.
How was this possible when the corporation has spent millions of dollars on information technology of one kind or another, according to its annual financial statements?
Article content
"Our technology hasn't kept up as we'd like it," replied Jimenez.
The briefing provided some insights by way of excuses for the servicing difficulties with the Coastal Celebration.
The vessel was originally booked for major servicing in the federal government owned dry dock in Esquimalt. But neither of the companies that were qualified to do the work put in a bid.
The work was then bumped into the province's only other dry dock in North Vancouver. But the yard was backed up, leaving the ship out of service over the Canada Day long weekend.
After being released from dry dock, it broke down a second time on July 19 forcing the cancellation of eight sailings a day. Again, there was a delay of more than a week before the second problem could be rectified.
Or to quote excuse-maker-in-chief Jimenez: "It's fair to say we've had a number of frustrating events over the summer."
But it is not as if he and his executive team didn't have ample warning of the fragile state of the ferry service, as manifested in the earlier disruptions over the Victoria Day and Canada Day long weekends.
A year ago, the New Democrats fired Ferries CEO Mark Collins with then Premier John Horgan justifying the $1-million-plus severance payment as a response to the burgeoning waiting times and service disruptions.
Article content
It would be hard to cite any dramatic improvements on either front, despite the passage of a year.
Instead, Jimenez focused on what he characterized as long-term fixes.
"This company is in a difficult space," he told reporters. "We've got a number of problems that need to be addressed. These are not short-term fixes."
The staffing problem is not "just about hiring people, it's about training people, it's about finding the right environment, changing the culture — all that is going to take time."
He pushed back against the suggestion that the service is bound to lose employees to the more attractive wages at rival marine services like the new passenger ferry out of Nanaimo.
Job hunters will have a hard time finding a "defined benefits pension plan" to equal the one at B.C. Ferries. But perhaps that is not the right pitch for attracting 18-year-olds who are just entering the job market, he added.
Then there's the state of the fleet.
"We've got a lot of vessels that are aging, some nearing the end of life," he said. "Those investments don't happen in a week, or a month, or even a year."
Article content
B.C. Ferries has submitted a $5 billion capital plan to the independent ferry commission as a prelude to a business plan and a series of tender calls.
Once the plan is finalized, Jimenez says B.C. Ferries will be soliciting competitive bids from shipyards all over the world, a significant departure from the NDP preference for building ships in B.C. when they were in Opposition.
Before the ferry service gets to any of that, it first has to meet the challenge of the B.C. Day long weekend, usually the busiest of the year.
In anticipation, Jimenez spoke of boosting staffing and resources, from catering to communications, to a standby contingent of officers in case of last-minute staff no shows at any of the terminals.
"People need to have faith that the very system is going to work for them," said Jimenez, sounding like a CEO who is going all in this holiday weekend.
Vaughn Palmer: Can B.C. Hydro get up to speed?

Vaughn Palmer: NDP touts Ferries bailout, but agency can't use it to fix current woes

Vaughn Palmer: Utilities commission puts B.C. Hydro's safety record on probation
---
Summer subscription sale: Our in-depth journalism is possible thanks to the support of our subscribers. For a limited time, you can get full online access to The Vancouver Sun and The Province, along with the National Post and 13 other Canadian news sites, for just $40 for one year or $1 a week for 52 weeks. Support our journalism by subscribing today: The Vancouver Sun | The Province.