News
Parents sue B.C. Children's Hospital after newborn given wrong dose
The overdoses were administered at least four times over the course of several days before the dosing error was discovered, the plaintiffs allege.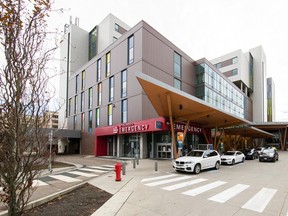 Article content
The parents of a baby severely and permanently disabled after he was given a dose of a medication that was 10 times stronger than prescribed have filed lawsuits against several health agencies.
Xandros Saludo was born July 28, 2022, in Richmond and nine days later, his parents were told to immediately bring him into B.C. Children's Hospital because a routine genetic screening test found he had a urea cycle disorder, according to notices of civil claim filed in B.C. Supreme Court.
Article content
The inherited — and rare — genetic disorder, called Argininosuccinic Aciduria, affects a baby's ability to metabolize proteins, causing high ammonia levels in the blood, according to the court documents.
Xandros' ammonia levels were high when he arrived in hospital and he received treatment that included the drugs Ammonul and sodium phenylbutyrate. He responded well and doctors expected him to be discharged on Aug. 17, 2022.
But on Aug. 16, according to the court filings, the medication was switched to sodium benzoate from sodium phenylbutyrate and the dosage amounts dispensed by the hospital's pharmacy were "10 times the amount that had been prescribed."
"The overdoses were administered to Xandros at the hospital at least four times over the course of Aug. 16 to 17, 2022, before the dosing error was discovered," the plaintiffs allege.
Xandros had "toxic" and "life-threatening" levels of benzoic acid in his blood, and his "physical and cognitive status significantly deteriorated," according to the claims.
"Medical imaging revealed severe damage to Xandros' brain as a result of the overdoses," and "the hospital admitted the overdoses were caused by errors on their part," the lawsuits — filed by each parent and for the child — state.
Article content
As a "direct result of the negligence, Xandros suffered catastrophic injuries," including severe brain injury, severe and permanent physical and cognitive impairments, psychological injury and others not yet known.
The lawsuits name the Provincial Health Services Authority, Lower Mainland Pharmacy Services and Fraser Health Authority as defendants.
"All three defendants and each of them are involved with the provision of pharmaceutical services at the hospital," the court documents state.
The parents' lawyer, Veronica Medved, said: "This tragic incident was avoidable and underlines how critical it is that our hospitals have guidelines and procedures in place and that those guidelines and procedures are followed."
The family is claiming unspecified general damages, the cost of past and care needs, loss of earning capacity, special damages and other relief.
Xandros' parents, Liana and Alexander Saludo, each filed their own lawsuits, naming the same three defendants, claiming "severe psychological injury" as they "witnessed the life-threatening impact of a massive medication overdose" on their three-week-old son.
Article content
"The incident was horrifying, involving the onset of significant seizures, that included eye-rolling and uncontrolled jerking and twitching in limbs, intubation, as well as a significant loss of responsiveness," according to the claims.
The mother remains "traumatized by the fact that she herself was instructed by nursing staff to administer one of the overdose amounts that led to her son's injuries."
The Saludos suffered injuries including psychological injury, depressed mood, sleep disturbance and decreased ability to carry out daily activities, their claims said.
The parents allege negligence by hospital staff for failing to employ adequate safeguards for Xandros' health, dispensing excess doses of sodium benzoate without procedures to double check correct doses, failing to recognize the overdoses in time, and failing to ensure the doses were the correct amount ordered.
Responses to the claims have not yet been filed and none of the allegations have been proven in court.
Indigenous couple sues B.C. health authority over treatment, death of baby

https://vancouversun.com/news/local-news/obstetrician-found-mostly-responsible-for-babys-brain-injuries-during-delivery-at-lions-gate-hospital
---
Bookmark our website and support our journalism: Don't miss the news you need to know — add VancouverSun.com and TheProvince.com to your bookmarks and sign up for our newsletters here.
You can also support our journalism by becoming a digital subscriber: For just $14 a month, you can get unlimited, ad-lite get unlimited, ad-lite access to The Vancouver Sun, The Province, National Post and 13 other Canadian news sites. Support us by subscribing today: The Vancouver Sun | The Province.