Politics
Stephen Hume: Pat Carney presented a formidable portfolio of firsts
Opinion: She always said politics was the true passion she discovered after journalism — but our Pat will always be the Aunty Pat who dropped in for tea on her way to the ferry and the godmother who never forgot a little girl's birthdays.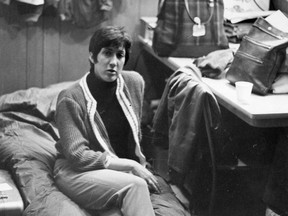 Article content
I happened to be browsing through some half-century-old photo files from my years in the Arctic when word came to me that my old friend Pat Carney had died in a Vancouver hospital at the venerable age of 88.
Her death followed a mercifully short illness that merely concluded a longer tribulation involving a lung that, to her intense irritation, kept collapsing, being reinflated, and collapsing again.
Article content
Nevertheless, I heard the rustle of a book closing, not just on the chapter of another writer's life, but a whole volume closing on an entire era.
Upon the death of famous people, we media folks tend to focus less on the person and more on the persona — the career achievements, the markers of success or of failure. There were plenty of the former in Pat Carney's life.
Pat presented a formidable portfolio of firsts — in journalism, in feminism, and in politics. She was an under-appreciated architect of the North American Free Trade Agreement that transformed Canada's economy as few other events have done. She was also a tireless champion of issues that others considered marginal — the importance of lighthouses to B.C.'s maritime presence, for example.
And, of course, of issues considered far from marginal — her vote as a Conservative senator to kill a Conservative government's bill that sought, in her opinion, to restrict abortion rights — and to heck with the partisan consequences, which were considerable, not least a small-minded backroom belittling of her other contributions.
Article content
Sometimes, she later told me, a woman in politics is duty-bound to vote her conscience and for her sisters' rights as women regardless of her male-dominated party's desires to exploit socially conservative wedge politics.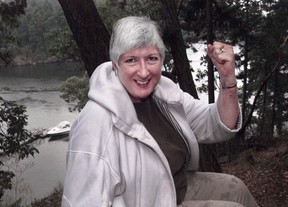 I'll leave Pat's impact on public life, on women's rights and on politics to the many who are better able to write about them and surely will. My own experience of Pat was mostly as a person, not as a political persona.
Pat represented the last of what some, perhaps sentimentally, consider the golden age of journalism before it gentrified — a larger-than-life realm inhabited by colourful, larger-than-life characters who themselves seemed rough-hewn from the foundation material of the communities they wrote about.
They weren't intellectuals, although Pat certainly could play that role when she wanted to. Most hadn't been to university, although Pat had studied economics at the University of B.C., dropping out to work at The Vancouver Province before finishing her degree and then joining The Vancouver Sun as a brash young business writer who promptly nabbed herself a business column in a "Get me rewrite, sweetheart!" world where most female journalists were usually consigned to the women's section.
Article content
That was The Sun of Jack Scott and of Simma Holt, of Jack Wasserman and of Jack Webster, of Denny Boyd and of Paul St. Pierre.
Pat seemed to emerge naturally from the same brawling, provocative Vancouver Sun tradition.
Pat was a take-charge personality who could bellow irreverently with the best cynical city editor (a matriarch-in-the-making before she became a matriarch, as one wag put it). She had a nose for the kind of story that appealed to bank tellers rather than bank presidents, and she could joke with dump-truck drivers and salty Dene trappers as easily as she could charm princes and prime ministers. Her mother, Dora Sanders, who had been a columnist for what's now the Victoria Times-Colonist, had as a young journalist herself once interviewed William Butler Yeats at his home in Ireland.
The first newspapering Carney I met wasn't Pat. It was her younger brother Tom, who worked at the provincial legislature bureau for Canadian Press while I laboured at the since-merged Victoria Daily Times.
I didn't meet Pat until after she'd taken her leave of daily journalism in 1970, when, as a single mother, she launched a small economic consulting firm, Gemini North, and moved it to Yellowknife, the newly-established capital of the Northwest Territories.
Article content
Her move was precisely the kind of swashbuckling gamble that had created the newspapers she had left behind.
Suddenly, there was a renewed interest in the North's resource potential. Oil and gas were the new gold. Pat got a whiff of it from her business reporting. She abruptly decided she might actually prefer making the news to writing about it.
About the same time, I got a call from Don Smith, the managing editor of The Edmonton Journal, asking if I'd consider taking a post at a news bureau based in Yellowknife and covering the North for Alberta's biggest paper. My ambitious beat would stretch from the Bering Strait to Greenland and from the North Pole to the Alberta border.
It seemed nobody else wanted the polar nights, sub-zero temperatures, eight months of snow and ice followed by three months of black flies, high prices, perceived isolation and interminable travel.
I said I had to ask Susan, my wife of a few months, what she thought of this idea.
"Are you crazy?" she said. "The adventure of a lifetime and somebody is offering to pay us while we do it? Start packing!"
So, we did.
Article content
Susan met Pat before I did, at a reception for John Turner, who had swanned into Yellowknife as a cabinet minister in Pierre Elliot Trudeau's Liberal government. The previous year, Susan had been the managing editor of UVic's student newspaper, The Martlet, when it was raided by the RCMP and had its front page confiscated during Quebec's October Crisis. She'd been invited to the reception only because she was working with the Native Brotherhood of the NWT, helping with the setting up of their own newspaper.
The reception was in a barren room on the top floor of the building known as The High Rise because, other than the head frames of the two operating gold mines that were Yellowknife's raison d'être, it was the only building in the capital that exceeded four storeys.
Pat cast a gimlet eye on the scruffy 22-year-old activist who eyed her back with suspicion, but warmed when she learned they were neighbours. Our small walk-up apartment, which we had scored only after months of living above the din from the beer parlour at The Yellowknife Inn, was right beneath Pat's.
I'm sure Pat's warmth was at least partially prompted by the thought of prospective babysitters for a travelling mom, a role which we, indeed, did occasionally serve.
Article content
I was away at the time of this encounter, deep in the fabled Headless Valley that Pierre Berton had made famous while he was at The Sun. I was reporting on the Canadian Parks and Wilderness Society expedition that would recommend that it become the Nahanni National Park Reserve.
When I returned, my wife suggested that I might want to chat with the upstairs neighbour about plans to build a pipeline down the Mackenzie River Valley — more than 4,000 kilometres — flowing oil from the Beaufort Sea to the south. There were plans, too, for a natural gas pipeline. The Native Brotherhood was not enthusiastic. It would later file a lien against 400,000 square kilometres of pipeline right-of-way.
I went over to interview the head of Gemini North, which was doing economic and social impact studies for government and industry. Truthfully, after half a century I don't remember what she told me or what I wrote, but I do remember the eruption when I wrote about the Native Brotherhood's filing of its caveat and the fury of industry and the NWT and federal governments when Supreme Court Justice William Morrow ruled that the Breotherhood had a legitimate interest.
Article content
By the time Pat and I had arrived in Yellowknife, the whole Western Arctic was seething with activity in which the high-tech cultures of helicopters and seismic camps collided with those still rooted in the palaeolithic.
My next encounter with Pat was educational. Our paths crossed again in Fort McPherson, even then famous for the Lost Patrol, which froze to death when it got lost on a winter trek between Dawson City in the Yukon and Fort McPherson in the Northwest Territories and was entombed in the church cemetery's permafrost.
No road then connected Fort McPherson to the outside. Bush planes came and went with such frequency that the air strips in Yellowknife and Inuvik were among the busiest in North America, ranking with Chicago and Dallas for daily aircraft movements.
We wound up sharing a cabin while waiting for a plane out the next morning. We played blackjack to kill time. Pat offered me a drink. Except that she didn't have one to offer. Neither did I. But Pat, who seemed to know everyone, knew someone who might.
So off I went to find the bootlegger, who agreed to provide — provided that I helped unload his cargo from the bush plane that I'd be taking out in the morning. Finally, after slogging through the mud between plane and cache, I got back. Pat took "her" bottle of Cutty Sark and poured me a liberal drink. Then another.
Article content
The next morning — if you can call it that when the sun doesn't set — I woke with a raging thirst in an empty cabin. Bootlaces untied, pack flapping, slipping in the mud, I ran for the floatplane landing to find Pat demurely sitting in the only supposedly available seat.
In fact, there was another seat in the back of the plane. It was next to the one occupied by the kid going to Inuvik for a medical appointment. But the empty seat was occupied by the kid's new bike, a present from which he was not to be parted.
My pleading did not move the pilot. The kid and his bike were together. United they would remain. And the lady in the front seat, well, first come first served.
"Sched comes in a few days," he said. And away they taxied. Pat flashed a "V" for victory. And I trudged back to the cabin to await the "sched," which was late. And that's how I came to read the entire oeuvre of John D. MacDonald, the American master of pulp detective fiction.
Later, I told Pat that at least she had expanded my literary horizons.
Pat and my wife became and remained fast friends, although their politics were at polar opposites. When we decided to leave Yellowknife, Pat took Susan to Saturna Island, where she'd recently bought a place and talked my wife into buying a lot she couldn't afford. She needed it, Pat said, because it was what would pull her back to the Coast.
Article content
And so it did. We built a house there, our daughter was christened there in the church built like the hull of an upturned boat because, well, boats were what the guy who built the church knew how to build. Her christening, at Pat's insistence, was conducted by the Rev. George Taylor, one of the last fluent speakers of Chinook. Pat became an enthusiastic and diligent godmother.
The Pat Carney of the eulogies that are sure to come, the recountings of her undoubtedly important political life — she always said politics was the true passion she discovered after journalism — will chart the intricacies of her career of firsts as a journalist, as a businesswoman, as a member of parliament, as a senator.
But that won't be our Pat. Ours will always be the Aunty Pat who dropped in for tea on her way to the ferry and who never forgot a little girl's birthday. She's the Pat who flashed that impish "V" as she abandoned The Journal reporter in the middle of nowhere, contributing mightily to his education on how smart Sun reporters, back in the Golden Age, had learned to handle the competition.
Stephen Hume is a retired, long-time Vancouver Sun columnist and author.