Business
Suspect posters, panic buttons: B.C. retailers trying to combat crime
The dilemma over how to combat crime is facing retailers big and small across Metro Vancouver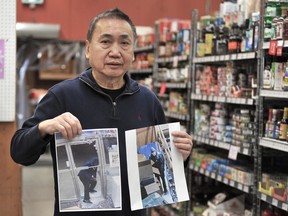 Article content
Until about a month ago, visitors to the East West Market on Main Street in Vancouver would have seen a homemade poster hanging over an ice cream freezer near the front of the store. It was plastered with security-camera photos — a rogues' gallery of sorts — of suspected shoplifters, with stolen goods in hand or surrounded by smashed window glass.
Owner David Lee Kwen initially thought the photos would help cashiers identify suspects if they returned, and that some old-fashioned shaming might deter the thieves from trying again, including a man who loaded up his jacket with packages of frozen seafood and dashed.
Article content
But Lee Kwen took down the poster a few weeks ago. Nothing had changed, and customers were warning him that the suspected shoplifters could possibly sue him for posting their images.
"One (suspect) went up the road and broke into a store there," he said. "We'll call the police, but we don't chase them. We don't confront them because we don't want to end up with somebody getting hurt. It's pretty tough."
The dilemma over how to combat crime is facing retailers big and small across Metro Vancouver. They are trying different tactics to deter theft, assault and vandalism. Earlier this week, they created a coalition with industry and community groups to demand all levels of government do more to combat the problems.
But the situation is complex.
"It's impossible and probably misguided to try and pinpoint one cause," says retail analyst David Ian Gray. "And it's equally misguided to try and suggest there's one simple solution."
He looks at markets across North America and says in the U.S., there are cases of entire police detachments being located inside big-box stores, and large chains closing branches due to untenable levels of theft.
Article content

There have been a host of sociological shifts that have led to a normalizing of theft, says Gray. They include the ability to easily sell stolen goods on various online platforms, the perception that some of the largest retailers, particularly grocers, are leveraging incredible profits at the expense of consumers, and the practice by some companies of not bothering to take back large items if they ship out the wrong product because it would cost them more to do so.
"There is a devaluation of these things," says Gray.
Gray added that it has already been "incredibly hard" to attract frontline retail employees. Now with the thefts, assaults and vandalism, there is a feeling that these workers are increasingly at risk. "The anxiety is there," he says.
Against this backdrop, small local retailers are coming up with a variety of in-house solutions.
At Les Amis du Fromage, a specialty cheese shop with a location on East Hastings, co-owner Joe Chaput says the number-one deterrent is to pour on the customer service.
"Shoplifters don't want attention. They don't want to talk. So we try to 'Kill them with kindness,'" he says.
Article content
Since last year, at busier times, they have employed a dedicated security guard at the store front so employees can focus on serving customers.
He also installed an inexpensive, wireless "panic button" that staff can press when it "looks like something could happen, and it alerts all staff to come to the front of the store to have more eyes on things."

He says they want to get ahead of having any issues, but it is the first time in 30 years of doing business that he has taken such steps.
"You don't want to be known as a place that's easy to take from, where there are no staff watching."
Just this week, thieves destroyed an air-conditioning unit on the roof of the building.
There are steel cages around two pieces of heating, ventilation and air conditioning equipment. The one that got damaged had been sitting bare.
The thieves presumably were after the copper wiring, says Chaput. He lamented that it will cost $13,500 to replace the unit, although some of it will be covered by insurance.
Related Stories
B.C.'s big retailers send urgent message to governments: Get street crime under control

Hundreds arrested for shoplifting in latest Vancouver police blitz
---
Bookmark our website and support our journalism: Don't miss the news you need to know — add VancouverSun.com and TheProvince.com to your bookmarks and sign up for our newsletters here.
You can also support our journalism by becoming a digital subscriber: For just $14 a month, you can get unlimited, ad-lite access to The Vancouver Sun, The Province, National Post and 13 other Canadian news sites. Support us by subscribing today: The Vancouver Sun | The Province.