Sports
Teenage Coquitlam hurler joins national women's baseball squad
World Cup-bound Sarah Pengelly honed her skills in Little League and is the only female on the B.C. Premier Baseball League senior team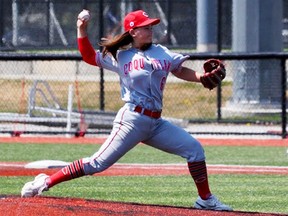 Article content
She paints like a girl, meaning that when Sarah Pengelly's two-seamer dips, it catches the corner of the plate like it was Emily Carr with a liner brush.
She has been doing that since she was eight years old, but when Pengelly steps onto the mound in the bottom half of the first inning on Friday at Thunder Bay's Port Arthur Stadium, it won't be just another game's first pitch for the Coquitlam teenager.
Article content
The 17-year-old is scheduled to start her first game for Canada's national team at the Women's Baseball World Cup against Korea.
"I'm pretty excited to get a start, especially in my first year," Pengelly said by phone prior to Canada's Wednesday night game against Hong Kong/China. "I'm definitely nervous about it, but I think I'm going to play well."
The Charles Best Secondary alum found out only on July 30 that she had made the national team, fulfilling a lifelong desire, however far-fetched it may have seemed at times, to wear the Maple Leaf.
"It has always been a dream of mine to be on this team," she said. "It's pretty amazing. I never really thought that I could represent Canada, and now that I'm here I'm ready to represent Canada with everything I've got."
What she's got is a slider, a change-up, a curveball, and her go-to, a two-seam fastball.
Pengelly honed her skills in Little League and then in the Coquitlam Reds program. The 5-foot-5 pitcher, who wears No. 6 with the Reds, is the only female on the 20-player roster of the B.C. Premier Baseball League senior team and leads the squad in starts and also has a save.
Article content
Born in Burnaby, Pengelly was always athletic and played a number of sports growing up, her parents Diana and Derek said. Given her cannon of an arm, it's no surprise she was as proficient at hitting a ball over a net as she was draining a ball into one, and that her track and field events were discus and shot put.
Last season, Sarah was the first female known to Baseball B.C. to earn a win at an Under-19 Triple-A qualification or provincial tournament.
"We're excited and thrilled Sarah has this opportunity," Diana Pengelly said.
Throughout Little League, Sarah was always the only girl on the team, her mother said.
"When they started live pitching (after T-ball), she just seemed to have a bionic arm."
Sarah would make the select team with Coquitlam Little League every summer, so her talent has always been recognized.
"We were always just happy she was enjoying the time," Derek Pengelly said. "We just supported her love of the game."
Never dreaming that love would lead to this level of play.
"We are over the moon," Derek said. "We learned late about women's baseball."
Sarah was 11 before a coach told her parents about tryouts for provincial girls teams.
Article content
"She wound up going to (the Western Canadian Championship) with this Under-14 girls team," Derek said.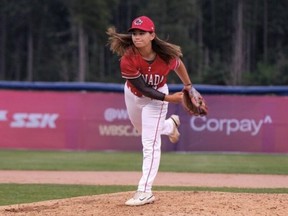 Sarah — whose younger sister Allison also plays baseball, and also pitches — doesn't usually do much different before starts, other than listen to a specific playlist.
She found out about making the national team not long after B.C. lost 4-0 in the gold medal game at the 2023 Canadian women's championship on July 30. In the fall, she will head to SFU to study kinesiology, but there's the little matter of qualifying for the World Cup first.
Japan has won six straight World Cups, the last in 2018 (the tournament was cancelled in 2020 and 2022).
Canada, which won bronze and silver in the last two World Cups, is ranked No. 3 in the world, behind Japan and the U.S.
As host country for the 2024 World Cup, Canada already qualifies — failure to finish first or second in the qualifying tournament this week would hand Canada one of two wild card entries — but Pengelly doesn't want to sneak in the backdoor.
"We're still trying to win," she said. "We want to play hard, represent the country."
Canada beat Mexico 9-1 on Tuesday night to open the tournament, and faced the U.S. on Wednesday evening.
Pengelly, who also plays outfield, and four other B.C. players face Korea at 1:30 p.m. Pacific Time on Friday, then wrap up the qualifying tournament against Australia on Saturday.
All with an eye on gold in 2024.
"Yeah, that'd be crazy," Pengelly said.