World
Todd: Hindu Canadians are distressed and politicians should be wary
Opinion: Canada's Hindu population of 828,000, many of whom feel threatened by pro-Khalistan activism, is growing and becoming a political force.
Get the latest from Douglas Todd straight to your inbox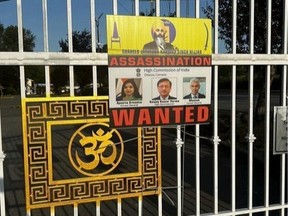 Article content
A man has been arrested for vandalizing two large Hindu temples in Surrey, say RCMP.
The suspect and his accomplices are accused of plastering the Hindu places of worship with yellow-red posters. The posters call for a separate Sikh homeland in India and declare that Indian diplomats in Canada are "wanted" for the June 18 "assassination" of Khalistani activist Hardeep Singh Nijjar.
Article content
These acts of intimidation at the Laxmi Narayan and Bhameshwari temples are only the latest strikes at more than a dozen Hindu sanctuaries across Canada. Indian consulates in Toronto and Vancouver have also been targeted.
And in a recent video, the head of the powerful secessionist group Sikhs for Justice, angrily tells all Hindus to leave Canada.
It is tragic that tensions are intensifying between two of Canada's largest diaspora groups, the 772,000 Sikh population and the faster-growing Hindu population, which now numbers 828,000.
The escalations are occurring despite neither religious group being at all monolithic. Indeed, over the decades there have been countless examples of harmonious Sikh-Hindu relations across Canada.
And it must be noted that many Sikhs do not support activists' aggressive, sometimes violent, push for an independent homeland in the Punjab called Khalistan.
However, the summer murder of Nijjar, a gurdwara leader in Surrey, reverberates with the sectarian divisions that also surfaced in this country in 2021. That's when Sikhs in Canada were instrumental in leading the mass protests against attempts by Indian Prime Minister Narendra Modi, whom many consider a Hindu nationalist, to reform farming markets.
Article content
Canadian politicians, ever-focused on how to woo large ethnic voting groups, are being forced to try to figure out how to navigate increasingly volatile and complex divisions between the country's Sikh and Hindu populations, who are concentrated in key ridings in the suburbs of Toronto and Vancouver.
Prime Minister Justin Trudeau took a high-stakes political gamble, internationally and domestically, on Sept. 18 when he announced there are "credible allegations" that agents of the government of India had a hand in the slaying of Nijjar, whom India has accused of being a terrorist, including conspiring to murder a Hindu priest.
India has vociferously denounced Trudeau's statement.
Nijjar's lawyer, Gurpatwant Singh Pannun, who is frequently quoted in Canada's mainstream media as the head of Khalistan referendums in Toronto and Vancouver, is among the most vociferous in spreading anti-India, anti-Hindu accusations.
It is Pannun who declared: "Indo Canadian Hindus, you have repudiated your allegiance to Canada. Your destination is India. Leave Canada. Go to India."
Article content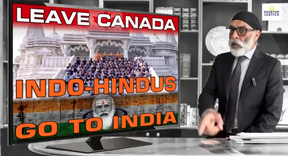 Omer Haziz, who served as a foreign policy director in the government of Justin Trudeau, wrote on the weekend that most Canadian politicians, and Liberals in particular, will not take a position on any international issue, especially regarding Sikhs, until they have pored over every local electoral implication.
"What I saw in government was how Canada's ethnic domestic battles were distorting our long-term foreign policy priorities, and politicians … were pandering in lowest-common-denominator ways in B.C. and Ontario suburbs, and playing up ethnic grievances to win votes," Haziz wrote.
"Canadian Sikhs have kept the issue of Sikh justice on the agenda by continually advocating and pressuring politicians," Haziz said. "The Sikh issue has an enlarged influence on our bilateral relations with India … Mr. Trudeau did not want to lose the Sikh vote to Jagmeet Singh." Singh, a Sikh, leads the NDP.
As Haziz confirms, Sikhs are famous for their political activism. Their clout is especially manifested through their ability to employ gurdwaras to sway voters to their chosen candidates in a party's local nomination battles. Despite representing 2.1 per cent of the population, Sikhs have a much greater proportion of MPs and provincial MLAs in elected office.
Article content
But members of India's majority religion, Hindus, who now make up 2.3 per cent of Canadians, are increasingly becoming more bold in Canadian business, education, media and politics.
That's one of the reasons Ontario Liberal MP Chandra Arya recently stressed the "real fear" that Hindus in Canada feel after the video emerged of the Sikhs for Justice leader warning them to leave the country.
"The risk of ethnic and sectarian bloodshed is real," said Arya, who has been vilified by Khalistanis for speaking out. He has been joined, nevertheless, by Conservative MP Melissa Lantsman in denouncing rising "Hinduphobia."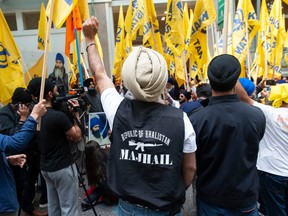 While the Liberal and Conservative parties also angle for Sikh votes, social media commenters point to Jagmeet Singh's ability six years ago to draw up to 90 per cent of his political donations from the Punjabi-Sikh community, mostly in Brampton, Surrey and Mississauga.
The political tide appears to be shifting.
More Canadians of Hindu background are getting into politics. And given the high concentration of Hindus in urban Ontario (575,000 people), former immigration department director Andrew Griffith has data showing that, while many ridings in Brampton, Mississauga and elsewhere are made up of 20 to 50 per cent of voters who are Sikh, another 15 to 25 per cent are now Hindus.
Article content
Meanwhile, there are 81,000 Hindus in B.C. (and 78,000 in Alberta). Sikhs in B.C. number 290,000. While Sikhs comprise anywhere from 20 to 50 per cent of voters in several ridings in Surrey, North Delta and Abbotsford, the Hindu share of voters has steadily expanded into the eight per cent range in the same ridings.
With the number of Hindus in Canada now growing faster through immigration than the number of Sikhs, politicians will feel the need to become far more sophisticated about the complex realities of both religious groups, and others, if they want to appeal to their interests, fears and dreams.
Related Stories
Douglas Todd: Trudeau's defiance of India killing two birds with one stone

9 of 10 donors to Jagmeet Singh's leadership campaign had South Asian names

Douglas Todd: Farmers' mass protests in India cut deeply into Canada
---
Bookmark our website and support our journalism: Don't miss the news you need to know — add VancouverSun.com and TheProvince.com to your bookmarks and sign up for our newsletters here.
You can also support our journalism by becoming a digital subscriber: For just $14 a month, you can get unlimited ad-lite access to The Vancouver Sun, The Province, National Post and 13 other Canadian news sites. Support us by subscribing today: The Vancouver Sun | The Province.