World
Todd: Victoria imam condemns Muslims who voted for Trudeau
Analysis: A fiery longtime Victoria imam is one of two British Columbians who demonize Israel and defend those who violently attack Jews
Get the latest from Douglas Todd straight to your inbox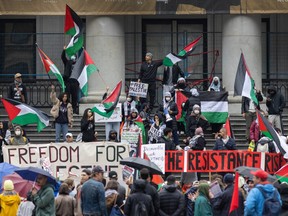 Article content
Any Canadian Muslims who voted for Justin Trudeau should be shamed, says a longtime imam in Victoria who on Wednesday called Israel "a terrorist, illegal, occupying, settler, murdering, apartheid state."
Younos Kathrada, head of Muslim Youth of Victoria, this week used his public Facebook platform to attack "sellout imams" who have stood "front and centre" in photos with Trudeau. One of Kathrada's followers comments: "May Allah give him (Trudeau) what he deserves."
Article content
Reacting to the way Trudeau joined many Canadian politicians in referring to the Hamas gunmen who killed more than 1,200 people in Israel as terrorists, Kathrada said Trudeau is now showing "his support for those who oppose Islam and Muslims."
When first elected, Trudeau attracted the vote of two of three Muslim Canadians.
The hard-line imam has previously appealed to his followers in Victoria and beyond to "destroy the enemies of Islam, and annihilate the heretics and the atheists." He has told members to not vote for "filthy" and "evil" political candidates who support homosexuality or Zionism.
Kathrada, who has never been charged in Canada with a hate crime and is not known to have ever been publicly denounced by a Canadian politician, is one of two high-profile British Columbians who demonize Israel and defend those who violently attack Jews.
The other is Vancouver writer-activist Khaled Barakat, whom Israeli intelligence and Middle Eastern media describe as a leader of the Popular Front for the Liberation of Palestine, a listed terrorist organization in North America known for dramatic airplane hijackings and suicide bombings.
Article content
This year, Barakat was captured on video telling a pro-Palestinian demonstration outside Vancouver Art Gallery that "the only way we can deter Israelis and the Israel system is by obtaining power, resistance, missiles, rockets. That's what works with imperialism and Zionism. Nothing else works."
This week politicians of all stripes, in Canada and around the world, have condemned the recent attack on Israel by Hamas, with most criticizing pro-Palestinian demonstrations in Toronto, Montreal and Vancouver for appearing to lionize terrorism in the name of "resistance."
National Post columnist John Ivison says the slaughter in Israel may lead to less Canadian "indulgence" of activists of any kind who support murder for a cause. Ivison urged Canada to update its law, Section 319 of the Criminal Code, against those who inspire hatred of an identifiable group. To date it's used sparingly.
Related Stories
Douglas Todd: B.C. Muslims rattled by confrontational Victoria imam

Terry Glavin: Hamas supporters enjoy safe haven and left-wing support in Canada

Douglas Todd: Hindu Canadians are distraught and politicians need to take heed.

Terry Glavin: The curious case of Khaled Barakat
Article content
For his part, Kathrada appears to be growing in prominence as an imam and political figure since he took up his pulpit more than 15 years ago in Victoria. In 2020, his Facebook page, which is available to the public, had 15,000 followers. Now, it has 24,000.
This week, Kathrada also urged supporters to speak to their children about this latest war and "let them know WE are being falsely accused of terrorism." He also quotes a passage from the Qur'an which says Muslims must never see Jews or Christians as allies, since they are the "wrongdoing people."
The imam urged Muslims in the West who "sit in our comfy homes" to not trust "the lying, deceptive, non-Muslim media" — and not make any negative assumptions about "our brethren elsewhere."
A Canadian human rights organization, B'nai B'rith Canada, which has tracked some of Kathrada's online sermons, has been pressing for him to be prosecuted for hate speech. But charges have not been laid, even while Kathrada complained to his adherents this week: "Remember, real freedom of speech and expression does not exist."
Kathrada could not be reached for comment.
Article content
While politicians, police and prosecutors do little about hate speech aimed at Jews, companies have the right to discipline employees. On Wednesday Air Canada terminated Montreal-based Boeing 787 pilot Mostafa Ezzo, alleging he wore pro-Palestinian colours while in uniform and posted profane commentary about Israel.
While it's not known if Vancouver-based Barakat, of the Popular Front for the Liberation of Palestine, has made public statements since Hamas gunmen murdered and maimed 1,200 Israelis in a surprise attack on Saturday, he has long promoted taking up arms against Israel.

"We must resist by all means necessary to keep our cause alive and to liberate Palestine, and for that Palestinians are carrying guns today and an armed struggle is in the forefront of our struggle as we will not abandon our just cause and our people, we will not abandon our resistance," Barakat told a May 14 rally in Vancouver led by his organization, Samidoun.
"The only reason that Palestinians don't practice violence in this country (Canada) is not because we are scared. F— them. We are not scared of them," Barakat told several hundred people.
Article content
Pro-Palestinian activists don't take up arms against Canadians because "we don't want to have another enemy," Barakat said. "Our enemy is Israel … We want to fight the occupiers. We want to confront the colonizers. We want to win that war against Israel's occupation and bring that racist apartheid system down."
An organization that tracks media coverage of Israel, called Honest Reporting Canada, has monitored some of Barakat's events. It says that while Canada's Charter of Rights and Freedoms guarantees the right of any Canadian to voice an opinion, no matter how unfounded or baseless, Barakat's violence-supporting rhetoric "goes far beyond legitimate speech and acceptable discourse."
Related
---
Bookmark our website and support our journalism: Don't miss the news you need to know — add VancouverSun.com and TheProvince.com to your bookmarks and sign up for our newsletters here.
You can also support our journalism by becoming a digital subscriber: For just $14 a month, you can get unlimited, ad-lite access to The Vancouver Sun, The Province, National Post and 13 other Canadian news sites. Support us by subscribing today: The Vancouver Sun | The Province.