Politics
Todd: Why Metro Vancouver is getting uglier
Opinion: Politicians are often approving massive highrise projects based on developers' manipulative visual renderings. It's leading to uglier cities.
Get the latest from Douglas Todd straight to your inbox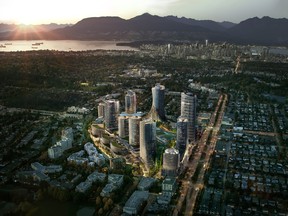 Article content
Most of us aren't skilled at drawing, painting or sketching. So we don't realize how easy it is to capture a bit of reality — or, more to the point, distort it — through visual representations.
As a result, we're vulnerable to approving development projects that can transform the look and feel of cities based on pretty images of tower complexes, which can turn out to actually be gargantuan, stark and unpleasant.
Article content
Worse, no one takes responsibility for the early false advertising.
We're seeing more of how the persuasive power of architectural images can be used, and abused, with virtually every massive multi-tower project in Vancouver, including at the Oakridge Park, Jericho Lands, Sen̓áḵw and Broadway-Commercial clusters, as well as with Burnaby's Metrotown, Brentwood and Lougheed conglomerations.
Here's how things go wrong.
"To get anything built, developers first have to sell it through images," says Erick Villagomez, a Vancouver urban designer who teaches drawing, rendering and visualization at UBC and Kwantlen Polytechnic University.
Fundamentally, Villagomez says, the artists hired to create the illustrations to market highrise complexes do everything they can to make the large proposal look attractive, if not idyllic. Sometimes they might do so naively, he says, other times with more dubious intentions.

"The trouble comes," he says, "when the public take the artistic images and treat them as real."
Since, in architecture and urban planning, images are more important than in almost any other field, Villagomez says politicians and the public need to become more educated about the tricks of the visualization trade.
Article content
First, perhaps, they need to become aware of the marketing artifice behind the often used bird's-eye, or so-called God's-eye view, of a building or highrise cluster. This establishing image, which often includes distant mountains, parks and sea, always makes a structure look smaller, less imposing.
"The God's-eye view is one almost no one will ever see, except those who can afford to go up in an airplane or helicopter," says Villagomez.
This aerial perspective can make a viewer think the developer has something to hide — for good reason, Villagomez says, because "the lived experience of a building, what it will really look and feel like, is always from the ground."

In Metro Vancouver, another overused presentation technique, if not subterfuge, is to render the project illustration in the form of watercolour paintings.
Such blurry watercolours avoid hard lines and aim to create a sense of softness and openness.
This technique is front and centre in the renderings distributed by the city of Vancouver and MST Development Corp. to sell the kilometre-long tower conglomeration for about 20,000 new residents on Vancouver's Jericho Lands.
Article content
MST's artistic tactic has provoked a kind of war of renderings.
Architect Brian Palmquist and the Jericho Coalition, a citizens' group, have released their own interpretation of the proposal, showing a much bulkier-looking development, which they argue is more realistic. Alternatively, the Jericho Coalition has created drawings said to suggest what the Jericho Lands would look like if filled with more "human-scale" medium-rise buildings.
Villagomez recently conducted a deep dive into the visualizations that Westbank has been producing of its three-tower vision for the Safeway site next to the Broadway-Commercial SkyTrain Station.
He has shown how the developer's drawings greatly exaggerate the size and brightness of a proposed plaza on the contentious east Vancouver site. The illustrations simply leave out some existing buildings, in order to make a pedestrian, bicycle and auto route seem more spacious and pleasant. In addition, the architects' drawings add "fictional" low-rise buildings to the surrounding neighbourhood, to make the three proposed 30-storey-plus towers feel less imposing.
Article content
And, as is almost always the case, the Safeway site drawings assume the sun is high in the sky. That is misleading idealism, though, because it gives the impression the highrises will produce virtually no shadows. Villagomez's calculations, on the other hand, show at some times of the day the towers will form shadows that stretch for hundreds of metres.

"In the end, a lot of architectural renderings become fake images," he says.
"Ultimately, this leads to poor decisions that can only be proven false after a project is built and the visuals used leading up to the approvals in the first place are long forgotten. This has long-standing consequences on the workings of the city — impacts that last for decades."
What can be done to combat misleading visuals, which often lead to uglier buildings?
The most basic step is to help the public, politicians and planners become more literate about the under-the-radar manipulative techniques often used in developers' presentations.
Another response, relying on available technology, is for municipalities to develop three-dimensional, interactive digital maps of every one of its streets, buildings and parks. With 3D, Villagomez said, it becomes much easier for everyone to accurately visualize how a new building would fit into an existing neighbourhood.
Article content
Finally, Villagomez rightfully maintains it's time for developers, architects and illustrators to be "held accountable" when they tamper with artistic renderings in a way that misleads an uninformed citizenry. Such city-altering visuals may need to be regulated.
"Architects should 'sign and seal' renderings intended for public consumption," Villagomez says. "This accountability should extend to post-construction."
Related Stories
Douglas Todd: Vancouver's massive Oakridge luxury project bodes badly for affordable housing

Douglas Todd: Trust is dying in Vancouver's civic engagement process (Broadway-Commercial highrise project)

Why is Vancouver so secretive about the Senakw highrise project?
---
Bookmark our website and support our journalism: Don't miss the news you need to know — add VancouverSun.com and TheProvince.com to your bookmarks and sign up for our newsletters here.
You can also support our journalism by becoming a digital subscriber: For just $14 a month, you can get unlimited, ad-lite access to The Vancouver Sun, The Province, National Post and 13 other Canadian news sites. Support us by subscribing today: The Vancouver Sun | The Province.