News
Two Air Canada planes clip wings on the tarmac at YVR
Passengers on a Q400 scheduled to fly to Nanaimo Sunday afternoon and on a A319 flight to Quebec City were rescheduled to night flights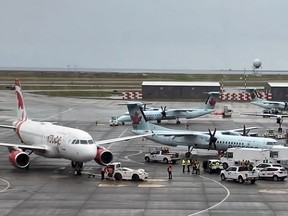 Article content
No injuries were reported when two Air Canada planes came into contact on the ground at a terminal at Vancouver International Airport on Sunday.
The slow-motion collision ripped parts of the tips of the wings off each plane.
Article content
Dirk Holstein saw it happen from a departure lounge.
"At around 2:30 p.m. two planes hit each other with their wingtips," he said in a note with accompanying photos.
Article content
His photos show an Air Canada Airbus A319 being backed out of its gate at the domestic terminal and clipping the wing of a parked de Havilland Dash 8-400.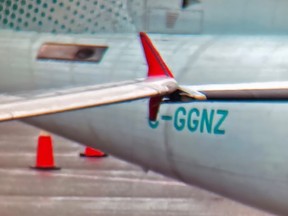 Passengers for the 28-minute flight to Nanaimo on the Dash 8-400 and for the five-hour flight to Quebec City on the A319 were put on other flights Sunday evening.
Air Canada had no one available to speak on Monday but confirmed that one of its Rouge Airbus A319s made contact with a Jazz Express Q400 on Sunday afternoon while the Airbus was being pushed back from the gate.
"The Rouge plane's wingtip made contact with that of the Q400, which was parked at a nearby gate," the statement read. "There were no injuries to customers or ground personnel. "Customers on both flights travelled to their final destinations on other aircraft (Sunday evening)."
Both the A319 and the Dash 8-400 are considered particularly safe and reliable aircraft.
The Transport Safety Board of Canada warns on its website that "there continues to be a risk of aircraft colliding with vehicles or other aircraft on the ground at Canadian airports," as planes and support vehicles travel between ramps, taxiways and runways.
Article content
It also began tracking the far-more-serious runway collisions in 2010, though the Nav Canada statistics it uses go only to 201. Of the total 2,041 runway incursions — meaning a plane entering a runway without permission — from 2011 to 2015, there were 27 deemed serious.
"Given the millions of takeoffs and landings each year, incursions are rare, but their consequences can be catastrophic," the board says. "Several TSB investigations have found a risk of collisions on runways and the board remains concerned that serious runway incursions will continue to occur until better defences are put in place," the board said.
Nav Canada follows the International Civil Aviation Organization's manual on the prevention of runway incursions.
In the U.S., the Federal Aviation Administration set up a safety summit in May to address the increasing number of in-air and on-ground near misses that data shows began creeping upward in 1997.
"The vast majority of runway incursions are not serious occurrences," but do cause alarm, the FAA said.
YVR deferred to the airline.
"The safety and security of our passengers and employees is our top priority," an airport spokesperson said via email. "YVR Fire and Rescue responded immediately and there were no reported injuries.
Article content
"Affected passengers were accommodated by their airline and operations were and continue to be normal at YVR."
The airline didn't say how many passengers were affected, but the Q400 seats about 45 passengers and the A319 about 150, depending on configuarion. The airport said before the long weekend began it expected 315,000 passengers over the three days.
Sylvie Barma, a Quebec City resident aboard the Airbus, told the CBC she saw a piece of her plane's wing on the ground after the collision.
"We were shaken by a rather strong blow," she told the network while waiting for her rescheduled flight Sunday. "We were worried for a few moments."
Vancouver 'top destination' for Americans on Labour Day weekend: AAA

Indigenous artifacts uncovered at YVR during construction

Air Canada announces new non-stop flights from YVR to Singapore
---
Summer subscription sale: Our in-depth journalism is possible thanks to the support of our subscribers. For a limited time, you can get full online access to the Vancouver Sun and The Province, along with the National Post and 13 other Canadian news sites, for just $40 for one year or $1 a week for 52 weeks. Support our journalism by subscribing today: The Vancouver Sun | The Province.