News
Vancouver daycare project sees 24 per cent cost hike over two years
Opinion: The current economic climate means the City of Vancouver, and many municipal councils, will face tough decisions during this year's budget deliberations
Get the latest from Dan Fumano straight to your inbox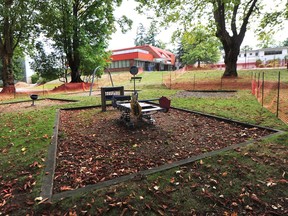 Article content
War in Ukraine, COVID-19, labour shortages, high interest rates and even regional flooding are being cited as reasons why a planned Vancouver child-care facility's construction costs have increased by 24 per cent — or $4.3 million — in less than two years.
Next week, city staff will ask council for half of that dollar figure, which is a small fraction of Vancouver's overall operating budget. But the 24 per cent increase on this single capital project signals the financial pressures Vancouver — and other municipalities — will face as they make annual budget decisions in the coming months.
Article content
The planned child-care facility will be part of B.C. Children's Hospital's Sunny Hill Health Centre redevelopment for kids with complex health-care needs. The city had proposed to pay 50 per cent of construction costs to double the number of spaces to 74.
The Provincial Health Services Authority's original plans for the site included a 37-space child care centre.
In December 2021, Vancouver's previous council approved a grant of up to $8.9 million for its half of the estimated $17.8-million child care facility, with the province funding the other half.
But in the 20 months since then, things have gotten a lot more expensive. Now, Vancouver staff are seeking council's approval for an additional $2.1 million for its half of the child-care project.
This increase is "due exclusively to construction cost escalation," says the report to council, a phenomenon that is "impacting capital projects in all communities and across all levels of government."
Private-sector builders have been raising alarms about rising costs, which "soared" by 51 per cent since the start of the pandemic, RBC reported this year.
Article content
The construction industry also blames city fees for driving up building costs. A Business in Vancouver column last month argued municipalities have become "vampires in the housing sector," sometimes charging tens-of-millions for a single condo project.
Those supposedly vampiric fees are a major source of municipal revenue. If they were dramatically reduced, the city would have less money for services.
That would mean city hall could raise more revenue elsewhere. But the city's largest revenue source is property taxes, and ABC Mayor Ken Sim pledged that last year's 10.7 per cent property tax hike, the largest in recent memory, "could not become the norm."
He also pledged not to make major cuts to services on which Vancouverites depend.
During last year's election campaign, ABC politicians talked about potentially trimming spending on areas outside of the city's core mandate.
But "outside the city's core mandate" includes services of vital importance to Vancouverites, like affordable housing and, as next week's report points out, child care.
"While the mandate for child-care provision rests with senior governments, the city recognizes the importance of affordable, accessible and quality child care to the social and economic sustainability of Vancouver's families and neighbourhoods," the report says.
Article content
In a city with an acute child-care shortage — the city estimates a shortfall of almost 15,000 licensed child-care spaces — this is a big deal for Vancouver voters. Many of the city's current elected officials described the child-care shortage as one of the top concerns they heard from Vancouver voters during the campaign.
Many factors will put pressure on Vancouver taxpayers' bills in the near future. ABC pledged to hire 100 police and 100 nurses during last year's campaign, which seemed very popular with voters but won't be cheap. Most of the city's collective agreements for unionized staff had expired, as of earlier this year, which will have a major but still-unknown impact on expenditures. Metro Vancouver's multibillion-dollar Iona sewage treatment facility will be paid through both property tax and utility rate increases.
Hoping to reduce taxpayers' burden as much as possible, council directed staff in February to explore new revenue opportunities. That work is the subject of a separate report going to council next week, which identifies new opportunities that could raise about $15.2 million for the 2024 budget, which could offset property tax increases by 1.4 per cent.
Article content
Those opportunities include increasing licence fees for certain kinds of businesses, including quadrupling the cost for running short-term rentals, using platforms like Airbnb, from $109 a year to $450, to generate an estimated additional $1 million in revenue.
Some ideas might be relatively uncontroversial. Staff are already exploring more opportunities for sponsorships, advertising and naming rights, the report says, and expect an additional $0.5 million for 2024.
Other options mentioned in the report might be less popular, such as doubling residential parking fees, and the use of parking meters on more streets and parks, which the city estimates could generate $5.5 million of incremental revenue next year.
Sim announced in April he had assembled a crack team of outside experts to go through the budget "with a fine-tooth comb" and tighten up city finances. They're expected to report back to council with recommendations by October. These expert's face a daunting task.
But regardless of what the task force recommends, council will likely face tough choices as they consider the budget late this year.
Article content
Vancouver Mayor Ken Sim brings in outside experts to review city budget

A year after Vancouver Public Library eliminated fines, here's how many books are now overdue
---
Bookmark our website and support our journalism: Don't miss the news you need to know — add VancouverSun.com and TheProvince.com to your bookmarks and sign up for our newsletters here.
You can also support our journalism by becoming a digital subscriber: For just $14 a month, you can get unlimited, ad-lite get unlimited, ad-lite access to The Vancouver Sun, The Province, National Post and 13 other Canadian news sites. Support us by subscribing today: The Vancouver Sun | The Province.