Business
Vancouver housing: Citywide 'multiplex' plan set for council decision
Opinion: Early correspondence to the City of Vancouver tilts in favour of allowing bigger buildings with more units into low-density neighbourhoods currently dominated by houses and duplexes.
Get the latest from Dan Fumano straight to your inbox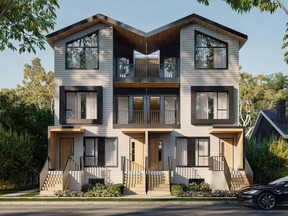 Article content
After years of debate and planning on how to add so-called "missing middle" housing to Vancouver's low-density residential neighbourhoods, the proposal is finally set for a public hearing this week.
Vancouver city staff's proposal would change the zoning for a huge amount of land currently dominated by single-detached houses and duplexes, to allow bigger buildings with more units.
Article content
Beginning Thursday, council will hear from dozens of members of the public sharing their views on proposed plans for what staff call multiplexes.
The bylaw amendments up for council's consideration this week include allowing new kinds of larger buildings in low-density neighbourhoods including side streets, with up to three storeys and between three and six strata homes per lot, depending on a property's size, or up to eight rental units on large lots.
This kind of housing is often called "missing middle" because many North American cities, including Vancouver, allow high-density towers in certain locations and reserve most land for only low-density detached houses, while medium-density options like townhouses or multiplexes aren't allowed in most areas.
Although these medium-density housing types aren't currently allowed on most of Vancouver's residential land, they're popular both with planners, who want to encourage denser, more walkable neighbourhoods, and the public, many of whom want more options in more areas.
After years of public consultation, the city says this missing middle concept has wide public support: 77 per cent of respondents in city-led information sessions agreed that multiplexes should be allowed in "all low-density areas."
Article content
Outside polling has found similar results: a 2019 Research Co. survey of a representative Vancouver-wide sample reported 71 per cent of respondents said city hall should allow duplexes, fourplexes, townhouses, and — going a step further than what's under consideration this month — three- and four-storey apartment buildings in neighbourhoods where only detached homes are now permitted.
Support is certainly not universal. In letters to city hall, some members of the public have raised concerns about overcrowding ("Our community is growing too quickly without enough support in service," one resident wrote) and parking ("Most families have two vehicles, and there should be provision for those vehicles OFF the street," wrote another).
Under the proposed policies, these developments wouldn't require on-site vehicle parking, but it can be built at the rear of a lot if desired.
Last month, former Vancouver Sun editor and longtime city hall-watcher Carol Volkart outlined what she saw as downsides of this proposed "massive transformation of Vancouver." In a column in The Sun, Volkart predicted the changes could lead to parking strife, tree loss, strain on infrastructure and higher land values.
Article content
City staff are proposing measures to mitigate infrastructure issues, including limiting risk to the sewer system by requiring rainwater detention tanks, and dealing with increased demand to the electrical network through provision of pad-mounted transformers. The city predicts relatively modest initial uptake on these projects, forecasting around 150 multiplex projects citywide annually, similar to the number of new-house and duplex projects.
Based on written correspondence received by the city so far, it appears many people are eager to see new housing types built in neighbourhoods that were long off-limits to everything but the lowest-density buildings.
In September 2018, Vancouver's previous Vision-majority council was considering allowing duplexes in low-density neighbourhoods. The duplex zoning didn't increase buildable square footage, and was a much more modest density boost than the multiplex proposal currently under consideration. But the written correspondence in 2018 slanted in opposition, with the city receiving 195 pieces supporting duplexes, and 318 against.
Article content
This time around, the correspondence paints a different picture.
It's impossible to know whether the city might receive a flurry of last-minute letters opposing multiplexes before Thursday, but the early correspondence seems to favour densification.
Of the 164 pieces of correspondence sent to the city by Tuesday, there were more than four times as many letters supporting the multiplex proposal as opposing.
A closer reading shows many of the letters listed in the "oppose" column actually support multiplexes, but oppose another aspect of the amendments: city staff's proposal to discourage construction of new single-detached houses by shrinking their maximum size. It remains to be seen whether this part of staff's proposal might be one of the elements city council look to amend.
As of Tuesday afternoon, almost 50 people had signed up to address council, and with that number likely to grow before Thursday's hearing, there is a chance that a final decision on the proposal may not happen that same day.
Considering the ABC-majority council's stated goal of building more homes, and the apparent public support for multiplexes, it seems likely that after many years of talking about missing middle, this might be the council term where some of Vancouver's neighbourhoods that have seen the least physical change in recent decades could start seeing new kinds of homes — and a few new neighbours.
Article content
Carol Volkart: Surprise! You have six new neighbours — all without a place to park

Dan Fumano: The promise and limitations of Vancouver's density plan

'Plex appeal: Vancouver eyeing six-unit housing in low-density neighbourhoods

Vancouver aims to discourage single-detached houses by shrinking them
---
Bookmark our website and support our journalism: Don't miss the news you need to know — add VancouverSun.com and TheProvince.com to your bookmarks and sign up for our newsletters here.
You can also support our journalism by becoming a digital subscriber: For just $14 a month, you can get unlimited, ad-lite get unlimited, ad-lite access to The Vancouver Sun, The Province, National Post and 13 other Canadian news sites. Support us by subscribing today: The Vancouver Sun | The Province.