World
Vancouver police activate command centre after Hamas calls for 'day of rage'
'My community is really hurt and the day of rage doesn't help anything,' says B.C. Jewish leader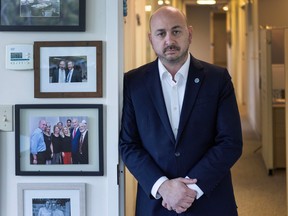 Article content
Vancouver police are taking extra steps to protect Jewish places of worship and community centres after calls for a global "day of rage" on Friday from Khaled Mashal, a Hamas leader based in Qatar.
While there have been no specific threats to any location in Vancouver, Chief Constable Adam Palmer said the VPD has activated its department operations centre, which incorporates specialized resources, and a senior command centre to co-ordinate safety around gatherings and other activities.
Article content
And the department is maintaining its police presence outside synagogues and community centres.
"We do not see an increased threat level right now," said Ezra Shanken, CEO of the Jewish Federation of Greater Vancouver.
He said local celebrations among Hamas supporters following the Oct. 7 attacks by Hamas on Israel, which killed 1,200 people, were unnerving, but they should not be directing the conversation.
"This is a time of incredible fear, sadness, pain and resolve," said Shanken. "People are very scared in this moment, and scared for their children. My community is really hurt and the day of rage doesn't help anything.
"I consider myself pro-Palestinian, I want to see two states, I want to see safety for Palestinian people," Shanken said. "But what Hamas has done is beyond the pale, and it has made them no longer a viable partner in dialogue."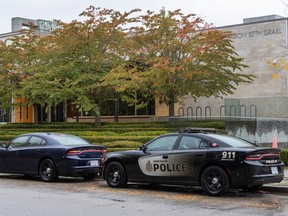 Hamas is listed as a terrorist group in Canada. It rejects a two-state proposal and advocates genocide in its charter.
Ula, a Vancouver mother of two Jewish high school students, said she has been deeply concerned for her kids' safety since attacks. (She didn't want to use her last name in order to protect their privacy.)
Article content
"It's really difficult. My grandparents' family died in the Holocaust, we grew up with that trauma. I never thought it was something our kids would go through. As a parent, I feel really scared."
While Jewish schools are getting extra protection from the police, Ula is worried Jewish kids in public schools may be especially vulnerable. "Nobody has been advised of any precautions, or any measures of protection."
Rabbi Dan Moskovitz, a father of three teens, one of whom is in a secular public school, said he speaks regularly to his own kids about being situationally aware.
"People in marginalized groups, and Jews are among them, have conversations with their kids that other people don't have. We have long had conversations with our kids about being proud that you're Jewish, but we talk with our children about being aware. It's not news to them that there are people in the world that want to harm Jews."
Being proud of their Judaism, going to synagogue, living a Jewish life from one generation to the next is resistance, said Moskovitz. "We are going to keep doing that. We are not taking our mezuzah down, we're not changing what we do, and we are going to be in synagogue on Shabbat."
Article content
Haroon Khan, a trustee with the Al Jamia Masjid mosque, said instead of a day of rage on Friday, it will be a day of prayer at his mosque.
"We categorically condemn any attack on civilians no matter who does it," said Khan.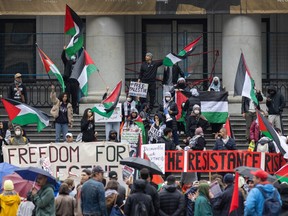 He said it is with "sorrow and rage" that they watch the catastrophe of war unfolding in Palestine and Israel.
"Atrocities have occurred that are antithetical to faith and reason…Dark clouds of hate, fear, chaos and terror have seeped into the consciousness of the peoples of the book… in the holiest of lands," Khan said.
"We have come together in these fraught days and nights in at times heated conversation and prayers with our brothers and sisters of ours and of all faiths  to make sense of the unfathomable and work on strategies of engagement, dialogue and actions towards peace."
The Al Jamia Masjid mosque in Vancouver has planned a special prayer for peace on Friday afternoon.
Dominic LeBlanc, Canada's minister of public safety, released a statement on Thursday stating that "Canada stands in solidarity with Jewish communities across the country who are feeling especially vulnerable ahead of the Hamas-led call for mobilization around the world.
Article content
"There is no place — and there will never be any place — for the glorification of violence or terror, here in Canada or around the world. Under no circumstances will it be tolerated."
Mike Farnworth, B.C.'s minister of public safety said the province supports families and friends experiencing "unimaginable loss of loved ones in Israel," and asked British Columbians to "remain united."
Related Stories
'We are heartbroken': Missing Vancouver man confirmed dead after Hamas attack

Douglas Todd: B.C. imam condemns 'murdering' Israel, and Muslims who voted for Trudeau
---
Bookmark our website and support our journalism: Don't miss the news you need to know — add VancouverSun.com and TheProvince.com to your bookmarks and sign up for our newsletters here.
You can also support our journalism by becoming a digital subscriber: For just $14 a month, you can get unlimited, ad-lite access to The Vancouver Sun, The Province, National Post and 13 other Canadian news sites. Support us by subscribing today: The Vancouver Sun | The Province.