Politics
Vaughn Palmer: AG probing years-long delays in rebuilding Lytton
Opinion: NDP quashed a legislature motion calling on the auditor general to launch a probe. He's already using his powers to do that anyway
Get the latest from Vaughn Palmer straight to your inbox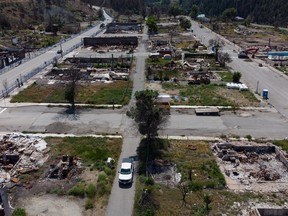 Article content
VICTORIA — The New Democrats mustered their legislative majority this week to squelch a call for the independent auditor general to review the failure to rebuild Lytton in the 2½ years since it was destroyed by fire.
The motion was introduced at the public accounts committee of the legislature by B.C. United MLA Jackie Tegart, whose riding includes the village that was obliterated on June 30, 2021.
Article content
"Not a house or business has been rebuilt," Tegart advised the committee. "My displaced residents are absolutely disillusioned, disappointed, distrustful and, quite honestly, angry at the lack of progress in getting them home.
"We have written letters to multiple ministries, to ministers of the Crown, to the premier. We have tried to get clarity around who's in charge of the recovery that was promised and who signs off when the dollars are spent — to no avail."
Hence her motion, calling on "the auditor general to undertake an examination of the B.C. government response and subsequent recovery efforts related to the wildfire that devastated Lytton. … The examination (to) include a review of processes, timelines and results as they relate to initial response, ongoing recovery efforts, procurement and public expenditures of funds."
The Auditor General Act says that "an examination must be undertaken" on the request of the legislative assembly or one of its committees.
No way were the New Democrats going to let that happen.
Immediately after the destruction of Lytton, then premier John Horgan vowed to the community "we have your back." Ever since, the New Democrats have mostly engaged in foot dragging, excuse-making and successive deadlines, all of them missed.
Article content
When the Tegart motion came up at the committee Monday night, NDP MLAs lined up to give their reasons for not supporting it, all the while pretending they still cared about the plight of the beleaguered community.
NDP MLA Jennifer Rice even managed a semblance of emotion.
"I completely understand MLA Tegart's frustration, but also her sadness for her constituents," she professed. "I have the same kind of quivering voice right now. I'm not their MLA, but I have attachment to Lytton as well, so I completely empathize with that."
Yet she and her colleagues raised technicality after technicality, quibble after quibble, to justify doing nothing.
The most telling exchange came when New Democrat Spencer Chandra-Herbert took on Tegart over calling in the auditor general.
"I never would have thought an army of auditors would speed it up," he challenged, displaying the self-importance that has so far kept him out of cabinet. "My question is how the member believes that having auditors would help make it faster in this circumstance."
"I would respectfully suggest it can't go any slower," replied Tegart, swatting him aside.
Article content
B.C. United MLA Peter Milobar, the chair of public accounts, took a stab at persuading the government members that the review would scarcely pose a threat to their grip on power.
"Realistically, it's going to take probably a year, a year and a half to see that audit come forward. So, it isn't about necessarily speeding up anything.
"It's about being able to provide clarity and answers to people because frankly, right now, their faith in the institution of government, regardless of any political stripes, has been shaken to its core."
He got nowhere and a few minutes later, the New Democrats, who have a majority of seats on the committee, voted down the motion.
Still, the Opposition effort was not in vain.
A few days later, auditor general Michael Pickup himself responded by letter to the B.C. United members and others on the committee.
He began by acknowledging that before taking up the issue at public accounts, the Opposition had approached him directly, in person and on July 5 by letter.
"I apologize for the time it took to respond and I fear that it may have left you with the impression that I was not considering your request," wrote Pickup.
Article content
On the contrary: "My office has been doing preliminary research into the matter and is currently scoping an audit. We are also considering the possibility of an interim information report related to provincial and federal funding for the rebuild of Lytton.
"I agree that this is an important topic and that there would be value in my office doing work in this area."
He then hedged a bit.
"It not a straightforward matter. Lytton's recovery is not solely a provincial responsibility, and we would like to ensure that any work we do would be of value not only to the people of Lytton but to other communities that have had similar experiences.
"However," he added, with a nod to the Opposition for raising the issue, "when we make the audit public on our website, we will be sure to bring it to your attention."
We'll see how far it goes. But full credit to Pickup for the preliminary review and the acknowledgment of its worth.
As any reporter could tell him, if the government is coming up with reasons why it doesn't want a review, that is the place to start looking.
Related Stories
Vaughn Palmer: David Eby has blinked twice on Surrey police transition

Vaughn Palmer: Ravi Kahlon's message to Airbnb hosts — find another way to make money

Vaughn Palmer: An act of political realism by Oak Bay
---
Bookmark our website and support our journalism: Don't miss the news you need to know — add VancouverSun.com and TheProvince.com to your bookmarks and sign up for our newsletters here.
You can also support our journalism by becoming a digital subscriber: For just $14 a month, you can get unlimited, ad-lite access to The Vancouver Sun, The Province, National Post and 13 other Canadian news sites. Support us by subscribing today: The Vancouver Sun | The Province.