Politics
Vaughn Palmer: Fed flip-flop on carbon tax stuns B.C. NDP, puts tax back on electoral agenda
Opinion: Tax started by B.C. Liberals, continued by B.C. NDP, catapulted onto province's election agenda
Get the latest from Vaughn Palmer straight to your inbox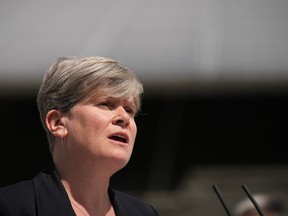 Article content
VICTORIA — There was no missing the angry disappointment this week when the B.C. New Democrats responded to the federal government's surprise tweak of the country's carbon tax.
"We just learned of this federal announcement," said the news release that went out late Thursday afternoon from Energy Minister Josie Osborne and Environment Minister George Heyman.
Article content
Ottawa's failure to provide the province with advance notice was "unfortunate" the two ministers said. "We expect better partnership from the federal government."
Their indignation was warranted.
The province, which pioneered the country's first carbon tax, has been one of the strongest supporters of the belated federal venture into carbon taxation.
For their pains, the New Democrats learned only after the fact Thursday that the federal government was granting a three-year holiday from carbon taxation on home heating oil.
The relief would apply only to provinces where the federal fuel charge applies: Alberta, Manitoba, New Brunswick, Newfoundland and Labrador, Nova Scotia, Nunavut, Ontario, Prince Edward Island, Saskatchewan, and Yukon.
B.C. was excluded because the province has its own carbon tax regime, predating the federal version.
The lack of advance notice left the province scrambling to provide similar relief to British Columbians.
Witness the hastily cobbled together news release from the two B.C. ministers: "Regarding carbon pricing on home heating oil, even though that kind of home heating is less common in B.C. than other parts of the country, we know there are British Columbians who still rely on that. We will be taking action in B.C."
Article content
The federal government also increased its incentives for switching to electric heat pumps, in a pilot project that would initially apply only to the Atlantic provinces.
The B.C. New Democrats couldn't resist pointing out that Ottawa was a late arrival to discovering the virtues of heat pumps.
"When it comes to heat pumps, we've long been pushing the federal government for exactly this sort of joint rebate for people switching from heating oil," said the statement from the two ministers. "We expect the federal government to get this done without any further delay."
Rubbing it in, their release advertised the details of the provincial plan: a combined rebate of up to $6,000 to switch from fossil fuel heat to an electric heat pump, and a further $16 million in provincial incentives to build up capacity in northern and rural B.C.
The federal relief from the carbon tax on home heating oil and the incentives to switch to heat pumps were particularly targeted toward Atlantic Canada. Federal carbon pricing shifted into high gear in the Atlantic provinces over the summer, generating many complaints.
Article content
Perhaps there's a lesson here for the B.C. New Democrats about the non-rewards of supporting the federal Liberals.
Squawking gets better results.
The backlash over carbon taxation spilled into the legislature this week as well, courtesy of B.C. Conservative leader John Rustad, echoing a theme from federal Conservative leader Pierre Poilievre.
With the B.C. carbon tax now bringing in almost $3 billion a year, Rustad challenged the New Democrats to admit that it was hurting B.C. families, "getting them less at the pumps, driving up inflation at the grocery store and adding to the cost of every new home built in this province."
Not to any great extent, replied Heyman.
"With our government, the principles of the carbon tax are that we give back to low and middle-income British Columbians," said the environment minister. "By 2030, 80 per cent of British Columbians will get the climate action tax credit, and a significant majority of them will get more back in the tax credit than they pay in carbon tax. That's the right path."
Rustad came right back at him, arguing that voter support for the carbon tax is fraying.
Article content
"British Columbians want change," he claimed. "For every voter that our party is taking from British Columbia from the defunct B.C. United party, we are also taking one from the NDP.
"Why has this NDP government abandoned hard-working blue-collar voters, and when will they slash this punishing carbon tax so that everyday workers can afford to live?"
The question brought government house leader Ravi Kahlon to his feet, with a reminder of Rustad's cosy history with the carbon tax when he was a B.C. Liberal MLA and cabinet minister.
"When he was sitting with the B.C. Liberals, he supported all those measures, clapped and spoke at any opportunity he had about how great they were."
True enough.
But if Rustad had been given the right of reply — his time had run out — he might have pointed out that the New Democrats performed a more dramatic flip flop.
They opposed the B.C. carbon tax in the 2009 election, losing to the B.C. Liberals. They later embraced the tax with a significant tweak of their own, when they abandoned the Liberal practice of offsetting the carbon tax revenue with credits and reductions in other taxes.
Article content
Today the sands of support are again shifting under the tax. After three provincial elections where carbon taxation was not a factor, it is back on the agenda as a major point of contention.
Related Stories
Vaughn Palmer: B.C.'s bid for bail reform may end up playing out in courts

Vaughn Palmer: David Eby makes no apologies for calling for halt to interest rate hikes

Vaughn Palmer: B.C. NDP creates new bureaucracies, won't reveal their cost
---
Stay up to date with the latest news on provincial affairs: Click here to read more stories from Katie DeRosa.
---
Bookmark our website and support our journalism: Don't miss the news you need to know — add VancouverSun.com and TheProvince.com to your bookmarks and sign up for our newsletters here.
You can also support our journalism by becoming a digital subscriber: For just $14 a month, you can get unlimited, ad-lite access to The Vancouver Sun, The Province, National Post and 13 other Canadian news sites. Support us by subscribing today: The Vancouver Sun | The Province.: