News
Weekly roundup of climate change news to Sept. 24, 2023
Here's your weekly roundup of local and international climate change news for the week of Sept. 18 to Sept. 24, 2023.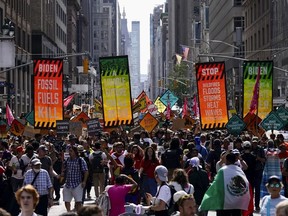 Article content
This week, West Kelowna fire chief Jason Brolund recounted the harrowing ordeal of battling the McDougall wildfire to delegates at the UN climate summit in New York. The Union of B.C. Municipalities called for more wildfire resiliency funding and tens of thousands of people marched ahead of the climate summit calling for an end to fossil fuels.
Here's all the latest news concerning the climate crisis, biodiversity loss, and the steps leaders are taking to address these issues.
Article content
In climate news this week:
• UBCM calls for more wildfire resiliency funding, returning dike responsibility to province
• UN chief warns of 'gates of hell' in climate summit, but carbon polluting nations stay silent
• West Kelowna fire chief addresses UN about wildfires and climate change
Since the 1800s, human activities have been the main driver of climate change, mainly because of burning of fossil fuels like coal, oil and gas, which produces heat-trapping gases.
The UN's Intergovernmental Panel on Climate Change has warned for decades that wildfires and severe weather, such as B.C.'s deadly heat dome and catastrophic flooding in 2021, would become more frequent and more intense because of the climate emergency.
The panel has issued a "code red" for humanity and last year it said the window to stop global warming from exceeding 1.5 C was closing. In April 2022, it released a report with solutions for how to drive down greenhouse gas emissions, mainly by transitioning away from fossil fuels.
Research shows that the warmer, drier conditions are leading to increased drought, which exacerbates the wildfire situation. Whether the cause is human or lightning, many of the planet's tinder-dry forests are igniting earlier in the season because of global heating.
Article content
Check back here every Saturday for a roundup of the latest climate and environmental stories. You can also get up to date B.C.-focused news delivered to your inbox by 7 a.m. by subscribing to our newsletter here.
---
Climate change quick facts:
The Earth is now about 1.2 C warmer than it was in the 1800s.
Globally, 2022 was the fifth hottest year on record, while 2016 was the hottest.
Human activities have raised atmospheric concentrations of CO2 by nearly 49 per cent above pre-industrial levels starting in 1850.
The world is not on track to meet the Paris Agreement target to keep global temperature from exceeding 1.5 C above pre-industrial levels, the upper limit to avoid the worst fallout from climate change.
On the current path of carbon dioxide emissions, the temperature could increase by as much as 4.4 C by the end of the century.
In April, 2022 greenhouse gas concentrations reached record new highs and show no sign of slowing.
Emissions must drop 7.6 per cent per year from 2020 to 2030 to keep temperatures from exceeding 1.5 C and 2.7 per cent per year to stay below 2 C.
97 per ent of climate scientists agree that the climate is warming and that human beings are the cause.
(Source: United Nations IPCC, World Meteorological Organization, UNEP, Nasa, climatedata.ca)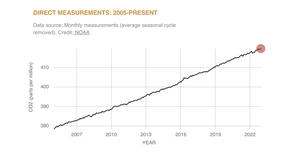 ---
LATEST CLIMATE NEWS
UBCM calls for more wildfire resiliency funding, returning dike responsibility to province
Hundreds of local government delegates at the Union of B.C. Municipalities' annual convention passed resolutions Wednesday on wildfires, flooding and climate change meant to send a message to the B.C. government that it needs to do more to help cash-strapped communities.
The UBCM once again called on the province to take back authority for more than 1,100 kilometres of dikes that provide flood protection, which was off-loaded to local governments in 2003.
Municipalities also want the province to put up more money to help them increase wildfire resiliency and to create an annual funding model for local governments to allow them to prepare more adequately for emergencies.
Local governments, which provincial governments have made responsible for much of the wildfire and flood risk reduction work, have said for years they can't pay the huge costs they face.
Read the full story here.
—Gordon Hoekstra
UN chief warns of 'gates of hell' in climate summit, but carbon polluting nations stay silent
Article content
The head of the United Nations warned Wednesday that the "gates of hell" are at hand as climate change intensifies, and top international officials said the world's leaders still aren't doing nearly enough to curb pollution of heat-trapping gases. They pleaded with major emitting nations to do more.
Those nations remained silent. They weren't allowed to speak because, organizers said, they had no new actions to take.
The only countries that touted their efforts — "first movers and doers," the United Nations called them — were responsible for just one-ninth of the world's annual carbon pollution.
"Humanity has opened the gates of hell," U.N. Secretary-General Antonio Guterres said Wednesday, opening a special climate ambition summit with yet another plea for action. " Horrendous heat is having horrendous effects. Distraught farmers watching crops carried away by floods. Sweltering temperatures spawning disease. And thousands fleeing in fear as historic fires rage."
Guterres convened the summit with the idea that only world leaders who came with new concrete actions would get to address their peers on the issue. But leaders of the countries that produce the most heat-trapping gases themselves chose not to even ask.
Article content
Read the full story here.
—The Associated Press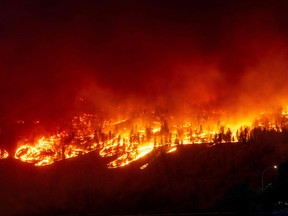 West Kelowna fire chief addresses UN about wildfires and climate change
In a speech to the United Nation climate summit this week, West Kelowna fire chief Jason Brolund said climate change became very real for Kelowna residents this summer.
"I want to take you back with me to a hot, windy August night. We were surrounded by fire. Wind was driving it down on us. The sky was orange. We were dug in, it was the fight of our lives," he told delegates at the UN convention on the impacts of global warming.
Brolund spoke about the community was devastated by wildfire, and that a firefighter told him that it was like "fighting 100 years of wildfires in one night."
That night—when the McDougall Creek jumped Okanagan Lake—police officers jammed entire families in their car and then drove through flames to escape, he said.
"We ordered over 10,000 people to get out that first night…some people made it to the lake, their only option to survive in the water," Brolund said. "Not all doors were knocked on, the fire came too fast."
He questioned what could have been accomplished if the money spent fighting these climate-driven wildfires had been spent proactively fighting climate change.
Article content
Read the full story here.
—Tiffany Crawford
Tens of thousands march to kick off climate summit, demanding end to warming-causing fossil fuels
Yelling that the future and their lives depend on ending fossil fuels, tens of thousands of protesters last Sunday kicked off a week where leaders will try once again to curb climate change primarily caused by coal, oil and natural gas.
But protesters say it's not going to be enough. And they aimed their wrath directly at U.S. President Joe Biden, urging him to stop approving new oil and gas projects, phase out current ones and declare a climate emergency with larger executive powers.
"We hold the power of the people, the power you need to win this election," said 17-year-old Emma Buretta of Brooklyn of the youth protest group Fridays for Future. "If you want to win in 2024, if you do not want the blood of my generation to be on your hands, end fossil fuels."
The March to End Fossil Fuels featured such politicians as Rep. Alexandria Ocasio-Cortez and actors Susan Sarandon, Ethan Hawke, Edward Norton, Kyra Sedgwick and Kevin Bacon. But the real action on Broadway was where protesters crowded the street, pleading for a better but not-so-hot future. It was the opening salvo to New York's Climate Week, where world leaders in business, politics and the arts gather to try to save the planet, highlighted by a new special United Nations summit Wednesday.
Article content
Read the full story here.
—The Associated Press
Homeowners face rising insurance rates as climate change makes wildfires, storms more common
A growing number of Americans are finding it difficult to afford insurance on their homes, a problem only expected to worsen because insurers and lawmakers have underestimated the impact of climate change, a new report says.
A report from First Street Foundation released Wednesday says states such as California, Florida and Louisiana, which are prone to wildfires and damaging storms and flooding, are likely to see the most dramatic increases in premiums. But the fire that destroyed the Hawaiian community of Lahaina on Aug. 8, as well as the historic flooding that happened in Vermont and Maine in July, are examples of events that could drive up insurance costs for homeowners in other states.
"If you're not worried, you're not paying attention," said California Sen. Bill Dodd, whose district includes the wine-country counties devastated by the LNU Complex fires in 2020.
First Street estimates, factoring climate models into the financial risk of properties in its report, that roughly 39 million properties — roughly a quarter of all homes in the country — are being underpriced for the climate risk to insure those properties.
Article content
Read the full story here.
—The Associated Press
California Gov. Gavin Newsom says he will sign climate-focused transparency laws for big business
California Gov. Gavin Newsom said Sunday that he plans to sign into law a pair of climate-focused bills intended to force major corporations to be more transparent about greenhouse gas emissions and the financial risks stemming from global warming.
Newsom's announcement came during an out-of-state trip to New York's Climate Week, where world leaders in business, politics and the arts are gathered to seek solutions for climate change.
California lawmakers last week passed legislation requiring large businesses from oil and gas companies to retail giants to disclose their direct greenhouse gas emissions as well as those that come from activities like employee business travel.
Such disclosures are a "simple but intensely powerful driver of decarbonization," said the bill's author, state Sen. Scott Wiener, a Democrat.
"This legislation will support those companies doing their part to tackle the climate crisis and create accountability for those that aren't," Wiener said in a statement Sunday applauding Newsom's decision.
Article content
Under the law, thousands of public and private businesses that operate in California and make more than $1 billion annually will have to make the emissions disclosures. The goal is to increase transparency and nudge companies to evaluate how they can cut their carbon emissions.
Read the full story here.
—The Associated Press
---
SOCIAL MEDIA
Article content
---
A glance at carbon numbers:
B.C.'s gross greenhouse gas (GHG) emissions in 2020 (latest available data) were 64.6 million tonnes of carbon dioxide equivalent (MtCO2e). This is a decrease of 0.9 MtCO2e (one per cent) from 65.5 MtCO2e in 2007, the baseline year for emissions reduction targets.
B.C.'s net greenhouse gas (GHG) emissions in 2020 were 63.5 million tonnes of carbon dioxide equivalent (MtCO2e.) This is a net decrease of 2.0 MtCO2e, or three per cent, since 2007.
B.C.'s net emissions in 2019: 67.2 MtCO2e, an increase of 1.5 MtCO2e, or two per cent, since 2007.
B.C. does not include emissions from wildfire smoke in its calculations.
B.C.'s 2030 target: 40 per cent reduction in net emissions below 2007 levels.
B.C.'s 2040 target: 60 per cent reduction.
B.C.'s 2050 target: 80 per cent reduction.
Canada's greenhouse gas emissions in 2021 were 670 million tonnes, up from 659 million tonnes in 2020.
Canada's 2030 emissions target: Between 40 and 45 per cent reduction.
Canada's 2050 emissions target: Net-zero.
---
GUIDES AND LINKS
It's official: El Niño has started. Here's what that means for B.C.
Article content
B.C. Flood: Read all our coverage on the Fraser Valley and beyond
Frequently asked questions about climate change: NASA
Climate change made B.C. heat wave 150 times more likely, study concludes
B.C.'s heat wave: Intense weather event is linked to climate crisis, say scientists
Expert: climate change expected to bring longer wildfire seasons and more area burned
COVID-19 may have halted massive protests, but youth are taking their fight for the future to the courts
Climate displacement a growing concern in B.C. as extreme weather forces residents out of their homes
---
Do you know someone who is doing something positive in the fight against climate change? Please email [email protected] with story ideas and tips.
---
Bookmark our website and support our journalism: Don't miss the news you need to know — add VancouverSun.com and TheProvince.com to your bookmarks and sign up for our newsletters here.
You can also support our journalism by becoming a digital subscriber: For just $14 a month, you can get unlimited, ad-lite get unlimited, ad-lite access to The Vancouver Sun, The Province, National Post and 13 other Canadian news sites. Support us by subscribing today: The Vancouver Sun | The Province.