News
West Vancouver getting heat, accused of ignoring ban-breakers watering their grass
West Vancouver handed out three watering tickets on the weekend to bring the total to four since Stage-2 restrictions were introduced on Aug. 4
Article content
A lot of West Vancouver yards are hidden behind tall hedges or walls, but peeking out through many of those barriers are glimpses of lush lawns.
Green doesn't necessarily mean homeowners are guilty of breaking watering bans. Maybe residents are spraying painting their lawns, maybe it's artificial turf, maybe someone in Whitby Estates cornered the market on an evergreen variety of tall fescue that thrives during drought.
Article content
Or maybe a $200 fine is merely a drop in the bucket, so to speak, for someone living in the British Properties or any other of West Vancouver's tony neighbourhoods — the district reliably appears at the top of almost every list of Canada's wealthiest municipalities, with average household net worth north of $4.5 million.
"Two-hundred dollars? That's nothing, especially for rich people," said Hans Schreier, professor emeritus of watershed management at UBC. "We've had a very dry summer, next summer will likely be worse. I don't think these people realize how desperate the situation is."
Schreier doesn't limit his criticism to West Vancouver. All of Metro should be metered, he said, and watering bans should start in July and not end until rains come in late September or October.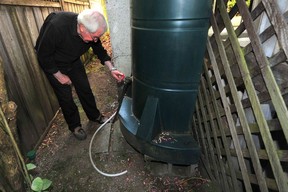 Stage-2, which went into effect this Aug. 4, bans all lawn watering. West Vancouver handed out three $200 watering tickets on the weekend to bring the total to four, with 12 active files.
The district — its sliding scale fines people $100 for a Stage-1 infraction, and up to $500 for Stage-4 — prefers carrots to sticks when following up on watering contraventions.
Article content
"Our bylaw officers work diligently to address the issues on site and in person where possible, and work to resolve any contraventions in an effective, timely matter," West Vancouver spokeswoman Carrie Gadsby said.
The goal is to obtain compliance through education and warnings, she said.
"Addressing the issue with a homeowner or resident has proven very effective in regulating their water use."
Of the 12,500 or so metered connections in the district, 900 received letters from municipal hall about their water usage this summer and, according to the district, 700 of those reduced their water consumption (the action was taken before Stage-2 went into effect).
West Vancouver's website informs citizens that some of its residents had been using four times more water this summer than in past years, and that watering lawns, washing vehicles and filling swimming pools across the Lower Mainland can increase demand on Metro Vancouver's supply by 50 per cent.
"Although ticketing has not been the main part of our practice, officers continue to follow up on any calls received and have escalated enforcement accordingly," Gadsby said. "It is important to note that enforcement can take many forms, not just ticketing."
Article content
West Van is also alone in having universal metering. It's a four-tiered system with rates rising after certain amounts of usage are met and, in theory, acts as an incentive to conserve water — but throughout the year, not just in summer when peak demand stresses supply the most.
The you-trap-more-flies-with-honey-than-vinegar approach won't work, according to an associate professor at UBC's Sauder School of Business.
"It's a haphazard approach," said Werner Antweiler, an expert in water economics and management. "You have people who listen very carefully to these kinds of things, very good citizens doing what needs to be done. But others don't care.
"You look at the likelihood of you being caught, and then you look at what the fine costs. If these are households that are very affluent, a $200 fine might not be very much."
West Vancouver's neighbouring municipalities to the east, the City and the District of North Vancouver, have together issued almost 100 tickets and fines totalling $13,500 since Aug. 4.
"When Metro Vancouver Stage-2 watering restrictions took effect, our approach shifted from education to enforcement, and since then our bylaw officers have issued 42 tickets," North Van District spokesman Ryan Schaap said. "This will remain our approach while Stage-2 watering restrictions are in effect and drought conditions persist."
Article content
In the smaller and denser city, bylaw officers will ticket people caught in the act, and give a warning and Stage-2 information to those cases where there is no evidence to support a fine.
"A number of complaints have been unfounded as the property owner was watering plants during the permitted time," a City of North Vancouver spokeswoman said.
Metro Vancouver's water-usage data go only to 2021, and West Vancouver sat fifth in water use per capita that year at 464 litres per person per day, behind Delta (638 litres), North Vancouver District (539), Pitt Meadows (494) and Port Coquitlam (469).
Measured by peak-week average daily flows in 2021, West Van moves up to third at 1,064 litres, behind Pitt Meadows (1,092) and Delta (1,074).
---
Bookmark our website and support our journalism: Don't miss the news you need to know — add VancouverSun.com and TheProvince.com to your bookmarks and sign up for our newsletters here.
You can also support our journalism by becoming a digital subscriber: For just $14 a month, you can get unlimited, ad-lite get unlimited, ad-lite access to The Vancouver Sun, The Province, National Post and 13 other Canadian news sites. Support us by subscribing today: The Vancouver Sun | The Province.