Sports
Whitecaps 3, Timbers 2: A crucial win for Vancouver's MLS playoff push
Vancouver surged to a deserved 2-0 win at the half, but a furious Portland fight in the second half had the Caps hanging on for dear life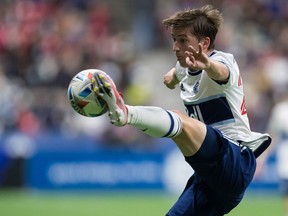 Reviews and recommendations are unbiased and products are independently selected. Postmedia may earn an affiliate commission from purchases made through links on this page.
Article content
Less than a week ago, Vancouver Whitecaps coach Vanni Sartini said the task in front of his team as it faced three away games in 10 days was simple.
"We have these three away games and we need to make points," he said.
Article content
His team heeded that advice and took points Saturday in the first of those road games, an at-times hairy 3-2 win over the Portland Timbers at Providence Park.
Article content
Vancouver surged to a deserved 2-0 win at the half, but a furious Portland fight had the Caps hanging on for dear life in the game's closing stages.
Vancouver got first-half goals from Ryan Gauld and Bryan White, with Gauld also scoring on a PK in the second half to seal the win, against second-half goals for Portland by Felipe Mora and Evander.
With the win, the Whitecaps have 34 points and sit seventh in the Western Conference.
They have a game in hand on all the teams in front of them and if they win that game, they'll find themselves pushing for the top three in the conference.
Saturday's win was the first of seven straight games away from BC Place. There are two games in the coming week, on Wednesday in Chicago, then next Saturday in New York City.
Then there's the international break and the Caps don't play again till Sept. 16, the first of four games in 11 days to close out their road stint.
There will be some physically taxing moments, but as much as anything, this stretch will be a mental challenge. Most of those road games the Caps will get to fly back home and prepare in familiar surroundings, but there are two trips where they'll be on the road for two games.
Article content
It won't be easy, but the players have known this is coming all season, Gauld told reporters post-game.
"We're just gonna have to make sure that we're all ready physically, mentally and ready to repeat the performances like that tonight," he said, matter of factly.
Gauld actually hadn't scored since July 15, when he had two goals in a 4-2 win vs. the LA Galaxy.
The Caps' No. 10 now has nine MLS goals this season, along with seven assists. He's the straw that stirs the Whitecaps' drink.
"I want to be affecting the game and getting on the ball as much as I can and doing things in the final third. And I wasn't doing that at the start of the season," he added. "To get going again is feels good for me."
There's little doubt that the Caps will need more from Gauld in the difficult month to come. The Caps had won just once on the road coming into this match, which was their 10th road game of the season.
If they can keep turning that ship around, they'll make some real hay in the standings — and given their goal differential (+6) is third-best in the western conference, they do deserve to be higher than their current seventh position.
Article content
Sartini's success
Since Vanni Sartini took over nearly two years ago as Whitecaps head coach, Vancouver has played in Portland versus the Timbers four times.
The Caps have won twice and drawn once, a pretty handy record in a place that's notoriously difficult to play.
He said the difference between this win and their loss early in the year in Portland was about intensity. They weren't intense enough in May, he felt.
"I think the way that we defend … (it's) very space-oriented and not giving the man, not leaving a lot of space for for the Timbers to play. That's the reason why we had a good record against them," he said.
He also paid tribute to the rowdy group of Whitecaps supporters who made their pilgrimage down to the Rose City.
"I love rivalries and  I love to come here and shut up the stadium at the end and our supporters were massive today. Always singing and always we felt them, we felt a little like we were at BC Place. We have another game close to home before before the season ends, and I hope that even in Seattle, they will be the same loud and winning the game even in the stands against the Timbers."
Article content
Impossible angles
Whitecaps fans have grown accustomed to Gauld doing remarkable things.
His cross to Bryan White on the Whitecaps' second goal didn't seem possible, but a player who plays his kind of precision can do nearly impossible things.
Article content
Laryea's patience
Richie Laryea's quality has been obvious since his first touch as a Whitecap last week. He's smart, he's patient, and he's quick.
He drew the penalty in the second half that Gauld converted. He was tearing down the right side of the Portland box, but the ball didn't quite sit for him to get a shot off.
Instead of panicking, he turned quickly and forced a Portland defender to foul him, handing the referee an easy call.
Article content
Good teams make their own luck
Play fast. Get to the other team's goal with the fewest touches.
That's the philosophy the Whitecaps try to play with, Ryan Raposo said last week after the San Jose Earthquakes stymied them at B.C. Place. The Quakes managed to keep the Caps from doing this.
Vancouver's first goal in Portland on Saturday was that philosophy defined. Ali Ahmed had an inch of space in front of him to attack, which he quickly turned into a mile.
Sam Adekugbe made a perfect overlapping run, and Ahmed deftly laid the ball off to him.
Adekugbe made a lovely cutback pass to the top of the box above the Portland defence, which was scrambling back to cover off a cross closer to their net. Alessandro Schopf got a good hit — and you know what they say about good teams making their own luck? That's what happened when Schopf's shot hit White and caromed to Gauld at the back post.
Article content
Ahmed's touch
Ahmed's ball skills were outstanding on the first goal, and they were in great effect on the second goal too.
He sprang Gauld down the left, before the playmaker darted in and then wide before lofting a stunning cross over the Portland defence for White to rise and meet with his head.
Blackmon said he's seen his young teammate grow in confidence since the start of the season in his abilities and he's being rewarded for it.
"He's very elusive, he can get past guys want one v one. Great on the dribble. And yeah, it's about getting those players confidence, especially in in times where we're going on the road. Can you get these younger guys, who maybe have not played a lot of games, to feel good about themselves," he mused.
"Ali definitely had an impact tonight and will for sure in the stretch."
Saviour
Yohei Takaoka has been worth every cent this season and the saves he made Saturday, especially late in the second half, were the reason why.
With the Timbers pouring on the pressure, he made a number of big saves, none bigger than the one he made in the 87th minute as he parried away a header by Portland Zac McGraw that seemed otherwise destined for the bottom left corner of the net.
Article content
He made a similar big save in the 69th minute, again diving to his left to knock a hard shot from outside the penalty area by Juan Mosquera.
Team turmoil
Giovanni Savarese was a legend in Portland. But the Timbers are a mess and he was dismissed earlier this week in a case of: What have you done for me lately?
At times the Timbers looked a ship lost at sea, especially in the first half, the players more interested in arguing with the referee than finding a way to create scoring chances, or defend for that matter.
In the second half their talent and pride seemed to take over, even if they couldn't quite haul the Caps back.
Article content
Go figure
7 Saturday's match was the first of seven in a row on the road for Vancouver.
300 By subbing on in the 89th minute, Russell Teibert made his 300th career appearance for the Whitecaps, the most in club history.
6 This was the second win for the Caps against Cascadian opposition, keeping them in the mix to win the Cascadia Cup for the first time since 2016. Portland has seven points, Vancouver six and Seattle just four.
twitter.com/risingaction
---
NEXT GAME
Wednesday
Chicago Fire FC vs. Vancouver Whitecaps
5:30 p.m., Soldier Field, TV: TSN, Radio: AM730
---
Whitecaps pack their bags for a 27,000-kilometre journey

FIFA suspends Spain soccer federation president Luis Rubiales for 90 days after World Cup final kiss