World
Accused BC drug smuggler wins appeal against extradition to the US
Tenny Lim is wanted in California for international drug smuggling. But on Tuesday, a B.C. Appeal Court overturned his extradition.
Get the latest from Kim Bolan straight to your inbox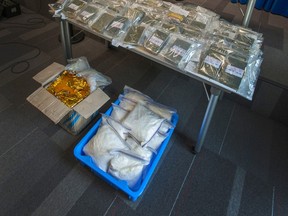 Article content
The B.C. Court of Appeal has stopped the extradition of a Metro Vancouver man facing drug charges in the U.S.
Tenny Guon Lim was named as an alleged international drug smuggler and charged in California. Last year, the B.C. Supreme Court ordered his extradition to face those charges. The federal Justice Minister later agreed he should be sent to the U.S. for trial.
Article content
But on Tuesday, B.C.'s highest court overturned that decision in a precedent-setting ruling.
Appeal Court Justice Karen Horsman said that Justice Jeanne Watchuk erred when she ruled that Lim did not have the right to challenge the constitutionality of his 2014 interview with the RCMP after an arrest in an unrelated drug case.
The Canadian interview was critical in the U.S. case, as it was used to identify Lim as the suspect captured on a recorded 2018 phone call.
When Lim argued that RCMP had violated his charter rights in 2014, Watchuk said that because he later pleaded guilty in the Canadian drug case, he had "waived all Charter remedies flowing from that offence."
Horsman said that was wrong.
"There is no principle of Canadian law or evidence that operates to prevent the appellant from challenging the admissibility of Canadian-gathered evidence at a committal hearing based on his guilty plea in the criminal proceeding," she said.
Horsman set aside both Lim's committal for extradition and the justice minister's order of surrender.
And she said the case should be sent back to B.C. Supreme Court for a hearing in which Lim has a chance to call more evidence related to his 2014 arrest and interaction with the RCMP.
Article content
His lawyer, Matthew Nathanson, said Tuesday that "this is a very important ruling."
"It represents the first time any appellate court in Canada has considered the implications of an earlier, unrelated guilty plea on a later extradition case," he said.
"In a decision firmly rooted in both principle and in fairness, the court has held that the earlier, unrelated guilty plea does not preclude my client from challenging key evidence in the extradition case and has overturned his committal for extradition. We are very pleased with the result, and respectfully agree with the reasoning behind it."
Appeal Court Justices Mary Newbury and Barbara Fisher agreed with Horsman's written decision.
Horsman laid out details of the long-running U.S. case.
She noted that Lim was among 13 people charged in 2019 for their alleged role in an international drug-smuggling operation that moved ecstasy into the U.S. in exchange for cocaine and methamphetamine.
"The appellant is alleged to have facilitated the movement of large quantities of cocaine, methamphetamine, and … (MDMA) between Canada and the U.S.A.," Horsman said.
Article content
The record of the case, known as an ROC, "detailed a joint investigation by the Federal Bureau of Investigation and Los Angeles Police Department into cross-border drug trafficking. As set out in the ROCs, investigators theorize that the appellant used encrypted devices with screen-name aliases to communicate with his co-conspirators."
A co-operating witness, dubbed CW-2 "told investigators that they had been in communication with a person called 'Tenny,' who is alleged to be the appellant," Horsman said.
The two mostly communicated via encrypted messages with a single recorded phone call on March 11, 2018.
The Mountie who interviewed Lim after his 2014 arrest identified him as the voice on the call, Horsman said.
Lim pleaded guilty to trafficking in the 2014 case, which was related to a shipment of 35 kilograms of heroin smuggled through Vancouver airport from Laos with the aid of a corrupt Air Canada employee. In May 2019, he was sentenced to eight years.
Another Metro Vancouver man charged in the California case, Vincent Yen Tek Chiu, was arrested while vacationing in Mexico after the charges were laid. He was convicted last year and sentenced to 14 and a half years in prison.
Article content
Chiu was also one of the subjects of the Vancouver Police Department's Project Tar, which probed drug traffickers who allegedly laundered cash through Silver International — the illegal Richmond bank that was the subject of the RCMP's ill-fated E-Pirate investigation.
Neither Chiu nor his brother, Richard, were charged in the VPD case. Richard Chiu was found murdered and burned in Colombia in June 2019, a day after he arrived in the South American country for meetings.
---
Summer subscription sale: Our in-depth journalism is possible thanks to the support of our subscribers. For a limited time, you can get full online access to the Vancouver Sun and The Province, along with the National Post and 13 other Canadian news sites, for just $40 for one year or $1 a week for 52 weeks. Support our journalism by subscribing today: The Vancouver Sun | The Province.
One Vancouver man ordered extradited, a second man discharged over drug case

Man arrested with 35 kilograms of heroin delivered to YVR gets eight years jail

One Vancouver man ordered extradited, a second man discharged over drug case