News
Actors' strike may be over, but B.C. productions may not resume yet
Just because U.S. productions can begin signing actors again doesn't mean there will be an immediate uptick in industry activity.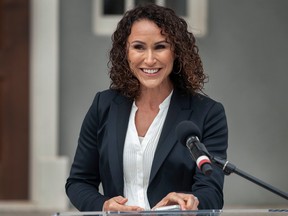 Article content
Gemma Martini, who runs Langley's Martini Film Studio, was among many British Columbians working in the TV and film industry on Thursday who were celebrating the expected return of production activity.
The Hollywood actors' union reached a tentative deal with studios, ending a nearly four-month strike that left many in the province short of work.
Article content
"Today is a great day," said Martini. "This opens up the opportunity for U.S. productions to come here, and optimism for local crews, that there's a good chance they'll be back to work in the near future."
Article content
Under the deal, actors will make more in minimum payments and a greater share of streaming revenue. It will also provide them with new protections from the unfettered use of artificial intelligence. The three-year contract must still be approved by the board of the Screen Actors Guild-American Federation of Television and Radio Artists and its members in the coming days.
The other side in the negotiations, the Alliance of Motion Picture and Television Producers, said in a statement that the "agreement represents a new paradigm. It gives SAG-AFTRA the biggest contract-on-contract gains in the history of the union."
But just because U.S. productions can begin signing actors again doesn't mean there will be an immediate uptick in industry activity, said Martini.
"It will take time for all of the studios and production companies to get together and plan out their schedule, make sure they have the actors in place, and then, crew-up."
As chairwoman of B.C.'s Motion Picture Production Association, Martini estimates it will be six months before provincial production is back in full swing.
Article content
But behind all the excitement, uncertainty remains over whether the local TV and film industry can return to its former glory. The industry spent a record $4.9 billion in 2022.
By this time last year, Martini said 40 or so shows were in production in B.C., which has close to two million square feet of studio space and provides tax incentives for eligible corporations.
This week, less than a dozen shows were in production locally, according to Creative B.C. The majority are Canadian projects or ones that received waivers, permitting their actors and writers to work.
Three large-scale American TV shows filmed in B.C. — The Recruit, Superman and Lois, and The Irrational — have been on hiatus since the U.S. actors' strike began in the spring.
"I know a lot of people have been laid-off from supporting companies and a lot of others in the industry just couldn't hold on any longer and had to find other work," said Martini. "Whether they come back or not, that's hard to say. We will have to wait and see."
Burnaby-based production company Bron Studios, known best for financing the films Joker and Licorice Pizza, was one that didn't survive. In July, it filed for creditor protection.
Article content
Executive director Prem Gill of Creative B.C. said that by the new year the organization will have a better scope of what projects will resume filming in the province and what new ones plan to start.
Before the job action, upwards of 88,000 people worked in B.C.'s TV and film industry, Gill said.
"How many workers and businesses opted to leave the industry for other types of work? We don't know. I just hope that productions continue to choose B.C."
U.S.-born actor Brian Markinson, who lives in Vancouver, resorted to booking roles on Canadian productions to make a living in the last 188 days of a near-standstill in productions. The 62-year-old says many of his colleagues in B.C. took side jobs as bartenders or customer service staff, in order to get by.
"I'm sure that there are going to be actors who fall by the wayside and decide not to continue in the job, because acting is almost like you eat what you kill," said Markinson.
"But today is a great day because it means there is an end in sight, and the wheels of production can start to begin moving again."
— With files from The Associated Press
Article content
Related Stories
End of Hollywood actors strike good news for B.C. film industry

B.C. film/TV industry awaits as talks continue in Hollywood actors' strike
---
Bookmark our website and support our journalism: Don't miss the news you need to know — add VancouverSun.com and TheProvince.com to your bookmarks and sign up for our newsletters here.
You can also support our journalism by becoming a digital subscriber: For just $14 a month, you can get unlimited, ad-lite access to The Vancouver Sun, The Province, National Post and 13 other Canadian news sites. Support us by subscribing today: The Vancouver Sun | The Province.