Politics
Average rent for a one-bedroom apartment Vancouver tops $3,000 a month
Vancouver's rental prices are the highest in Canada and can easily eat up half of a couple's pre-tax income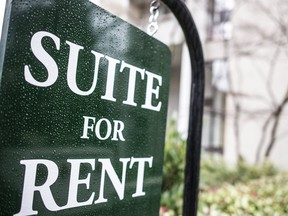 Article content
Joe Pobia has been living in a bachelor suite in a Commercial Drive apartment for 10 years.
His rent was $770 a month when he moved in and, after moderate increases each year, he's now paying $1,070. But after an eviction notice in April, which stated his suite was needed to house another resident property manager, the construction worker is now looking for a home in the most expensive place to rent in Canada.
Article content
"It's so stressful," he said.
The average rental price for a one-bedroom apartment in Vancouver is now more than $3,000 a month, according to the latest report from Rentals.ca.
That's a 16 per cent jump from the same time last year and a grim new record for the city.
The average two-bedroom apartment is renting for $3,918 or $47,016 a year. That means two people with an average before-tax household income of $96,423 would be spending almost half their earnings on rent.
Pobia said he recently inquired about a bachelor suite two blocks away listed for $2,100 a month. A one-bedroom penthouse unit in his current 1970s-era building is going for $2,700.
"It's crazy," he said. "It seems like rentals are as high as mortgages almost."
Robert Patterson, lawyer and tenant advocate for the Vancouver-based Tenant Resource Advisory Centre, said the majority of rental housing hitting the market in the last decade is "luxury rental housing," not housing that's affordable or built for families, people with disabilities or people with pets.
"How can anyone possibly afford these prices?" he asked. "More and more of people's paycheque is going towards rent."
Article content
B.C. United housing critic Karin Kirkpatrick pointed out rental prices have almost doubled since 2019 when the average one bedroom was listed for $1,700 according to Rentals.ca.
"I feel almost sick for people who are trying to find someplace to rent right now," said the MLA for West Vancouver-Capilano. "I look at all of this flurry of NDP housing policies that clearly are not working, and in fact, may be having the opposite effect."
High rents make it harder to find employees, Patterson said, because lower-wage workers can no longer afford to live in Vancouver.
Some Vancouver businesses have been forced to close, saying "runaway housing costs" make it impossible to pay staff appropriately.
Housing Minister Ravi Kahlon told Postmedia News Monday he's just as concerned about sky-high rents caused by a lack of housing supply even as record numbers of newcomers move to B.C.
Kahlon was set to meet with the new federal housing minister, Sean Fraser, Monday afternoon and would reiterate B.C.'s call for housing funding to be tied to immigration levels.
"We have a housing shortage and we continue to see record numbers of people coming to British Columbia," he said.
Article content
Kahlon said the government through B.C. Housing is committed to funding below-market housing projects as quickly as possible but federal dollars are needed to keep up with demand.
Patterson said government investment in purpose-built affordable rental housing and co-op housing is long overdue.
"I think we are rapidly reaching the point, as we see as housing prices soar, that unless there is drastic action (on building below-market housing), we'll see the seams of civil society start to tear a little bit. People literally can't afford to live where they work."
Patterson also called for changes to the Residential Tenancy Act that tie rent controls to the unit rather than the tenant, which would limit the amount landlords can raise the rent when a tenant moves out. Currently, the province dictates how much a landlord can increase the rent each year — in 2023 it was two per cent — but when the tenancy ends, the landlord can set any price for the next tenant.
Kahlon ruled out changes to the rent control policy because of concerns it could discourage construction of new purpose-built rental buildings.
Article content
Kirkpatrick said stricter rent controls in San Francisco, for example, have backfired, creating a disincentive that makes homeowners less likely to put their secondary suite or condo up for rent, instead opting for short-term rentals like Airbnb.
Kahlon said his ministry is working on legislation that will allow the province to work with municipalities to strengthen enforcement of short-term rentals to ensure people aren't operating them under the radar without paying the required taxes.
As his ministry writes the legislation and considers input from the Union of B.C. Municipalities, the focus will be on finding ways to get more short-term rentals back into the rental market, ensuring there's accurate data on the number of short-term rentals and creating more teeth to crack down on rule breakers, Kahlon said. The legislation will be introduced in the fall.
Patterson, however, said even if every short-term rental in Metro Vancouver was put back into the long-term rental market, it wouldn't create enough supply to drastically bring down prices.
"Those people who are renting those units out and are accustomed to Airbnb-level profits are not going to the come to the table offering their units at an affordable rate," Patterson said. "They're going to be charging as much as they possibly can for them."
Article content
Patterson said the only way to overhaul the housing system that led to the crisis is to stop viewing housing as an investment and instead as a human right with homes for those who need them and at a price they can afford.
Kirkpatrick wants to see the government create more tax incentives for developers to build below-market rental housing, such as reducing property purchase tax on land as long as the developer commits to 10 years of offering affordable rentals.
Starting in spring 2024, low-to-moderate income renters will be eligible for the $400 renters' tax credit, announced during the February budget five years after the promise was initially made by former premier John Horgan. However, critics point out that amounts to just $33 a month or about one per cent of a $3,000 a month rental unit.
Vancouver short-term rentals have become 'mini-hotel' businesses, critic says

B.C. homeowners reveal they have the space but are reluctant to rent: poll
---
Summer subscription sale: Our in-depth journalism is possible thanks to the support of our subscribers. For a limited time, you can get full online access to the Vancouver Sun and The Province, along with the National Post and 13 other Canadian news sites, for just $40 for one year or $1 a week for 52 weeks. Support our journalism by subscribing today: The Vancouver Sun | The Province.