News
B.C. students 'going to feel the pinch' from teacher shortages: Union
Some districts have relied on uncertified teachers as substitutes, which the BCTF says is unsustainable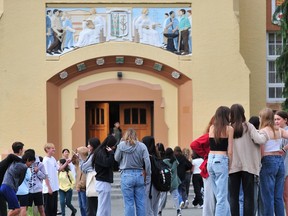 Article content
Sharon Grattan's 14-year-old son, who has autism, has had some good school years and some very difficult years.
"We've had some years that have gone much better than expected and other years that we sort of are just starting all over again," said the Prince Rupert mom.
Article content
The best years were grades 4 and 5, when he had consistent teachers and an educational assistant who worked together to address his specific needs, said Grattan.
Article content
The shortage of teachers and educational assistants was a major factor in Grattan's decision to enrol her son in a program called SelfDesign, a hybrid education model which allows him to learn both from home and in the classroom.
"Now with the (staffing) shortages, if we had the level of consistency we had in elementary school with the teacher and EA, he would still be in a brick and mortar school," she said. "What we've always seen was the years that were more successful, it was because of the consistency in their relationships. That was the biggest factor to my child's success in the traditional education system."
Grattan, a program coordinator for Autism B.C., is also concerned by the growing use of uncertified teachers in the Prince Rupert school district, as they don't have the training to deal with students with extra needs.
Teachers heading back to class are worried the teacher shortage will mean there's fewer qualified teachers to replace them if they're sick or on leave, according to the B.C. Teacher's Federation.
Clint Johnston, president of the union representing 50,000 B.C. teachers, expects staff shortages will be "a little bit worse than last year," when a growing number of school districts relied on uncertified teachers as substitute teachers.
Article content
A shortage of these so-called teachers on call forced some school districts, including Chilliwack and Prince George, to accept people with a bachelor's degree and some experience with children or youth, such as coaches.
"Certainly (students are) going to feel the pinch of those shortages," Johnston said.
Reid Clark, president of the Chilliwack Teachers Association, said there were approximately 70 uncertified teachers in the Chilliwack school district in the 2022-23 school year. He's also concerned by the number of specialist teachers such as librarians, music teachers and learning support teachers who were reassigned to cover for full-time teachers, and he worries that will get worse in the coming school year.
"In the end, it's a loss of service to students," he said. "Students aren't getting the specialist services that they really require, especially at the beginning of the school year."
Ilda Turcotte, president of the Greater Victoria Teachers' Association, said when she was working as a learning support teacher — which helps higher-needs students — there were times she had to shut down her program to fill in for a teacher who was sick because there was no teacher on call to fill in. There's also a shortage of French immersion teachers, she said.
Article content
The union has been asking the Education Ministry for figures on the number of job vacancies among full-time teachers and teachers on call but to no avail.
The B.C. Public School Employers Association said it does not track the specific number of unfilled positions across various teacher professions.
It did say there are 36,588 full-time equivalent teachers across the province and 13,571 teachers on call.  There are currently 217 job postings for teachers on the association's Make a Future jobs website and 140 teacher on call postings. However, the teachers union pointed out one posting can often be for multiple positions.
The BCTF points out the province's Labour Market Outlook report, released in February, projected that B.C. will need 64,500 new education workers over the next decade to keep up with increasing student enrolment and to replace retirees.
The Education Assistants of B.C. Society estimates there are 5,510 job openings among educational assistants, according to 2022 data through Work B.C.
"We have a shortage of EAs every year," said Mae Boudreau, an educational assistant in North Vancouver and a director at large for the society. "It seems like the (vacancy) numbers are like skyrocketing, especially with all the children with special needs."
Article content
Speaking during a news conference in Delta on Tuesday, Education Minister Rachna Singh said the government is aware of the global labour shortage that is hurting the public school system.
She also acknowledged that some school districts are using uncertified teachers saying: "This is a challenge, I completely agree."
"We are looking at different strategies how to address … the teacher shortage issue," Singh said.
The government has added more than 250 teacher training seats in post-secondary institutions and is looking into ways to recognize the credentials of internationally trained teachers, similar to programs introduced for foreign-trained doctors and nurses.
Singh was also asked about whether she would consider a B.C.-wide ban on cellphones in the classroom, a measure brought into force this year in Quebec. While some B.C. schools have already banned cellphones in class, Singh said teachers use technology in different ways in the classroom, so the decision should be up to individual teachers.
---
Want to work less? That may be the future of labour for many people

Back-to-school shopping: Canadians feel the pinch as some costs rise

No more 'Forest Fridays': B.C. pupils to return to school in fire-ravaged communities
Summer subscription sale: Our in-depth journalism is possible thanks to the support of our subscribers. For a limited time, you can get full online access to the Vancouver Sun and The Province, along with the National Post and 13 other Canadian news sites, for just $40 for one year or $1 a week for 52 weeks. Support our journalism by subscribing today: The Vancouver Sun | The Province.