World
B.C. woman who wed ISIS fighter awaits ruling on terrorism peace bond
Judge will rule in three months whether Kimberly Polman, who has not been charged with an offences, will be subject to a rarely used terrorism peace bond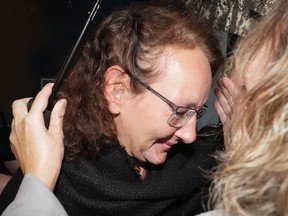 Article content
A B.C. woman who had married an ISIS fighter, but returned to Canada from a detention camp in Syria last fall, will wait another three months before learning whether she will have to abide by a rare terrorism peace bond.
Kimberly Polman, who has been out on bail and lives in Chilliwack, appeared in provincial court in Chilliwack last week for the peace bond hearing.
Article content
This type of peace bond, which typically remain in effect for one year, means that there are reasonable grounds to fear that a person may commit a terrorism offence. However, she has not been charged with any crimes under Canadian law.
Under the conditions of bail, granted last fall, Polman is prohibited from possessing a cellphone or any other device capable of connecting to the internet and from driving any motorized vehicle. She cannot possess any documents related to a terrorist group or leave B.C. without the consent of her bail supervisor, and she must be electronically monitored and abide by a 9 p.m. curfew.
Polman's next court appearance is set for Nov. 7, at which the judge will release his decision on the peace bond application, according to court documents.
She is one of two women who returned to Canada from a detention camp in Syria in October.
Oumaima Chouay, a Quebec woman who was repatriated alongside Polman, was arrested and faces four counts, including leaving Canada to participate in the activity of a terrorist group.
Polman, now 49 or 50, joined the Islamic State in 2015 at the urging of her future husband, whom she met online.
Article content
She is a dual U.S.-Canadian citizen and she told the New York Times in 2016 she had repudiated the Islamic militant movement and wanted to return home. U.S. authorities denied her entry.
United Nation experts in February of 2022 said Polman was being held in a camp in Syria's northeast "under conditions meeting the threshold of torture, cruel, inhuman and degrading treatment."
They said in a statement she was detained in March 2019 and held without charges.
UN experts at the time advocated for Polman to return to Canada because she was seriously ill and said  "victims or potential victims of trafficking should not be placed in situations that expose them to multiple forms of abuses" and the failure to bring such residents homes further victimizes them.
Born in Hamilton, Polman had an American mother and Canadian father and was raised as a reformed Mennonite. She converted to Islam and worked at an Islamic school before flying to Istanbul from Vancouver using her U.S. passport.
She told family at the time she was headed to Austria for two weeks, but was in fact meeting her online connection and future husband to be smuggled into an Islamic State camp in Syria.
Article content
A recent report by Doctors Without Borders showed she was suffering from hepatitis and kidney problems, untreated Hashimoto's disease (an autoimmune disorder), bone and muscle issues, post-traumatic stress disorder and "serious mental health issues."
She is one of about four dozen Canadian men, women and children who had been detained in camps and prisons for Islamic State suspects and their families. Thousands of foreigners were rounded up after the fall of the group's self-declared caliphate in 2019.
In a statement last week after the peace bond hearing in Chilliwack provincial court, the family told CTV News Polman "has survived through physical and mental trauma over years of war and internment."
"Kim is co-operative with all authority, is compliant and respectful," the statement said. "We are hopeful for her healing physically and mentally."
Her family told CTV News Polman is no longer associated with ISIS and believes she's a target of the terrorist group and fears for her life.