News
BC neighbours claim victory in 10-year fight over towering manure pile
Officials plan to meet with an Abbotsford farmer trying to operate a commercial compost facility to help him bring it into compliance.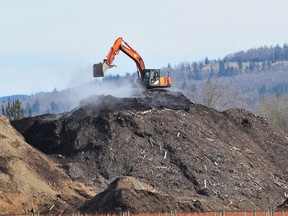 Article content
After nearly a decade, neighbours of an unauthorized compost facility on farmland in Abbotsford are hoping a recent decision by city council will lead to its closure.
Dennis and Judy Morelli have been watching the steaming pile of chicken manure and green waste grow for years, despite stop-work orders, provincial fines and a smouldering fire that blanketed their rural neighbourhood in smoke at Christmas.
Article content
"We don't know what happens next, but we hope this is the end," said Dennis, whose kitchen window looks out at the towering pile of waste.
The couple has reason to be unsure. B.C.'s complex composting regulations provide a way for non-compliant facilities to continue operating while they work toward compliance, sometimes for years.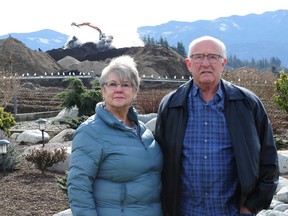 In a statement, the City of Abbotsford said that while council denied a rezoning application for 617 McKenzie Rd. because the facility isn't in compliance with both Ministry of Environment and Agricultural Land Commission (ALC) conditions, the city still plans to "work with the owners" to bring the property into compliance by Nov. 13.
At least three different government bodies have some jurisdiction over compost facilities on farmland, including the city through its zoning and bylaws, the Environment Ministry, which enforces organic matter recycling rules, and the ALC, which can approve non-farm uses of agricultural land.
Neighbours trying to shut down an unauthorized compost operation or complain about illegal dumping sometimes struggle to figure out where to report it, and then go in circles between different government bodies as the problem grows.
Article content
Earlier this year, the ALC ordered a Fraser Valley waste company to remove almost 14,000 tons of garbage and green waste, some of it from Metro Vancouver green bins, from a field above Cultus Lake. Between the time neighbours notified officials the waste contained drywall and a stop-work order was issued, several hundred additional truckloads were dumped.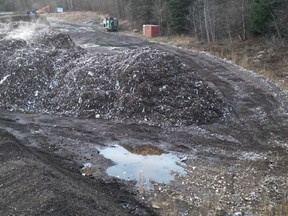 There are arguments in favour of locating compost facilities on farmland.
As a City of Abbotsford staff report notes, the LifeSoils compost facility on McKenzie Road would allow agricultural waste, including chicken and horse manure, to be managed in the same location where it's produced. Using a "progressive approach," the facility adds sand and plant and wood waste to create soil used by landscapers. About nine to 12 per cent of the finished product contains the farm's manure.
Farmland is a better option than locating compost facilities in industrial areas, which might compromise the city's goal of creating "attractive, safe and high-quality employment lands," said the report.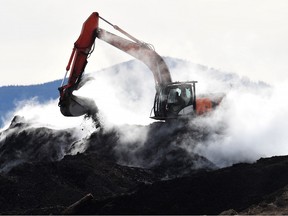 But the Morellis said that without better oversight and enforcement, the current system allows anyone to put "a big pile of poop on top of the aquifer."
Article content
The couple said they first contacted Abbotsford bylaw officers as early as 2015. They were told the farm was mixing chicken manure primarily from their own barns, which is permitted.
In 2019, LifeSoils Products, owned by farmer Randy Dahl, was assessed a $5,000 fine by the Environment Ministry for "accepting waste to compost to sell as a product," according to a penalty assessment form.
Since then, ministry officers have conducted periodic inspections of the property, finding it out-of-compliance on several organic matter recycling rules on several occasions, including in January 2022.
At that inspection, an inspector found that some of the compost piles were on the ground, instead of on asphalt or another impermeable surface to prevent the release of leachate into the environment. Samples showed the run-off exceeded B.C. water quality guidelines, while mapping confirmed two aquifers beneath the facility, one of which was "determined to be highly vulnerable to contamination."
As a result, a warning letter was issued to the company.
In an earlier interview, Brian Gaudet, a land-use consultant hired by LifeSoils, said Dahl didn't know the proper procedure for running a compost facility on farmland when he started it, but has been working toward compliance for several years.
Article content
The ALC imposed a stop work order in 2016, ALC director of operations Avtar Sundher told Postmedia News. But in 2019, it approved a non-farm-use exemption, imposing several conditions in order for operations to continue. The city's agriculture advisory committee was in support of the ALC application.
Sundher said Dahl continues to be out of compliance because the facility has expanded beyond the allowed 0.8-hectare area and hasn't planted a six-metre hedge.
"The ALC has advised the owner of this non-compliance and we are working with them to rectify."
At a public hearing ahead of council's vote, Abbotsford Deputy Fire Chief Bradley Gaudette said the property remains out of compliance with fire safety requirements after several small fires led to a stop-work order earlier this year.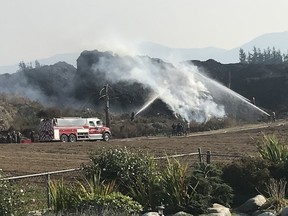 Council voted to deny a zoning bylaw amendment to allow a commercial composting facility on the farm property.
In its statement, the City of Abbotsford said staff have requested a meeting with the farm owner, as well as officials from the ALC and Environment Ministry to "discuss the matter and provide assistance to bring the property into compliance."
Article content
No enforcement action will be taken by the city for unauthorized land use if the property owners make a "concerted effort" to bring the compost facility into compliance before the Nov. 13 deadline. Failure to comply by that date may result in the city pursuing legal options.
Abbotsford neighbourhood under a cloud after manure fire at composting facility

'Meagre' progress made in removal of garbage from farmland near Chilliwack

Neighbours cry foul as waste dumped on farmland near Cultus Lake
Related
---
Bookmark our website and support our journalism: Don't miss the news you need to know — add VancouverSun.com and TheProvince.com to your bookmarks and sign up for our newsletters here.
You can also support our journalism by becoming a digital subscriber: For just $14 a month, you can get unlimited, ad-lite get unlimited, ad-lite access to The Vancouver Sun, The Province, National Post and 13 other Canadian news sites. Support us by subscribing today: The Vancouver Sun | The Province.