Sports
Canada's FIBA World Cup run to a title comes to end against Serbia
Article content
It's now bronze at best for Canada at the FIBA World Championships.
And that's taking nothing away from Canada's efforts at this already successfully wild and program-altering tournament which had already resulted in a berth in next summer's Olympics in Paris.
Article content
But a chance for gold at these World Championships came to an end against an extremely physical, and perhaps more precisely an experienced physical Serbian team that led the way from the opening whistle to the final horn in this one, earning a spot in Sunday's final with a 95-86 win over Canada.
Article content
Bogdan Bogdanovic, a sharpshooter in the NBA but so much more in the international game, lived up to all his pre-game billing, filling the scoresheet and more importantly drawing fouls at will in a personal tour de force in the semi-final.
Bogdanovic led Serbia with 23 points but also had four rebounds, three assists and three steals against just one turnover in the game.
Canada's R.J. Barrett equaled that 23 points but Serbia controlled Canada's best scoring option in Shai Gilgeous-Alexander, holding him to just eight shots and 15 points.
Overall, it was Canada's inability to match Serbia's physicality without fouling that was the difference in this one.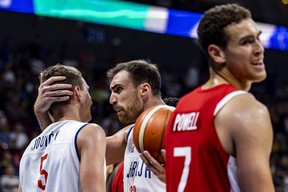 Serbia's experience in international play was on display from the opening tip. Canada gamely tried to match their physicality and were more than willing combatants but were unable to do so without fouling, putting themselves in an early hole from which they never recovered.
Canada will now play for bronze, taking on the loser of USA-Brazil, on Sunday.
The first half was one nightmare after another for Canada.
Article content
Serbia got out of the gate quickly, building an early seven-point lead as they established their inside game.
Canada rallied back with some solid outside shooting but then early foul trouble starting taking its toll.
With Gilgeous-Alexander picking up two early fouls that were quickly followed by two for both Dillon Brooks and Dwight Powell, Canada's problems grew exponentially.
Both Brooks (with four minutes left in the half) and SGA (in the final minute) would pick up their third fouls as Serbia just kept adding to their lead.
By the time Canada finally got to the locker room for halftime, the Serbian lead was up to 13, the largest halftime deficit Canada has faced all tournament.
Dwight Powell took a hard shot late in the second quarter. Powell, who rarely complains, interrupted coach Jordi Fernandez's conversation with one of the officials and despite protests from his own coach, had his say asking the official, "And what happens if I break my neck?"
It summed up the physical nature of the entire game rather succinctly.
Credit Canada for their perseverance in this one.
They managed to cut the halftime lead of 13 all the way down to five in the third quarter, playing better in the third and with less foul trouble, but Serbia maintained most of its advantage.
Brooks, who began the third with back-to-back three pointers to get Canada right back in it, almost immediately thereafter picked up his fourth foul and was lost for the remainder of that pivotal third quarter. Canada was not as much of a threat for the remainder of the quarter without Brooks and his contagious enthusiasm and physicality.