Sports
B.C. Lions: Dominique Rhymes, Bo Lokombo returning from injury this weekend
Article content
The B.C. Lions' chase for first place in the CFL's West Division got a boost Monday with coach Rick Campbell saying that receiver Dominique Rhymes and linebacker Bo Lokombo are ready to come off the six-game injured list and are expected to be in the line-up Friday when the Saskatchewan Roughriders come to town.
The Lions (10-4) are duelling with the Winnipeg Blue Bombers (10-4) for top spot in the West heading into the stretch drive. B.C. has four games remaining, starting with the Saskatchewan (6-8) visit to B.C. Place. The Blue Bombers come to Vancouver next Friday.
Article content
Rhymes (knee) has missed the past six games. The 30-year-old from Miami, who was a CFL all-star last season thanks his 1,401 yards receiving and 11 touchdown catches, took part in practice last week, and Campbell was quoted on Lions social media channels as saying "if he makes it through this week of practice with no issues, we hope to get the Ferrari out of the garage next week."
Campbell referenced Monday "short term pain for some long-term gain," in regards to sitting out Rhymes, saying that the team wanted to make sure he was as healthy as possible for the playoff push.
He hasn't suited up since Aug. 3 in Winnipeg. He's at 22 catches for 316 yards, with five touchdowns.
"He's feeling good. Part of the reason he's been out for awhile is that he was banged up and not running the way he wanted to run," Campbell said on Monday. "When he's feeling good and running well he's a difference maker."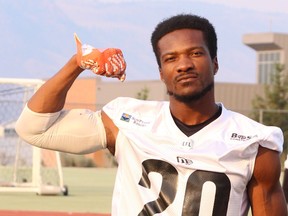 Lokombo (ribs/lungs) has missed the past two games after getting hurt Sept. 2 in Montreal. Players can come off the six-game injured list early.
The 32-year-old from Abbotsford was the CFL's most outstanding Canadian in 2021. He's at 66 tackles on the season this year.
"It's quicker than we thought," Campbell said of Lokombo's return to action. "He's got medical clearance. He says he's feeling good."
Campbell also said that fellow Canadian linebacker Isaiah Messam (foot), is set to come off the six-game as well. The 28-year-old from Hamilton has missed the past seven games.
x.com/SteveEwen