Politics
Challenges persist but BC NDP 'standing strong', Eby tells convention
While introducing her husband at the B.C. NDP convention in Victoria, Eby's wife Dr. Cailey Lynch said they will welcome their third child in June.
Get the latest from Katie DeRosa straight to your inbox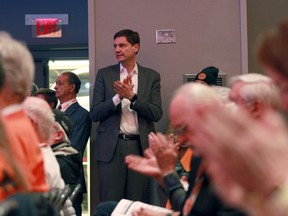 Article content
The B.C. NDP convention was largely a family affair, marking one year since David Eby became premier, so it seemed fitting that his wife used it as an opportunity to announce that their own family is growing.
"Some of you might be wondering if I am looking for some maternity leave coverage in a few months and I am," Cailey Lynch, a family doctor, said as she announced that she and Eby will welcome their third child in June.
Article content
"The baby was planned and this is not why contraception is free" in B.C., she joked, addressing a room of about 700 delegates at the Victoria Conference Centre Saturday before introducing Eby for his keynote speech.
Eby's two children, nine-year-old Ezra and four-year-old Iva, were in the audience.
"I grew up in a family of four kids so I like a full house, I like a lot of excitement and we're certainly going to have that," Eby told reporters after his speech.
Eby was sworn in as B.C.'s 37th premier on Nov. 18, 2022 and with 11 months until the October 2024 election, the B.C. NDP is enjoying favourable polling numbers, especially compared to the B.C. United which has grappled with divisions as some of its MLAs defected to the resurgent B.C. Conservatives.
Eby, flanked on stage by cabinet ministers, gave a campaign-style speech that listed off the B.C. NDP's accomplishments since taking power in 2017, including cutting medical services premiums, reducing child care costs and making contraceptives free.
In touting his government's suite of housing reforms, including cracking down on short-term rentals and opening the door to more multi-unit housing in single family neighbourhood, Eby said his goal is to have "demonstrable examples of where we're headed so that when the election comes, people can decide and make the choice."
Article content
Still, Eby acknowledged that despite B.C. having the highest average wages in Canada, middle class British Columbians are struggling to pay for higher grocery and housing costs.
"Like you, I'm nowhere near satisfied," he told delegates, later stressing that the challenges will not be solved by the next election.

Eby said it's not the time to cut services that people need more than ever, trying to position the NDP as a counterpoint to "right-wing politicians who say that governments should respond to these challenges by just getting out of the way."
B.C. NDP delegates voted 93-per-cent in favour of keeping Eby as party leader.
Environmental advocates gathered outside of the Victoria Convention Centre, calling on the NDP to stop the fracking connected to the liquified natural gas industry because of the methane emissions.
As Eby's speech laid out the party's climate goals, some delegates held up signs that said "Frack Free NDP."
Eby did not address the fracking protests, but made clear the NDP government "will not back down" on its efforts to reduce climate emissions.
Article content
He doubled down on support for the carbon tax following Prime Minister Justin Trudeau's announcement in October that Ottawa would remove the carbon tax on home heating oil, a surprise move which political observers say gives ammunition to federal Conservative leader Pierre Poilievre who wants to axe the carbon tax entirely.
Speaking to reporters, Eby slammed Ottawa's "ham-handed" decision which is "politicizing an issue that we need to take action on which is carbon emissions."
Eby praised the B.C. NDP for standing strong on an issue while "all the other parties, it seems to me, in an effort to win votes are willing to sell their childrens' future."
The federal NDP last week backed a non-binding motion from Poilievre's Conservatives calling on Trudeau to pause the carbon tax on all home heating including natural gas and propane. The motion was defeated.
Federal NDP leader Jagmeet Singh will speak to delegates Sunday morning.
Related Stories
None

Vaughn Palmer: B.C. NDP celebrating as David Eby marks first year as premier

By suspending Surrey police board, B.C. removes loudest opponent to municipal force
---
Bookmark our website and support our journalism: Don't miss the news you need to know — add VancouverSun.com and TheProvince.com to your bookmarks and sign up for our newsletters here.
You can also support our journalism by becoming a digital subscriber: For just $14 a month, you can get unlimited, ad-lite access to The Vancouver Sun, The Province, National Post and 13 other Canadian news sites. Support us by subscribing today: The Vancouver Sun | The Province.