Sports
Chilliwack runner finishes second in Backyard Ultra world championship
Only Canadian Ihor Verys and American Harvey Lewis managed to finish 107 laps and more than 715 kilometres in a world-record performance. Lewis stopped at 108 laps for the win.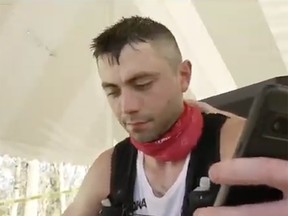 Article content
A Ukrainian-Canadian runner from Chilliwack was one of only two ultra runners to eclipse 107 hours in a gruelling endurance race in Tennessee that began early Saturday.
The Backyard Ultra is a race in which competitors must complete a 6.7-kilometre trail run every hour of every day until no one can keep going. After local qualifiers, it serves as the international world championship for the unique type of ultra run.
Article content
A worldwide field of 75 runners started at 7 a.m. Saturday. Shortly after 4 p.m. Wednesday, Canadian Ihor Verys and Harvey Lewis of the U.S. were the last runners going, before Verys chose to return to camp.
Bartosz Fudali of Poland dropped out after 103 circuits as the trio ran 690 kilometres, or nearly 429 miles, in about four-and-a-half days.
Verys and Lewis pushed on for 107 laps in all, over 715 kilometres. The American stopped at 108 laps (just shy of 450 miles) for the win. The pair embraced and congratulated each other on pushing themselves to the new record.
Runners who finish ahead of each one-hour limit use those spare moments to refresh, hydrate and take in some food before having to set out again on the hour. The race shifts each evening from a trail run to a road circuit for safety reasons.
Gary Robbins, an ultra marathoner who is a neighbour and friend, gave a shout-out to Verys, 29, as he and the remaining runners neared the 100-hour mark.
"He's the nicest guy you could hope to meet and I've enjoyed a few training runs with him and getting to know him better since he relocated to B.C. from Manitoba a few years ago," wrote Robbins on Facebook.
Article content
"He is an exceptional talent (especially between the ears) and I've long held the belief … that he can and will win (an ultra) against the very best in the world …
"Anything can and will happen from hour to hour at this point, but knowing Ihor and how he planned to attack this race, I truly feel like he's one of the top three remaining runners still on course … I'm not betting against my man Ihor and I could not be prouder of the guy right now."
Verys, an insurance adviser who took up ultra running in 2021, told Running Magazine last year that he moved to Canada from Ukraine in 2015 but continues to support those in his embattled home country.
"The brave people of Ukraine keep inspiring me," he said. "And I'll keep reminding Canadians about what's happening in Ukraine. My voice is very small in this community, but it's still a voice.
"Unfortunately, the war in Ukraine isn't over, and Ukrainians still need help from the entire world. This is the least that I can do. Please keep supporting Ukraine as much as you can."
Verys said upon returning to camp Wednesday he chose to stop rather than endanger his health and congratulated Lewis. He vowed to return to the event in the quaint town of Bell Buckle, Tenn., next year.
Article content
Backyard Ultra races were popular during the COVID-19 pandemic when long-distance runners weren't able to compete in close quarters. They have remained popular even as more conventional races have resumed.
Article content
---
Bookmark our website and support our journalism: Don't miss the news you need to know — add VancouverSun.com and TheProvince.com to your bookmarks and sign up for our newsletters here.
You can also support our journalism by becoming a digital subscriber: For just $14 a month, you can get unlimited, ad-lite access to The Vancouver Sun, The Province, National Post and 13 other Canadian news sites. Support us by subscribing today: The Vancouver Sun | The Province.