Sports
Kerrisdale Arena opens in 1949, 10 years after it was first proposed
The arena was popular from the get-go, and became a big concert venue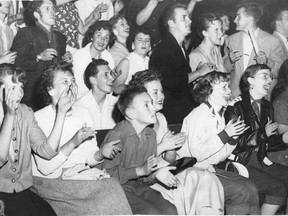 Reviews and recommendations are unbiased and products are independently selected. Postmedia may earn an affiliate commission from purchases made through links on this page.
Article content
An arena in Kerrisdale was first proposed in 1939, but was defeated in a civic plebiscite.
But proponents kept plugging away, and in 1947, Vancouver voters approved a bylaw that allowed the city to take out a $175,000 loan to pay for it.
Article content
Just under two years later, the Kerrisdale Arena opened on Nov. 11, 1949.
"With ice area equal to Madison Square Garden or Wembley, Kerrisdale can stand up to the best of them," said a preview story in the Nov. 3, 1949, Vancouver Sun.
Article content
"Every seat will be a good, full-view seat. There are no seats behind pillars, and nobody will sit more than six rows from the ice. There will be seats for 2,400 spectators, and good standing room for another 1,000."
Not sure why the proponents would compare the Kerrisdale Arena to New York's Madison Square Garden, which had 18,500 seats, or London's Wembley Arena, which had 12,500.
But hey, Kerrisdale was very popular with the masses when it opened.
"It was free skating day at Kerrisdale Arena today and 1,500 happy, laughing youngsters took advantage of the fact to jam themselves into a space built for 500," The Vancouver Sun reported on Nov. 12, 1949.
"Within minutes after the doors opened at 9:45 a.m. the huge ice sheet was black with skaters. With dressing room capacity for only 300, arena manager Mel Holmes was forced to keep 700 lined up for a block in two rows in front of the arena, waiting while the first group had the arena for three-quarters of an hour."
Opening night Nov. 11 was jammed as well, with 3,000 people attending the first hockey game at the arena, the Kerrisdale Monarchs versus the Kamloops Elks.
Article content
Three members of the Stanley Cup-winning 1915 Vancouver Millionaires were in attendance, Fred "Cyclone" Taylor, Si Griffis and Barney Stanley. Lester Patrick and Frank Fredrickson of Victoria's only Stanley Cup winners, the 1925 Victoria Cougars, were also on hand. All five are in the Hockey Hall of Fame.
Taylor was one of the leaders of the civic drive to build the arena, which is now named after him. But he had a lot of help from a "kids and parents campaign" that raised $90,000 in pledges from the public for the building.

The arena cost $400,000 to build, which a Province editorial noted was far more than the $80,000 estimated cost in 1939. But it noted "the need for an arena in this section of the city is pressing, and the project will soon be serving its purpose as a recreation centre, not only for youth but for adults, too."
Seventy-four years after opening the Kerrisdale Arena is still a very busy venue, with hockey and skating in the winter months and the "Kerrisdale Play Palace," an indoor playground, taking over in the summer when the ice is removed.
Still, it's probably most famous for concerts, although there don't seem to have been any in decades.
Vancouver's first rock 'n' roll concert was held at the Kerrisdale Arena on June 27, 1956, when 6,000 kids flocked to a show by Bill Haley and the Comets.
Article content
The Vancouver Sun sent its classical music writer Stanley Bligh to the show, and he was aghast.
"This was my first exposure to the rock 'n' roll medium of expression," he wrote. "I came away feeling that I had witnessed the ultimate in musical depravity … a cacophonous noise that might cause permanent harm in not fully developed adolescent minds."
But another Sun writer liked Haley, and the energetic rock 'n' roll crowd.
"The teenagers rushed the floor," wrote John Kirkwood. "Boys danced with girls; girls danced with girls; boys danced with boys; boys and girls danced by themselves, on the seats, up and down the aisles, into a conga line and out again."
Over the years the Kerrisdale Arena hosted all sorts of rock shows, including Frank Zappa and the Mothers of Invention in 1968, Ozzy Osbourne in 1981 and the Clash in 1982.
But some rock fans got a little too wild for the Vancouver park board. So on Nov. 15, 1982, it banned rock concerts at the Kerrisdale Arena, "following numerous complaints of fans engaging in vandalism and unruly behaviour in the neighbourhood."
Article content
Related Stories
The Queen, Louis Armstrong and the Snake Room

Rock 'n' roll promoters charged for admitting juveniles without adult supervision





---
Bookmark our website and support our journalism: Don't miss the news you need to know — add VancouverSun.com and TheProvince.com to your bookmarks and sign up for our newsletters here.
You can also support our journalism by becoming a digital subscriber: For just $14 a month, you can get unlimited, ad-lite access to The Vancouver Sun, The Province, National Post and 13 other Canadian news sites. Support us by subscribing today: The Vancouver Sun | The Province.