Business
Court decision could reduce uncertainty for B.C. resource projects
The Supreme Court of Canada ruled that parts of the Impact Assessment Act unconstitutional for straying outside federal jurisdiction in environmental reviews.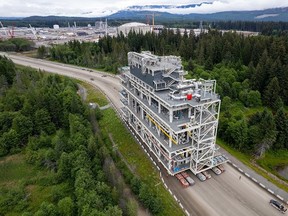 Article content
Friday's Supreme Court of Canada decision that parts of the federal Impact Assessment Act are unconstitutional should lift some regulatory uncertainty from future natural-resource projects in B.C., according to an industry intervenor in the case.
Liquified natural gas proposals beyond the soon-to-be-complete LNG Canada plant at Kitimat or new critical minerals mines in the province's northwest should benefit from the reference case before the court, which ruled that the act strayed into provincial jurisdiction, said Chris Gardner, president of B.C.'s Independent Contractors and Business Association.
Article content
"It's that extra layer of uncertainty and complexity that investors and project proponents look at and say, 'Is this going to take too long?'" Gardner said.
"(The decision) is going to be accepted very positively on the part of investors and project proponents," said Gardner, whose organization intervened in the case arguing that it was unconstitutional.
Ottawa passed the Impact Assessment Act in 2019 to allow the federal government to consider climate change, impacts on Indigenous communities and other potential impacts when assessing mines, power plants, oil and gas development, and other projects.
The Alberta government challenged the legislation, arguing that it overstepped federal jurisdiction into provincial responsibilities in how it was being used in determining which projects triggered federal assessments.
In a 5-2 decision, the Supreme Court ruled that the Impact Assessment Act "is unconstitutional in part," for being too broad in its application and not limiting itself to "effects within federal jurisdiction" to make decisions on which projects are reviewed.
Article content
"Instead, it grants the decision maker a practically untrammelled power to regulate projects," regardless of federal jurisdiction, Chief Justice Richard Wagner wrote in the majority decision.
Decisions on whether a project requires a federal review "must be rooted in the possibility of adverse federal effects," Wagner wrote.
Friday's ruling doesn't overturn the Impact Assessment Act, but offers guidance that government should take seriously, and the federal government indicated that it will.
In a joint statement, Environment and Climate Change Minister Steven Guilbeault and Minister of Justice Arif Virani said they will "take this back and work quickly to improve the legislation through parliament."
"We respect the role of the Supreme Court in Canada's democracy and, as such, we will follow the guidance of the court and collaborate with the provinces and Indigenous groups to ensure an impact assessment process that works for all Canadians," they wrote.
Environmental groups that intervened on behalf of maintaining the act don't view the decision as a major defeat.
Article content
Government just needs "more clarity in the act" that projects designated for review "do actually have potential for impacts on areas of federal jurisdiction to proceed," said Anna Johnston, a staff lawyer with West Coast Environmental Law.
"Ultimately, I don't think it really changes much except that now the federal government is going to have to make a handful of amendments to the legislation to make it consistent with what the Supreme Court wants to see," Johnston said.
The decision also might not have that big an impact in B.C., where the province has an agreement with Ottawa to cooperate on environmental assessments, Johnston added.
The so-called substitution agreement with B.C. allows for the provincial Environmental Assessment Agency process to serve as a single review that both levels of government use to make decisions in cases where projects trigger provincial and federal reviews.
x.com/derrickpenner