Business
Ex-owner of iconic Dayton Boots sued by Royal Bank
The factory and store dates to 1946 when it was founded by Charlie Wohlford, an American who saw the need for a tough boot for B.C.'s lumber industry.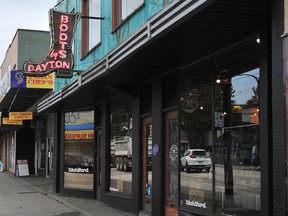 Article content
The former owner of east Vancouver's Dayton Boots factory and store is being sued by the Royal Bank for $556,000 in overdue loans.
The bank called in two loans, one for more than $293,000 taken out on 2019 and a second one from 2021 with more than $263,000 owing, according to a notice filed in B.C. Supreme Court.
Article content
The claim says Dayton Boots Co. Ltd. and its former director, Eric Hutchingame, failed to make two monthly payments totalling more than $7,500 on March 6 on the two loans, originally worth $600,000, and the outstanding amounts are now due and payable.
Article content
The factory and store, which dates to 1946 when it was founded by Charlie Wohlford, an American who saw the need for a tough boot for B.C.'s growing lumber industry, has been rebranded as Wohlford and Co. and remains in business on East Hastings Street.
"We have absolutely nothing to do with Hutchingame," said shareholder Tom Pedriks at Wohlford and Co., which took over ownership earlier this year.
The lawsuit against Hutchingame adds to the financial burden he faces after an investigation by B.C.'s employment standards tribunal in 2021 into complaints by some of the company's 71 employees that they were paid half their wages in 2020 in Dayton Boots gift cards instead of cash.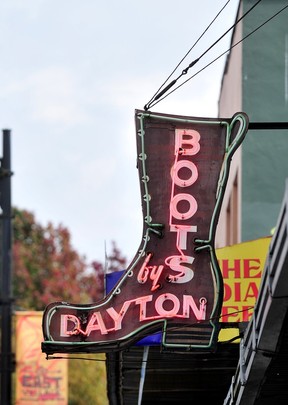 Hutchingame was ordered to pay the employees more than $610,000 in wages. Pedriks said he has yet to do so.
He appealed last year on the grounds, among others, that the gift cards were not meant to be wages but a "gratuitous benefit" that would offset the cost of the footwear they were required to wear on the job. He also told the tribunal the cards were meant as an incentive to keep workers employed at Dayton Boots at a time when the federal government was offering federal benefits to workers who lost jobs during the COVID lockdown.
Article content
That appeal was dismissed.
The lawsuit by RBC says the 2019 loan was secured by the company and also personally by Hutchingame and his wife, Catherine Hutchingame, for $87,500 each.
The Hutchingames, whose address is listed as Sointula, a village on Malcolm Island near the northern tip of Vancouver Island, couldn't be reached for comment.
The Dayton Boots Co. Ltd. was no longer registered as a company in B.C. corporate registry as of July 3.
Pedriks said the neon sign in front of the shop will remain up but they can no longer legally use the Dayton Boots brand because it's apparently owned by Hutchingame, although he said that's in dispute, and it would be too costly to try to buy it back.
"But what we're going to do is resurrect the company reputation that's been besmirched and keep the tradition going," said Pedriks.
He said they're working closely with Wohlford's grandson, Ray Wohlford, on the redesign for the rebranded company.
The company's website says the popularity of the hand-crafted boot that lasts in some cases for decades spread from loggers to longshoremen, construction workers and fire and police forces over the years.
Article content
The Black Beauty is a 12-inch boot designed as a horse-riding boot for Charlie Woodward of the department store chain that later became popular with motorcyclists and led to a ban on Daytons in Vancouver bars in the 1960s because bikers were wearing them while stomping on others in bar fights.
The boots are popular with hipsters and international celebrities and the new company plans to continue producing the handcrafted boots in its Vancouver factory, said Pedriks.
Driver who hit pedestrian on rainy, dark Langley road found not liable

Woman in China asks B.C. court to order husband's ex-mistress to return $4.6M gift

Surrey homeowner sues neighbour after Halloween fireworks cause fire damage
---
Summer subscription sale: Our in-depth journalism is possible thanks to the support of our subscribers. For a limited time, you can get full online access to the Vancouver Sun and The Province, along with the National Post and 13 other Canadian news sites, for just $40 for one year or $1 a week for 52 weeks. Support our journalism by subscribing today: The Vancouver Sun | The Province.