News
Driver will plead guilty to careless driving in death of Saanich teen
"I want this to be over for my mental health and for his family."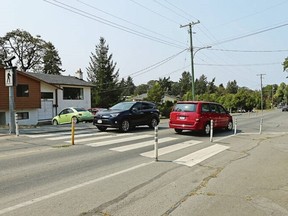 Article content
The driver of the car that struck and killed Saanich teen Kaydence Bourque in the crosswalk at Cedar Hill Cross Road and Merriman Drive almost two years ago intends to plead guilty to careless driving at her court appearance next month.
Margarita Citron said she wasn't speeding, wasn't texting, wasn't drinking, wasn't even listening to the radio on her way home from her book club on Dec. 6, 2021. She was looking forward to getting home and having a bath.
Article content
But Citron did hit the 16-year-old Grade 11, Reynolds Secondary School student. She said she is devastated by what she did.
"I've wanted to plead guilty since this happened," Citron said in an interview at her home. "It's been almost two years. I want this to be over for my mental health and for his family."
The Bourque family has declined comment.
Citron's lawyer, Jerry Steele encouraged her to go to trial, describing the safety issues with that crosswalk as "horrendous." But the thought of putting the Bourque family through a trial made Citron emotionally distraught, he said.
"She doesn't want them to experience any more grief."
Citron was charged under the Motor Vehicle Act with driving without due care and attention. Following her guilty plea, she will be fined and face a possible driving suspension, said Steele.
In the days following Kaydence's death, there was a public outcry about the unsafe crosswalk. Protests were held calling on Saanich to improve safety along the corridor leading to the crosswalk.
Saanich public works crews installed a new street light above the crosswalk and replaced round flashing beacons with rectangular rapid-flashing ones. Crews also installed new delineators, or plastic bollards, along Cedar Hill Cross Road, providing separation from the road and asphalt sidewalk. A "crosswalk ahead" advisory sign and "single-file" advisory signs for cyclists were installed at both approaches.
Article content
All too late for Kaydence.
And too late for Citron, who knows she has caused harm and that a young, beloved teenager has died.
The retired therapist, mother and grandmother who moved from Toronto three years ago, had driven along Cedar Hill Cross Road many times before Dec. 6, 2021.
"It was a really dark night. It was raining, sort of foggy. Just very, very dark," she recalled. "It happened so quickly. It was just like a flash. And I don't remember much. I remember a dark shadow and an impact. That's it."
She stopped and called the police.
"It was a nightmare, an absolute nightmare. I remember the mother coming out. That was … God … yeah. … It was an absolute nightmare. I was in so much shock."
In the days, weeks and months that followed, the question was always in her mind: "How did this happen? How did this happen?"
Citron said that since the crash, she has had trouble sleeping. She has flashbacks and is anxious and depressed.
"Emotionally and psychologically, it's been a huge trauma. But to think about his family is one of the hardest things. It breaks my heart. I can't even start to imagine how they got through this and lost a child," she said.
Article content
"I'm a mother. I have two sons and I think about losing them. Your heart just goes … I can't imagine."
Her one joy in life is her new granddaughter — but even that is diminished by what happened.
"Even looking after her, I look at her and I think of Kaydence. I think he was once a baby and his parents went through that whole period of nurturing and caring and now he's gone. So many things keep reminding me of the loss there."
Citron said she has re-evaluated her life. It's made her forget the good she has done.
For six years, she volunteered at the Distress Centre of Toronto, working with people who lost a loved one to suicide. Her sister took her own life many years ago at the age of 30.
"That was something close to my heart in terms of getting involved in an organization that helps people deal with the impact of that loss. I certainly know about grieving."
She also volunteered with the Centre for Addiction and Mental Health, working as a group facilitator with depressed women in the psychiatric unit. She developed a gratitude group at St. Joseph's House Community Centre.
"Those last years in Toronto were very much about giving back to the community, giving back to individuals, healing and listening," she said.
Article content
Although she wants to reach out to Kaydence's family to express her sorrow and regret, she knows they are not ready to hear from her.
"I know that whatever I say, it's not going to bring Kaydence back. It's not going to help. It's not going to heal their wounds or decrease their suffering," she said.
Citron is also considering doing some service to honour Kaydence's life in some way.
"The counselling I did and the people I sat with, it was often something that really helped people get over their grief — to create something in memory of the person they lost or to do some service on their behalf."
In February 2022, Saanich council adopted an "ambitious goal" to eliminate all traffic injuries and fatalities and the district is in the process of creating a road safety action plan, said spokesperson Kelsie McLeod.
A traffic study of a 2.1-kilometre stretch of Cedar Hill Cross Road, from McKenzie Avenue to Ophir Street, is underway to improve safety for pedestrians and cyclists. Earlier this year, the district received 841 responses to their survey about that stretch of road.
The speed limit will be reduced in September to 40 km/h from 50 km/h, said McLeod.
---
Summer subscription sale: Our in-depth journalism is possible thanks to the support of our subscribers. For a limited time, you can get full online access to the Vancouver Sun and The Province, along with the National Post and 13 other Canadian news sites, for just $40 for one year or $1 a week for 52 weeks. Support our journalism by subscribing today: The Vancouver Sun | The Province.