News
Forging signatures cost immigration consultant firm $400K in damages
Welltrend United Consulting of Beijing used a Canadian lawyer's name on applications for more than two dozen immigrants without permission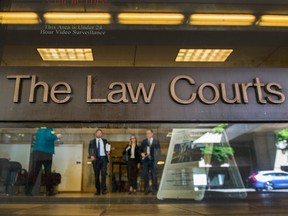 Article content
A Chinese immigration consulting company responsible for thousands of wealthy investors moving to Canada under a federal immigration program has been ordered to pay a Canadian lawyer $400,000 after the firm forged his signature on application forms.
Lihua Bao, an Ontario lawyer, sued Welltrend United Consulting of Beijing, which he called the largest immigrant consulting firm in China, as well as its owner and its Canadian office, Welltrend Canada Consulting, for damages for misuse of his name and signature on 25 applications.
Article content
"Welltrend Beijing breached an implied term of its agreement with Mr. Bao by … forging his signatures," Justice Matthew Kirchner of B.C. Supreme Court wrote in a recent judgment.
Bao had sought all profits the company had made from clients' $50,000 application fees, or $1.25 million, but the judge said that was disproportionate to Bao's loss.
The claim was filed in B.C., even though Bao works in Ontario and the applications were made under a Nova Scotia immigrant nominee program, because the company's Canadian office is in B.C.
But Kirchner noted Bao's contract was with the Beijing company, not the B.C. company. While there are ownership connections between the two companies, the B.C. company is a separate firm and isn't involved in the claim, the judge said. He dismissed any claims against its owner, Limin Wang, his wife and sister, and the B.C. company.
After Canada changed the rules for its immigrant investor program in the early 2000s to require a Canadian lawyer or registered consultant to sign the application for entry, Bao signed a contract with Welltrend to provide that service for a monthly fee of $800.
Article content
A company representative asked Bao to be signatory for similar provincial programs but the company balked at his monthly fee of $500 for each of two provinces they were working in and they didn't enter into a second contract.
In 2014, Bao received a call from a provincial immigration official in Nova Scotia, letting him know he would have to apply for the $20,000 commission he was entitled to for signing each of the applications for five immigrants — forms he had never signed.
Welltrend explained it away as a staff misunderstanding and denied signatures were forged.
Bao demanded compensation and Welltrend eventually offered him about $187,000 in exchange for acting as the representative on the outstanding applications. But it then dropped the offer.
Bao launched the lawsuit in B.C. in 2015. The Nova Scotia official later found 20 other applications with Bao's signatures for which Welltrend had already received the $20,000 commissions.
At the 2021 pretrial examination of discovery, Wang failed to answer basic questions about the company and eventually withdrew because he wasn't feeling well. He wouldn't commit to a new date and eventually failed to show up for the trial so it was held without him.
Article content
Kirchner dismissed Bao's claims for damages for fraud, unjust enrichment and conspiracy to injure but granted him damages for breach of contract, saying the contract Bao signed with Welltrend didn't permit it to forge his signature on applications, especially not for a provincial program for which it refused to pay Bao's demanded fee.
He also dismissed Bao's claim for punitive damages to denounce the actions of the company but noted that Bao is receiving more in damages than he would have if he had negotiated his services with the company.
"In my view, disgorging Welltrend Beijing of the full amount of this commission, which it otherwise would likely have shared with Mr. Bao, achieves the objectives of retribution, denunciation, and deterrence," wrote Kirchner.
He also said he couldn't ignore the fact that Bao had pre-signed blank application forms for the federal program, which had "likely contributed to an atmosphere in which Welltrend felt more at ease with forging his signature on the Nova Scotia applications than it might have otherwise."
That doesn't excuse the forging but "it does colour the extent of any harm Mr. Bao may have suffered by the improper use of his name," he said.
---
Bookmark our website and support our journalism: Don't miss the news you need to know — add VancouverSun.com and TheProvince.com to your bookmarks and sign up for our newsletters here.
You can also support our journalism by becoming a digital subscriber: For just $14 a month, you can get unlimited, ad-lite get unlimited, ad-lite access to The Vancouver Sun, The Province, National Post and 13 other Canadian news sites. Support us by subscribing today: The Vancouver Sun | The Province.