Entertainment
From ukuleles to beats and big guitars, Tessa Violet is popping
Building a career outside traditional channels, the album MY GOD! marks the complete evolution of the content creator formerly known as Meekakitty.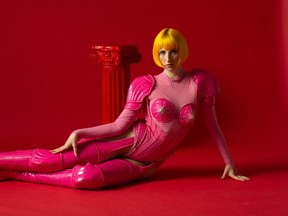 Reviews and recommendations are unbiased and products are independently selected. Postmedia may earn an affiliate commission from purchases made through links on this page.
Article content
From the pink latex and leather Barbarella-type one piece and thigh-high stiletto boots, to the crisp, modern pop veneer of songs such as the single Bad Bitch, the album MY GOD! marks the complete evolution of the content creator formerly known as Meekakitty.
Born Tessa Violet Williams, the former child model, vlogger, music video director and social media fixture began rebranding under her given name with 2014's Maybe Trapped Mostly Troubled. That 11-track collection showcased a mostly acoustic strumming singer-songwriter who seems a far cry from the slick pop artist who graces the Hollywood Theatre stage this week.
Article content
Violet disputes this statement.
While the days of duets with internet star contemporaries such as U.K. artist Dodie on originals such as Burn are less likely with both artist's careers being busy, past singles such as Sorry I'm Not Sorry and Haze sit quite comfortably alongside the new material.
Violet recently chatted with Postmedia from the studio where she was making a piano version of the song Play With Fire prior to her tour kicking off.
Article content
Q: Do you write your material on piano or guitar and then add the bells and whistles?
A: It definitely depends on the song. Mostly I write by myself on guitar or piano because I'm not good at top lining, which is the common thing of writing a melody on top of an existing produced track. Half of the songs I write and then bring in to a producer, where the other half are co-written with Lauren and Solomon Olds, a.k.a Yacht Money, who worked on Bad Bitch, You Are Not My Friend, and many others. I love them.
Q: So the production on MY GOD! is built on top of the bones you brought in?
A: I love a big capital-P pop song's energy, vibrancy and delivery. But I will never stop loving a sad-girl acoustic ballad. The two sides turn up on the new album and certainly are both featured in the show.
Q: There are a lot of very high-gloss production music video performances of the new material, complete with dancers and the like. What is the stage show you will bring to town?
A: I wish I could afford dancers because that energy is so awesome. But it's going to be bass, drums and me on guitar for some songs plus tracks to make it more bombastic. My artistic director and I work hard on having those rock-opera moments in the live version, but not so different that you don't hear the song you wanted to hear. Just elevating everything is cool and theatrical.
Article content
Q: Was musical theatre a big part of your early influence?
A: Growing up in the small town of Ashland, Ore., there wasn't much of a live music scene. But there was musical theatre. My first album was the soundtrack to West Side Story, and I didn't really start writing my own songs until leaving there and meeting other songwriters when I was in my 20s.
Q: Features such as the stutter-time delay frame in some of your song videos seem to be as much of a signature of your work as the gold-blond bob?
A: I had done it once before in a cover of a friend's song and really wanted to do it again when I was making the video for Crush. That totally blew up, so I thought I could revisit it in MY GOD! as sort of a throwback teaser to the continuity of my material. Video, social media and the internet is how I've connected to fans, and I'm navigating how to move to the next level when you are doing so much of the work yourself. It's challenging.
Article content
Mirror reflects Lauren Spencer Smith's innermost feelings

Q&A: Vancouver singer Imogen Moon works with members of the Dap-Kings, The Roots on debut album
---
Summer subscription sale: Our in-depth journalism is possible thanks to the support of our subscribers. For a limited time, you can get full online access to the Vancouver Sun and The Province, along with the National Post and 13 other Canadian news sites, for just $40 for one year or $1 a week for 52 weeks. Support our journalism by subscribing today: The Vancouver Sun | The Province.