Entertainment
Hollywood North unions gather in Vancouver to show support for strike
Reviews and recommendations are unbiased and products are independently selected. Postmedia may earn an affiliate commission from purchases made through links on this page.
Article content
Members of several Hollywood North unions gathered at the Vancouver Art Gallery on Friday to show support for the ongoing writers' strike.
The gathering included members of the Union of B.C. Performers/Alliance of Canadian Cinema, Television and Radio Artists, International Alliance of Theatrical Stage Employees Local 891 and Teamsters 155, Directors Guild of Canada, and International Cinematographers Guild 699, who showed "solidarity" for the striking Screen Actors Guild — American Federation of Television and Radio Artists and Writers Guild of America members.
Article content
"Unions in North America are facing immense pressures, and livelihoods are at stake," Ellie Harvie, president of the Union of B.C. Performers, said in a news release. "We need to stand together with a united front if there is to be a future for this industry."
The Writers Guild, which represents 11,500 screenwriters, voted to go on strike on May 2 due to ongoing labour disputes with the Alliance of Motion Picture and Television Producers. The Screen Actors Guild followed suit with a strike on July 14, which effectively put a halt to most productions in Hollywood, and beyond.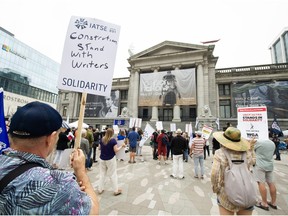 That slowdown has also been felt in B.C., where the television and film production industry brings in an estimated $3.6 billion annually and supports some 40,517 full-time workers along with close to 50,000 freelancers.
"Here at home, we are currently in the midst of a 16-month lockout in our commercial jurisdiction and performers are suffering," Harvie said. 
While a share of revenue from streaming content is a key issue for both the writers and actors on strike, Crystal Braunwarth, a business representative for the stage employees local, says it is "fair and equitable working conditions" that are at the "heart of the labour movement."