Entertainment
Faux-nostalgic Little Shop of Horrors opens the Arts Club season
Little Shop of Horrors was a 1980s' phenomenon.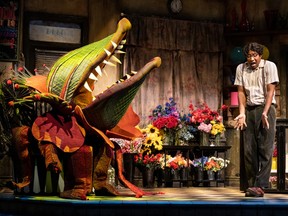 Reviews and recommendations are unbiased and products are independently selected. Postmedia may earn an affiliate commission from purchases made through links on this page.
Article content
Little Shop of Horrors
When: Until Oct. 8
Article content
Where: Stanley Industrial Alliance Stage, 2750 Granville St., Vancouver
Tickets and info: From $39 at artsclub.com
A skid-row flower shop. A couple of losers so down that everything looks like up to them. A trio of sassy doo-wop women. A sadistic dentist. And a flesh-eating plant from outer space with plans to conquer the world. Oooh, scary, kids.
Article content
Little Shop of Horrors was a 1980s' phenomenon. Adapted by Howard Ashman and Alan Menken from Roger Corman's cheesy, ultra-low-budget 1960 sci-fi film, the musical ran for years off-and-on Broadway. The popular 1986 movie starred Rick Moranis, Ellen Greene, Steve Martin and the Four Tops' Levi Stubbs as the basso voice of the monstrous plant, Audrey 2. Feed me!
The Arts Club opens its season with this faux-nostalgic take on a late-1950s' America that was already a cliche by the 1980s. Directing with flair, Ashlie Corcoran helms a handsome co-production with Edmonton's Citadel Theatre featuring sterling central performances by Tenaj Williams and the talking plant with an insatiable appetite that grows and grows and will not die.
Williams plays skid-row orphan Seymour, taken in by grumpy Mr. Mushnik (Ashley Wright) to live and work in his flower shop alongside sad sack Audrey (Synthia Yusuf). She hooks up with bad boy biker-dentist Orin (John Ullyatt), who leaves her battered and bruised. A neighbourhood girl group (Ivy Charles, Rochelle Laplante and Ali Watson) provides musical commentary along with upbeat harmonies and slick dance moves.
Article content
Seymour becomes famous for growing Audrey 2, unaware that he has sold his soul to the green devil. He dreams of escaping skid row with Audrey for an ideal life in suburbia. Her utopian vision of upward mobility and mainstream Americana, complete with Betty Crocker and Donna Reed, is beautifully captured in her song Somewhere That's Green. Meanwhile, a complacent America blithely ignores the alien threat.
Williams' Seymour is eminently watchable: charming, nerdy, needy, with a strong voice and energetic dance moves. Yusuf's Audrey is appropriately fragile and sweet. Besides Seymour's love duet with Audrey and Audrey's ballad, the best songs are uptempo, including Seymour's bluesy duet with the plant, Feed Me (Git It), and the rousing Act 1 finale featuring the girl group and a rockin' Audrey 2. 
Kudos to Brayden Dowler-Coltman, the puppeteer who lives inside Audrey 2 and animates the creature in remarkable ways, and Madeleine Suddaby, the rogue plant's speaking and singing voice. It was disconcerting at first to hear Audrey 2 as female, but Suddaby sells it: a seductive Audrey 2 vies with Audrey herself for Seymour's favours.
Article content
High on laughing gas and practically drooling with sadistic glee, Ullyatt makes the most of Orin's can't-miss show stealing scene with Seymour in the dentist's chair. Credit to fight director Jonathan Hawley Purvis for the pinpoint accuracy of their brawl. 
Beyata Hackborn does double duty designing the set and Audrey 2. Both deserve high honours. Her highrise skid-row flats are all skewed angles and windows through which actors' and singers' heads frequently pop. At other times Rebecca Picherak's coloured lights provide a kaleidoscopic backdrop. Mushnik's flower shop sits centre stage on a revolve that Corcoran unnecessarily revolves a few times too often.
Though a fun show nicely done, Little Shop is exceedingly familiar and insubstantial. What does it augur that the region's landmark theatre company offers it as their season-opener? And another question: Is it really a good idea to ask patrons to pay $5.60 for a paper program?
Pi Theatre's Truth & Lies questions reality in the digital age, with nods to Othello, cosplay and ASMR videos

Theatre review: Arts Club delivers a beautiful production of the Carole King story
---
Bookmark our website and support our journalism: Don't miss the news you need to know — add VancouverSun.com and TheProvince.com to your bookmarks and sign up for our newsletters here.
You can also support our journalism by becoming a digital subscriber: For just $14 a month, you can get unlimited, ad-lite get unlimited, ad-lite access to The Vancouver Sun, The Province, National Post and 13 other Canadian news sites. Support us by subscribing today: The Vancouver Sun | The Province.